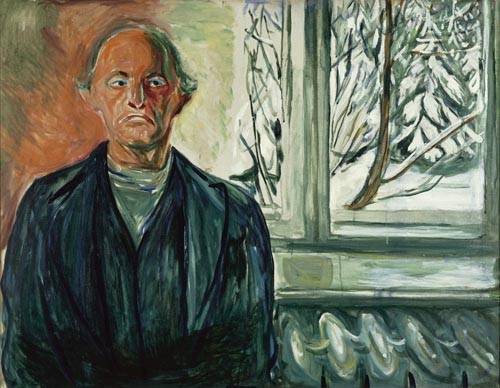 1863
On 12 December Edvard Munch is born in Løten, in the county of Hedmark, Norway. He is the second child of Laura Cathrine Bjølstad and Dr Christian Munch.
1864
The family moves to the Norwegian capital Christiania (1877-1925 Kristiania, now Oslo).
1868
His mother dies of tuberculosis, after having given birth to her fifth child. Her sister, Karen Bjølstad, takes over the running of the household.
1881
Enrols in the Royal School of Drawing, Christiania, in August.
1882
Paints his first self-portrait. Rents a studio with six fellow artists. The painter Christian Krohg supervises their work.
1884
Comes into contact with Christiania's Bohemian circle – the avant-garde of naturalistic authors and painters in Norway – and its central character Hans Jæger.
1885
Travels to Paris in May. Has an affair with Milly Thaulow.
1886
Has four paintings accepted for the Autumn Exhibition in Christiania.
1889
First solo exhibition in Christiania. Awarded a government grant. Travels to Paris in October, where he enrols in Léon Bonnat's art school. Munch's father dies in November.
1890
Lives in St Cloud, near Paris. In September he is awarded a second government grant. Develops rheumatic fever and is hospitalised in Le Havre.
1891
Travels to Nice. Awarded a third government grant. Summer is spent in Norway. Travels via Copenhagen to Paris in the autumn, and visits Nice.
1892
Completes Despair, a motif he will later develop in The Scream. Returns home from Nice at the end of March. Exhibitions in Christiania and at the Society of Artists in Berlin. The exhibition is closed after one week but makes Munch a celebrity overnight. Meets August Strindberg in Berlin and paints his portrait.
1893
In Berlin he associates with the mainly Scandinavian Bohemian literary circle, including August Strindberg, Dagny Juel and Stanislaw Przybyszewski, at the wine bar Zum schwarzen Ferkel.
1895
Winter spent in Berlin. Paints Self-portrait with Cigarette, which is sold in October that year to the Nasjonalgalleriet in Christiania. Exhibits fourteen paintings from The Frieze of Life at an exhibition at the Ugo Baroccio gallery. Leaves Germany for Paris.
1896
Travels to Paris in February. His circle of friends includes symbolist writers, poets, critics, musicians and artists such as Julius Meier-Graefe, August Strindberg, Sigbjørn Obstfelder and Stéphane Mallarmé.
1898
Provides illustrations for the Munch/Strindberg issue of Quickborn. Meets Tulla Larsen in the summer in Norway.
1899
Travels to Berlin, Paris, Nice, Florence and Rome. In the autumn and winter Munch convalesces from exhaustion at the Kornhaug Sanatorium, Faaberg, Norway.
1902
Winter and spring spent in Berlin. Exhibits The Frieze of Life, by now consisting of 22 paintings, at the Berlin Secession. Meets his patron Dr Max Linde. Summer spent in Aasgaardstrand in Norway. In the autumn he shoots himself in the left hand during an argument with Tulla Larsen.
1904
Berlin in January. March and April in Weimar. Drinks heavily. Paints Self-portrait with Brushes at Dr Linde's house.
1905
Exhibition at Cassirer's in Berlin in January. In November he stays in a spa at Bad Elgersburg, Thüringen, Germany, trying to overcome his nervous condition and alcohol problems.
1906
Exhibits at the Salon des Indépendants, Paris, next to the Fauve painters, in March. Attempts health cures at various spas. Paints Self-portrait with a Bottle of Wine and Friedrich Nietzsche, commissioned by Swedish banker Ernest Thiel.
1908
Winter spent in Berlin. Summer in Warnemünde and Copenhagen in the autumn, where he suffers a breakdown. Admits himself to Dr Jacobson's clinic. While in the clinic, he organises an exhibition at the Artists' Union, Copenhagen.
1909
Winter and spring at Dr Jacobson's clinic. Exhibits in Copenhagen, Christiania and Bergen. Settles in the Skrubben estate at Kragerø, Norway.
1910
Purchases the Nedre Ramme estate at Hvitsten on the Christiania Fjord.
1912
Has his international break-through at the Sonderbund exhibition in Cologne.
1916
Buys the Ekely estate outside of Christiania, where he spends most of his time up to his death. Paints Self-portrait in Bergen.
1918-19
Contracts Spanish 'flu in the winter.
1920-21
Visits Berlin, Paris, Wiesbaden and Frankfurt. Paints Self-portrait in Inner Turmoil. Exhibition at Cassirer's gallery in Berlin. Works on the series The Artist and his Model.
1925
Paints Self-portrait. The Bohemian's Wedding.
1927
Retrospective exhibitions of his work held in Berlin and Oslo.
1929
Builds a winter studio at Ekely.
1930-31
In May 1930 a vein bursts in Munch's right eye. Aunt Karen Bjølstad dies.
1937
Eighty-two works by Munch, in various German museums, are considered degenerate and sold by the Nazis.
1938-39
The Norwegian art dealer Holst Halvorsen buys fourteen of the "degenerate" works in 1938. He sells them at an auction in Oslo on 23 January 1939.
1940
Munch refuses to have any contact with the Nazis who invade Norway. From 1940 he works on his last self-portraits.
1944
On 23 January Munch dies in his house at Ekely. He bequeaths to the City of Oslo all of his remaining works.