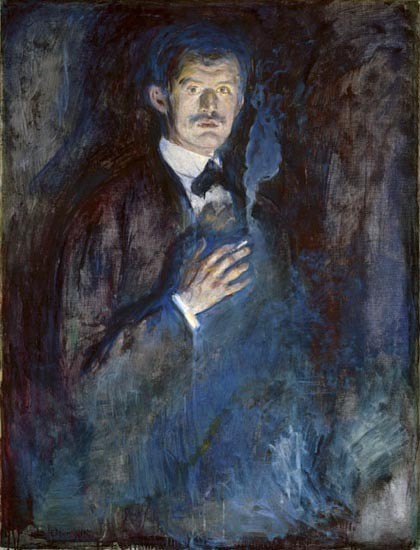 In the early-1890s, Edvard Munch invented pictorial formulae for inner experiences which he continued to develop over the following years. He was inspired by symbolism and other new art movements that preferred subjectivity to realism and naturalism.
We can follow Munch's search for a new pictorial language in his self-portraits Vision (1892), Self-portrait Beneath a Female Mask (circa 1893) and Self-portrait with Skeleton Arm (1895). Life, Love and Death – central themes for the symbolists – are charged with Munch's own meanings. The relationship between the sexes takes centre-stage.
In Woman. Sphinx (1893-94) elements from the previously mentioned self-portraits recur. The swan has turned into a woman in white, the female mask is now a nude, red-haired woman, and the skeleton arm reappears in the form of a woman in black.
Similarly, Dagny Juel Przbyszewska (1893) and Self-portrait with Cigarette (1895) may reveal how Munch defines his role as an artist in dialogues between paintings. In the former, Dagny Juel embodies the modern, self-conscious woman, a theme he comments on in Self-portrait with Cigarette, where he is portrayed as a thinker – not a painter. He uses colours to evoke an air of spirituality and inspiration, and puts himself forth as a representative of a new art that does not imitate reality but establishes the inherent reality of the image itself.