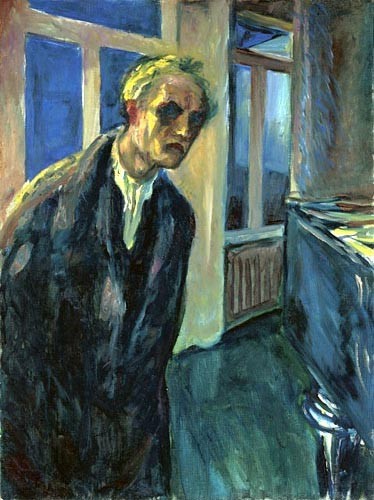 "The second half of my life has been a battle just to keep myself upright. My path has led me along the edge of a precipice, a bottomless pit […] From time to time, I've tried to get away from the path, thrown myself into the throng of life among people. But every time I have had to go back to the path along the cliff top. It is my way, which I must follow till I plunge into the depths."
– Edvard Munch, quoted by K.E.Schreiner in Edvard Munch som vi kjente ham. Vennene forteller, Oslo 1946.
Feelings of existential loneliness and restlessness invaded Munch's life increasingly. In Self-portrait. The Night Wanderer (1923-24) he scrutinises his reflection, puzzled and frightened. Although the room is empty, it nevertheless appears cramped, like a prison isolating the artist from the rest of the world. In Starry Night (1923-24) Munch notices his own shadow. The city lights on the horizon and the stars in the sky expand the pictorial space and augment the feeling of solitude.
In the series The Bohemian's Wedding he examines his relationship to the opposite sex once more in two self-portraits. In the lithograph The Bohemian's Wedding (1929-30) Munch is deep in thought, as if the bohemian wedding going on behind him is merely a figment of his imagination. Munch has finally stepped into the role of onlooker.