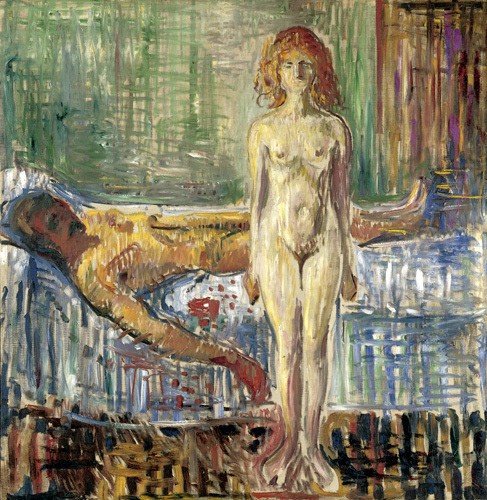 Edvard Munch's feelings of loneliness and inner tension are manifested in his Self-portrait with a Bottle of Wine (1906). While his posture indicates weakness, his head seems to be boiling over, dramatically set off against a red background. Behind him, two waiters stand back to back, which can be seen as a metaphor for the artist's conflicting spiritual forces.
In the series The Death of Marat (1906-07) Munch continued to visually process the nervous tensions that eventually led to his breakdown. He was still obsessed with his relationship to Tulla Larsen and the gunshot incident that ended it, when he shot himself in the finger. But the event itself is greatly exaggerated in his rendering of a murder drama where he and Tulla Larsen are cast as the main characters.
The title, The Death of Marat, refers to Charlotte Corday's murder of the revolutionary Jean Paul Marat in 1793, but Munch is not concerned with the historic background or the details of the crime. The crucial aspect appears to have been that of a woman murdering a man – an analogy to Munch's perception of woman's power over man.