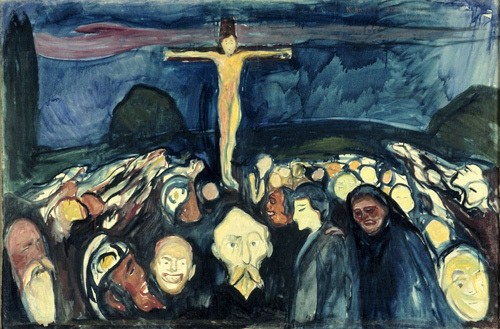 Inner crisis but artistic success
With Golgotha (1900) Edvard Munch joins the rank of fin-de-siècle artists who compared their feelings of outsidership to the crucified Christ. Using this subjective reinterpretation of Christian iconography, Munch processed his own conflict between the individual and society in a turbulent era of economic and technological change that would ultimately lead to a social and moral reorientation.
A bullet wound to his hand in the autumn of 1902 ended Munch's complex affair with his girlfriend Tulla Larsen and eventually led to a nervous breakdown in September 1908. He processed his gunshot ordeal in the painting On the Operating Table (1902-03). This is no objective rendition of surgery, however. The drama of the painting corresponds in reverse to the actual extent of the injury.
In Self-portrait in Hell (1903) Munch stands naked, vulnerable and alone, in an abstract colour field. The expressive brush strokes and the intense hues generate an infernal tension and invoke the image of a sea of flames.
Through his portraits Munch had won acclaim as an artist in Germany. In the spring of 1904, he portrayed his patron Max Linde in a knee-length coat, with a walking-stick, hat and gloves. As a pendant to this portrait, in Self-portrait with Brushes (1904) Munch himself wears a knee-length coat – but instead of the attributes of a wealthy bourgeois, his hand is holding his brushes, the insignia of the artist.
Edvard Munch
Golgata, 1900
© Munch-museet/Munch-Ellingsen Gruppen/BUS 2005
Photo: Munch-museet