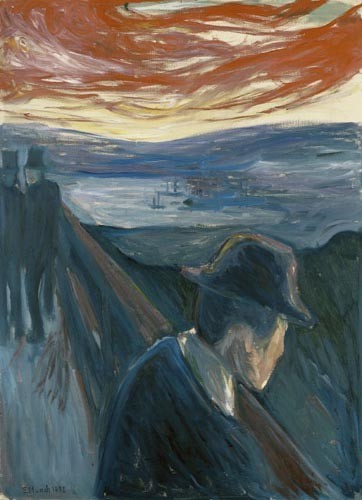 I felt the great scream through nature
Despair (1892) is the first version of Edvard Munch's famous painting The Scream (1893). It expresses the feelings of anxiety he had experienced on a walk in the sunset in Kristiania a few years earlier.
Munch writes in his diary in Nice, 22 January 1892, "I was walking along a path with two friends – the sun was setting – I felt a breath of melancholy – Suddenly the sky turned blood-red – I stopped and leant against the railing deadly tired – looking out across flaming clouds that hung like blood and sword over the deep blue fjord and town – My friends walked on – I stood there trembling with anxiety and I felt a great, infinite scream through nature."
The first time Despair was exhibited, in 1892, it was called Sick Atmosphere at Sunset, and attracted huge attention. The man in the foreground bears a distinct resemblance to Munch himself. The landscape is Kristiania seen from the Ekebergåsen. The diagonal railing produces a dramatic depth in the otherwise flat perspective.
In The Scream Munch developed the motif towards greater universality. In 1895, Munch also made a lithographic version, where he printed "I felt the great scream through nature" on some of the copies. The motif has become an icon of the anxiety and loneliness of modern man.