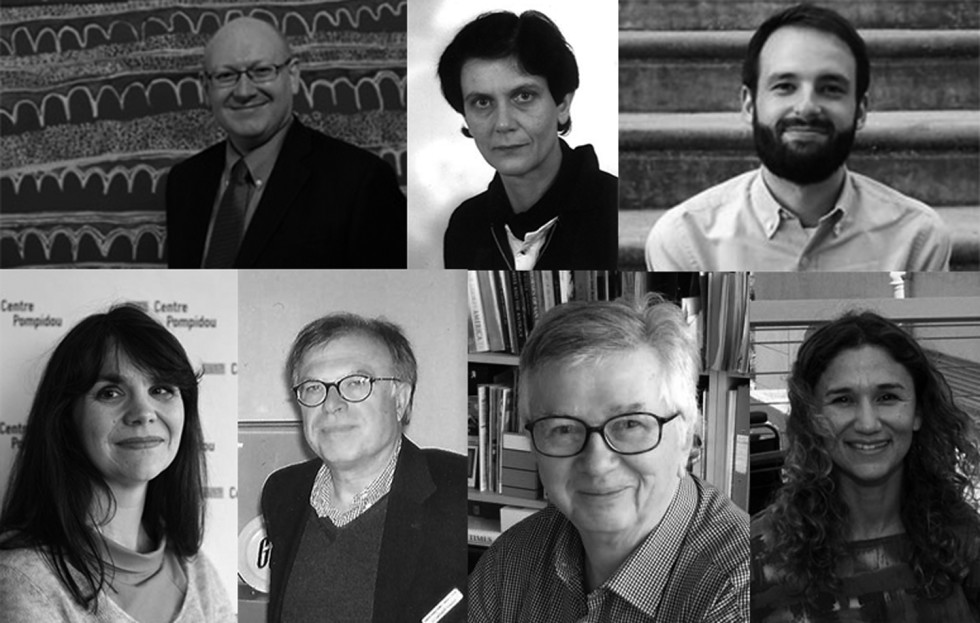 Cécile Debray is in charge of the Modern collections at the Musée National d'Art Moderne at the Centre Pompidou. She has curated several large and international exhibitions such as La Section d'or, 1912–1920 et 1925, 2000, Le Nouveau Réalisme (Paris, Grand Palais; Hannover, Sprengel Museum, 2007) Elles@Centrepompidou, 2009 (Paris, Centre Pompidou, 2009/2011, Seattle, SAM, 2012/2013, Rio, CCBB, 2013), Lucian Freud. L'atelier (Paris, Centre Pompidou, 2010), Matisse, Cézanne, Picasso… L'aventure des Stein / The Steins collect (San Francisco, SFMoMA; Paris, Grand Palais, 2011, New York, MET, 2012), Matisse. Paires et séries / Matisse. In search of true painting (Paris, Centre Pompidou, 2012, Copenhague SMK , New York, MET, 2013).
She has published essays and books on the historical avant-gardes, recently Le Fauvisme, Paris, Editions Citadelles Mazenod, 2014, and on modern and contemporary paintings by Picasso, La Fresnaye, Italians of Paris, Lucian Freud, Matisse, Peter Saul and Gilles Aillaud.
Paul B. Franklin, independent scholar based in Paris, received his PhD in the history of art from Harvard University. He is editor in chief of the bilingual scholarly journal Étant donné Marcel Duchamp, which has become an authoritative reference in Duchamp studies. He has published and lectured widely on a variety of topics related to Duchamp's life and work. Most recently, he wrote the text "Marcel Duchamp, ses maîtres et ses pirouettes autour de la peinture" ("Marcel Duchamp, His Old Masters, and His Pirouettes around Painting"), which was the lead essay in the catalogue accompanying the 2014 exhibition Marcel Duchamp: la peinture, même at the Centre Pompidou. He also collaborates closely with heirs of Marcel Duchamp in managing the artist's estate.
Dr. Gerhard Graulich studied Art History, German Literature and Philosophy at the University of Bochum and received his PhD in 1988. He became associate curator at Staatsgalerie moderner Kunst in Munich in 1990 and joined the curatorial team at Staatliches Museum Schwerin in 1994 where he has been working as a curator for the Marcel Duchamp Collection since 1996. In 2001 he was appointed Head of the Painting Department and Deputy Director. He is teaching Art History at the University of Greifswald.
Together with Dr. Kornelia Röder he has been developing the Marcel Duchamp Research Center since 2009 and is one of the editors of the publication series Poiesis and Lecture Notes. He has for example organized the exhibitions Marcel Duchamp – Respirateur (1995) Broodthaers Cage Duchamp (2003), Von Kandinsky bis Tatlin – Konstruktivismus in Europa (2006), Die niederländische Savanne – Alte Meister Neue Kunst (2012) and Die Revolution der Romantiker – Fluxus made in USA(2014).
Dr. Adina Kamien-Kazhdan is David Rockefeller Curator of the Stella Fischbach Department of Modern Art at The Israel Museum, Jerusalem. Curator in charge of the Vera and Arturo Schwarz Collection of Dada and Surrealist Art, her exhibition Surrealism and Beyond in the Israel Museum opened in Jerusalem in 2007 and traveled to Cincinnati, Ohio, and Helsinki in 2009, and to Budapest and St. Petersburg in 2015. Modernism in Dialogue 20th-Century Painting and Sculpture in the Israel Museum (2010), which she authored, accompanied her installation of the expanded Modern Art galleries in the museum.
She is currently preparing a manuscript on the collaboration between Marcel Duchamp, Man Ray, and Arturo Schwarz on the replication of ready-mades and objects for publication within Ashgate's Studies in Surrealism series. Dr. Kamien-Kazhdan also teaches at the Bezalel Academy of Arts and Design in Jerusalem.
Alexander  Kauffman is a doctoral candidate in the history of art at the University of Pennsylvania. He is writing a dissertation on the art of Marcel Duchamp, titled "The Bachelors Twenty Years Later: Marcel Duchamp and the European Avant-Garde in America, 1935–1950." Kauffman was the Andrew W. Mellon Graduate Fellow in Modern and Contemporary Art at the Philadelphia Museum of Art in 2013–14 and curator of the film program for the museum's 2012 exhibition Dancing around the Bride: Cage, Cunningham, Johns, Rauschenberg, and Duchamp.
In 2014, his essay "Framing the Erasure: Robert Rauschenberg, Willem de Kooning, and Erased de Kooning Drawing, 1952–1955" was awarded the Pollock-Krasner Study Center's Drs. Thomas and Marika Herskovic Prize. Most recently, he contributed a series of texts to the catalogue for the exhibition La peinture, même at the Centre Pompidou 2014–2015.
Derek Pullen is Director and co-founder of SculpCons Ltd, a London based international conservation consultancy specializing in modern and contemporary sculpture. He was head of the sculpture conservation department at the Tate Gallery for over 25 years.
Pullen has lectured and written on the conservation, techniques and materials of innovative twentieth century sculptors. The conservation of Duchamp/Hamilton's Large Glass was the first project in which he participated when he joined the Tate. A further conservation treatment of the same sculpture was also his last major project there.
Dr. Kornelia Röder studied Art History at Humboldt University in Berlin. She works as a curator at Staatliches Museum Schwerin with a special interest in modern and contemporary art. In 2006 she completed her PhD on Topology and Functionality of the Mail Art Network and its Specific Significance for Eastern Europe Between 1960 and 1989 at Bremen University, having been responsible for setting up the Mail Art archive in Schwerin.
Together with Dr. Gerhard Graulich, she has been developing the Marcel Duchamp Research Center since 2009 and is one of the editors of its two publication series Poiesis and Lecture Notes. She is a member of the Art in East Germany research group at Philipps University in Marburg and of the Artist's Publications research association in Bremen. She has organized exhibitions for exemple  Mail Art – Eastern Europe in the International Network, Broodthaers Cage Duchamp, Digital Gardens  and Connected by Art. Zeitgenössische Kunst aus dem Ostseeraum.
Michael Taylor is the Director of the Hood Museum of Art at Dartmouth College. Prior to his appointment at Dartmouth in June 2011, Dr. Taylor served as the Muriel and Philip Berman Curator of Modern Art at the Philadelphia Museum of Art, where he worked for more than fifteen years. A highly regarded curator, author, and expert on modern and contemporary art, he is an eminent scholar of Dada and Surrealism with a focus on the art of Marcel Duchamp.
Dr. Taylor's 2009 book, Marcel Duchamp: Etant donnés, won the George Wittenborn Prize and was awarded first prize for best museum permanent collection catalogue by the American Association of Art Museum Curators. A native of London, England, Dr. Taylor received Master of Arts degrees from both the University of Edinburgh in Scotland, and the Courtauld Institute of Art in London, where he also received his PhD, which focused on the reception of Duchamp's readymades in Europe and the United States.