31.7 2014
August 19-20: The Malmö festival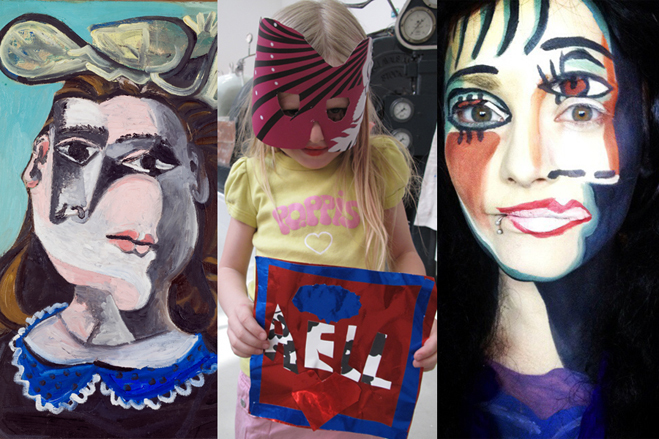 Feel inspired by Picasso during our workshop! Image to the left: Detail from Pablo Picasso, La femme à la collerette bleue, 1941 © Succession Picasso/BUS 2014. Other images, photo: Gisela Fleischer
AUGUST 19–20 2014 11 AM–7 PM AT STORTORGET
During the Malmö Festival, Moderna Museet Malmö will move the Workshop and art educators outside, to the festival area. This year, the inspiration for the workshop comes from our Pablo Picasso exhibition.
Picasso – cubist masks and painted faces
Pablo Picasso created faces resembling the collage technique, where noses, ears and eyes sometimes swop places. His paintings are figurative but the reality in the images look assembled, like a collage where objects are seen from different angles at the same time. Picasso's imagery is called cubism, and with this new style he broke new ground in the early 20th century.
During The Malmö festival, Picasso is the inspiration at Moderna Museet's art workshop. We will dive into a world of cubism, masks and faces. With coaching from the art educators, you will be able to create a cubist mask à la Picasso or a Picasso inspired painting directly in your own face.
From 5 years. Drop in, but limited number of participants. Welcome!
Published 31 July 2014 · Updated 31 July 2014