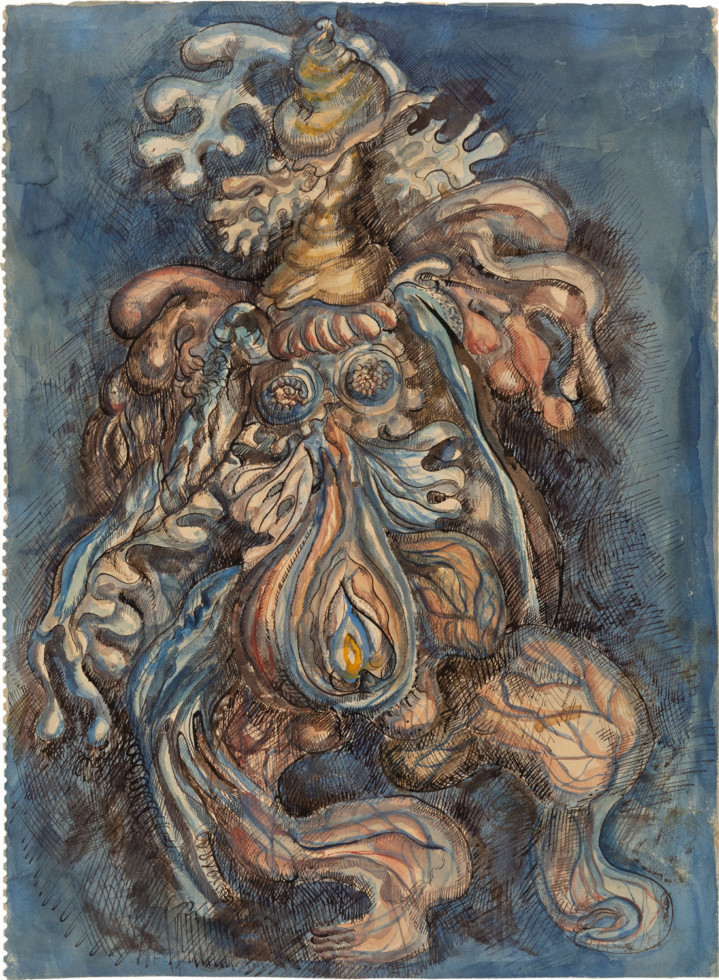 Biografier Art et Liberté
Läs om konstnärerna som medverkar i utställningen. Biografierna är på engelska.
Abdel Hadi El-Gazzar (1925–1966)
Abdel Hadi El-Gazzar is one of Egypt's most revered and well-known artists of the post-war era. The son of an Islamic scholar, El-Gazzar was born in Alexandria in 1925. In 1936, his father was given a position at Al-Azhar, upon which he relocated to Cairo and settled in Sayeda Zeinab, a working- class Cairene neighborhood near Islamic Cairo. There, he witnessed the moulids or celebrations of saints and other religious and folkloric rituals that would leave their imprint on his work.
El-Gazzar studied medicine at Cairo University briefly and then enrolled in the Faculty of Fine Arts 1945. He was taught by pioneering art educator Hussein Youssef Amin and would later join him, along with Samir Rafi', Hamed Nada, and others, in the Contemporary Art Group, which is commonly believed to have been founded in 1946. This has been recently contested by newly published segments of Rafi's memoirs in which he contends to have founded the group from as early as 1940. Before joining the Contemporary Art Group however, El-Gazzar had also exhibited with Art and Liberty on occasion, becoming a junior member of the collective. His paintings of the time were of a mystifying and surreal nature, and he developed unique imagery to depict magical and imaginary scenes portraying essentially Egyptian rituals or folkloric narratives. Many of his works show an inspiration with the writings of Albert Cossery, illustrating the hardships of the poor. One particular example is The Queue of Hunger from 1948, which caused him to be arrested on the opening night of its exhibition. El-Gazzar enjoyed a prolific exhibiting career, showing his work in Egypt and internationally. He participated in the Sâo Paolo Biennale in 1957, for which he won a Bronze Medal Award.
In 1958, El-Gazzar travelled to Rome to attend the Central Restoration Institute, where he gradually abandoned the depiction of typically Egyptian and surreal folkloric scenes and turned to images of fantastical industrialization and complex machines alluding to the nation-state and to Nasser's endeavors. He died in 1966 after his return from Italy at the age of forty, making his career a very short but deeply rich one.
Albert Cossery (1913–2008)
Albert Cossery was an Egyptian francophone writer who lived in Paris. Born in Cairo into a Greek Orthodox family of Levantine origin, he was educated at the Jesuit School and traveled to France in 1917, where he spent a considerable amount of time before moving there permanently in 1945. Cossery was highly moved by the poverty and destitution he witnessed in Egypt in the interwar years and during World War Two, particularly with the influx of rural workers to Cairo who, in the capital, found only neglect and poverty. He became a founding member of the Art and Liberty Group and his writings inspired many of the group's visual artists in their drawings and paintings, specifically Inji Efflatoun, Fouad Kamel and Kamel El-Telmisany. This literary-artistic cross-pollination is undoubtedly one of Art and Liberty's hallmarks.
Cossery published short stories in Al-Tatawwur, the collective's Arabic-language periodical, which would later be published as a book of short stories entitled Les Hommes oubliés de Dieu (Men God Forgot, 1941). La Maison de la mort certaine (1944) is another one of his major works from the Art and Liberty era, telling the story of a crumbling house and its impoverished inhabitants in a poor area of Cairo. Cossery was generally interested in society's disregarded underbelly, writing mainly about figures such as smalltime prostitutes, thieves, and beggars. He wrote a total of eight novels during his lifetime, of which Mendiants et Orgueilleux ("Proud Beggars," 1955) is sometimes considered his masterpiece.
In 1945, Cossery moved to Paris and lived in the hotel La Louisiane until his death in 2008 from throat cancer. He became a known figure in the circles of Paris's Left Bank, socializing with Camus, Lawrence Durrell, Mouloudji, and Tristan Tzara.
Inji Efflatoun (1924–1989)
Inji Efflatoun was an Egyptian painter, feminist, and political activist and one of the most important figures in modern Egyptian art history. Efflatoun was born in 1924 to an aristocratic Cairene family and educated at the Lycée Français du Caire. Along with her sister, poet and writer Gulperie, Efflatoun was raised by a divorced and working mother, Salha Efflatoun, a fashion designer who, by providing for her family and raising her children alone, defied traditional gender norms and would thus later have an immense impact on Efflatoun's feminism.
Efflatoun showed an early interest in art and was tutored by Kamel El-Telmisany, who introduced her to surrealism, cubism, and the Art and Liberty Group. At 18, she was the youngest to ever exhibit in the group's "Expositions d'Art Indépendant," namely in its third installment in 1942. Her work from that period shows a dark torment, where she was greatly influenced by the literary output of the Group, especially Albert Cossery's writings about the plight of poor. She then became one of the first women to attend the free section of the Faculty of Art in Cairo and went on to have her first solo show in 1952. She later studied under Margo Veillon, Hamed Abdallah, and Ragheb Ayyad, and spent time in Upper Egypt to paint local scenes.
A noted Marxist, outspoken and politically active feminist, and writer of three politically progressive short books, Efflatoun's activism landed her in prison in 1959, when she was arrested during Nasser's campaign against Communists. She was in contact with international communist artists including Mexican muralist David Alfari Siqueiros and the Italian painter Renato Guttuso. Efflatoun continued to paint during and beyond her prison sentence, which ended in 1963. Her paintings during her prison time are marked by a somber, harsh quality, though her work gradually became lighter, airier, and of a more joyful quality after her release.
She went on to curate a number of exhibitions, including "Visages de l'art contemporain égyptien" at the Musée Galliera in Paris in 1971 and "Ten Egyptian Women Artists" at the Arab Socialist Union in Cairo gallery in 1975 among others. Furthermore, she organized an important personal exhibition that toured in 1970 in East Berlin, Dresden and the USSR. Efflatoun went on to become one of the most widely exhibited Egyptian artists.
Hassan El-Telmisany (1923–1987)
Hassan El-Telmisany was a painter and illustrator, and the younger brother of Kamel El-Telmisany. He was born in 1923 and received his diploma in decorative arts in 1938. However, Hassan was enamoured with painting and drawing and followed his older brother's footsteps in visual art, learning to paint under the tutelage of Ramses Younane. Hassan began exhibiting his work in a number of group shows, including the Société des Amis des Beaux-Arts as well as the Néo-Orientalistes.
Deeply influenced by the outbreak of war and the economic destitution he observed in marginalized segments of Egyptian society, Hassan would join his brother and become a member of the Art and Liberty Group. In1943, at the age of 22, he would create some of his most emblematic works reflecting a preoccupation with the devastation of war. Hassan exhibited with the group from 1944 onwards, and in 1942, he joined Fouad Kamel's Bread and Liberty Group, a socialist quasi sister organization of Art and Liberty that was more focused on street activism.
Together with his brother, Ramses Younane and Anwar Kamel, they were arrested during the Egyptian government's crackdown on communists in 1946 and spent several months in prison. Hassan was later affiliated but never a formal member of the Contemporary Art Group, which included innovators such as Abdel Hadi El-Gazzar and Hamed Nada. They were interested in depicting typically Egyptian scenes but also folkloric narratives of superstition and magic in a surrealist manner. Hassan later abandoned a professional career in painting and went on to become a pioneer in the documentary filmmaking industry. He died in 1987.
Georges Henein (1914–1973)
Georges Henein was an Egyptian Surrealist poet and literary critic. Born in 1914 to an elite Coptic family, Henein's father, Sadik Henein Pasha, was a diplomat, and his mother was an Egyptian-Italian named Maria Zanelli. Growing up in a cosmopolitan home, Henein mastered many languages and spent his childhood years between Cairo, Madrid, Rome, and Paris thanks to his father's diplomatic work. He completed his studies at the Sorbonne and mixed with Surrealist circles in 1930s Paris. He contributed to Un Effort, a Cairene monthly published by Francophone literary collective Les Essayistes, and to Les Humbles, a Marxist-Leninist journal printed in Paris.
In 1936, Henein met André Breton, the so-called father of Surrealism. It was the beginning of a long correspondence and friendship between the two that would encourage Henein to form the Art and Liberty Group in Cairo. He finally achieved this upon the publication on December 22, 1938, of the famed Manifesto of Degenerate Art in reaction to the Nazis' persecution of artists in Europe. "Long Live Degenerate Art" signaled the beginning of a movement in art and literature, comprising thirty-nine artists and intellectuals of different backgrounds. The subsequent independent art exhibitions organized by the group, which challenged mainstream ideas about art in every way, saw the growth of Surrealist painting and photography in Egypt. Henein also financed Al-Tatawwur, Art and Liberty's Arabic-language review, and established La Part du Sable together with poet Edmond Jabès and painter and theorist Ramses Younane.
In 1948 Henein broke away from the Surrealists in a letter to Breton, citing disagreement in direction and vision. Art and Liberty had already disintegrated in the preceding couple of years, and Henein's efforts to imbue it with a second wind by attempting to counsel artists who would later form the Contemporary Art Group, failed. Henein was forced into exile by the Egyptian government in 1962. With his wife Iqbal El-Alaily, also a writer, he settled in France, where he wrote for Jeune Afrique and L'Express, focusing on journalistic writing until his death in 1973.
Fouad Kamel (1919–1973)
Fouad Kamel was an Egyptian painter, poet, and illustrator, and one of the founders of the Art and Liberty Group. Born in Beni Suef, Egypt, on April 28, 1919, he went on to study art and art education in Cairo and graduated from the Fine Art School in 1942. He subsequently taught drawing in public schools.
Throughout his prolific career, Kamel joined a number of artistic groupings and movements including the Neo- Orientalists along with Kamel El-Telmisany in 1937. Of a rebellious nature, he would later band with Kamel El- Telmissany and Georges Henein to form the Art and Liberty Group in 1938, with whom he exhibited throughout the entire war period. His paintings and drawings from that period show an affinity to the writings of Albert Cossery, which dealt with the plight of the impoverished and destitute of Egypt. He also participated in an exhibition of automatic drawing at the Lycée Français du Caire in 1947, together with Ramses Younane and Kamel El-Telmisany. He was included in Le Surréalisme en 1947, which was curated by Breton at the Galerie Maeght in Paris in 1947.
Kamel also created a number of illustrations for Al-Tatawwur, Al-Majallah Al-Jadida, and La Part du Sable, which he helped establish with Henein and Younane in 1947. Even after Art and Liberty parted ways, Kamel continued to organize exhibitions of Surrealist art into the late 1940s. His paintings moved toward complete abstraction later in his life. Kamel died in Cairo on June 25, 1973.
Kamel El-Telmisany (1915–1972)
El-Telmisany was born in Qalyubiyeh, Egypt, in 1915, and studied veterinary medicine. Passionate about painting, he abandoned his studies and pursued visual art when his family moved to Cairo. There, he met young experimental writer Georges Henein and artist and critic Ramses Younane, and together with them lent Art and Liberty its impetus, becoming one of its founders and protagonists.
El-Telmisany's painting career was very short lived, lasting only ten years. His work is a vigorous manifestation of all of Art and Liberty's ideas, exhibiting a particularly violent and dark but poetic nature. In addition to painting, El-Telmisany was a prolific writer and critic, publishing a number of articles in Al-Tatawwur, Art and Liberty's Arabic-language review, as well as Don Quichotte, a French-language avant-garde artistic and literary review established by Henri and Raoul Curiel with several Art and Liberty members and affiliates including Georges Henien serving on its editorial board. El-Telmisany designed the headers for Don Quichotte and wrote a series of articles entitled "L'Art en Égypte", for every installment of which he showcased the work of a fellow Art and Liberty member and wrote fantastically poetic and surrealist texts to accompany them.
With time, El-Telmisany became more preoccupied with Marxist ideologies and turned to cinema in 1945 to promulgate his message. Like his brother, he excelled in the field and directed the highly controversial and anti-capitalist Al-Souq Al-Sawda' in 1945, one of Arab cinema's most important films and perhaps its first of the neo-realist kind. It was banned from theatres for four years. El-Telmisany died in 1972.
Ida Kar (1908–1974)
Ida Kar, born Karamian, was a photographer of Armenian origin born in Russia. She spent her childhood in Iran, Armenia, and Russia, before her family moved to Alexandria where she attended the city's Lycée Français.
After having graduated from the Lycée, Kar left Alexandria to study chemistry and medicine in Paris and later interrupted her studies to learn singing and violin. It was during that time that she met German experimental photographer Heinrich Heidersberger, who introduced her to Surrealist photography. In 1933, Kar returned to Egypt and later married Edmond Belali, a government official and amateur photographer.
Together they founded Idabel, a photography collective and studio in Cairo, and went on to exhibit their work in three of the Art and Liberty exhibitions to favorable reviews by critics such as Ahmed Rassim Bey. She collaborated with different photographers and artists on photomontage series, including fellow Art and Liberty member and Surrealist painter Angelo de Riz. As with Étienne Sved, Kar would also photograph ancient Egyptian monuments and artifacts without according them the heavy burden of national symbolism as opposed to her more traditional contemporaries.
Kar later divorced Belali and married British poet Victor Musgrave, who was stationed in Egypt during World War II. Together they moved to London in 1949, where Kar would embark on a remarkable career in photography, producing portraits of high profile intellectuals throughout the continent. Until her death in 1974, she worked in London and Paris and exhibited throughout Europe and Russia, garnering much critical acclaim and success, and had prominent role in furthering the place of photography within fine art. Kar was the first photographer to have been given a retrospective at a major London gallery, the Whitechapel Art Gallery in 1960.
Mayo (1905–1990)
Antoine Malliarakis, better known as Mayo, was born to a Greek Suez Canal engineer and a French mother in Port Said, Egypt in 1905. Although he neither officially joined Breton's Surrealist group, nor the Art and Liberty Group in Egypt, he was an important member of the movement.
Mayo studied at the École des Beaux-Arts de Paris between 1923 and 1927. There, he spent a lot of time in Montparnasse and socialized with prominent Surrealists such as Tristan Tzara, Man Ray, Yves Tanguy, and later Jacques Prévert and Robert Desnos. He went on to exhibit in several group shows as well as solo shows all over Europe and collaborated with the para-Surrealist group Le Grand Jeu on their literary review. He returned to Egypt in 1933–34, and again from 1937 to 1941, where he exhibited with the Art and Liberty group and was very well received. Mayo also illustrated several writings by Art and Liberty group members including Ivo Barbitch and Edmond Jabès and made drawings for a number of other literary reviews. His illustrations took on a more somber tone during the war years and include works for Camus and Prévert. He is also known for his work as a costume and set designer for theater and films, most notably Marcel Carné's Les Enfants du paradis.
After 1942, Mayo moved back to Europe, first settling in Paris and then in Rome in 1966 where he continued to actively produce paintings and drawings, exhibiting mainly in Italy as well as Paris, until afflicted by an eye infection in 1984. He returned to Paris in 1986 and was honored as a commander of the French Ordre des Arts et des Lettres. He died in Seine- Port, France, in 1990.
Lee Miller (1907–1977)
Born in Poughkeepsie, New York, an American of Canadian and German descent, Lee Miller was a photographer, model, and one of the most famous free-spirited figures of the twentieth century. Miller began her career in photography modelling for prominent artists such as Edward Steichen and Arnold Genthe.
In 1929 she moved to Paris to study under Man Ray, whose muse, apprentice-collaborator, and lover she would become. She then established her own studio in New York in 1932 and ran it successfully until she married Aziz Eloui Bey, a wealthy Egyptian businessman and relocated to Cairo in 1934. There, she formed close ties with the surrealists of Cairo and the Art and Liberty Group. Her role was seminal in aiding the dialogue between the group and the British Surrealists in London, as well as the Villa Seurat circle in Paris. By making surrealist exhibition reviews and literature accessible to the Group via her lover Roland Penrose, Miller helped develop the local artistic surrealist scene. At the same time, her own Surrealist photographic practice flourished as she was captivated by desert landscapes and ruins, of which she made beautiful, almost abstract depictions in works such as Portrait of Space (1937).
In 1939, Miller moved to London with the British Surrealist painter Roland Penrose, who would later become her husband and father of her only child. In World War Two, Miller became a freelance fashion photographer and photojournalist for Vogue Magazine, covering everything from the London Blitz to the death camps at Buchenwald and Dachau. Returning to England, she and Penrose made their home Farley Farm House in East Sussex a mecca for visiting artists, such as Man Ray, Moore, Dubuffet, and Ernst. She died on her farm in 1977.
Hamed Nada (1924–1990)
Raised in a religious household in the Al-Qal'a district of Cairo, Hamed Nada, whose paintings manifest a deep inspiration with the rituals, superstitions, and folkloric narratives present in common Egyptian life, went on to become one of Egypt's foremost Surrealist artists.
Nada's interest in art from a young age led him to be tutored by Hussein Youssef Amin, an art pedagogue known for his rejection of traditional art teaching techniques, as well as being generally accepted as the founder of the Contemporary Art Group, whose main interests were surrealism and a concern for social issues. However, the founding of the Group has been recently contested through newly published material (for more see Samir Rafi' biography in this section). Nada eventually had his first exhibition with the Contemporary Art Group in 1946 and went on to participate in all of their shows until 1951, becoming one its most integral members along with Abdel Hadi El-Gazzar and Samir Rafi'. In addition, he had fifteen more exhibitions across Egypt, France, Italy and Spain during his lifetime.
Nada graduated from the Faculty of Fine Arts in Cairo in 1951 after having been taught by both prominent Egyptian artists Ahmed Sabry and Youssef Kamel. Simultaneously, he wrote and illustrated for the literary review Al-Thaqafah, where other noted writers such as Taha Hussein and Louis Awad published their works. After studying in Luxor and Madrid, he later became head of the painting department at the School of Fine Arts in Alexandria, and successively in Cairo in 1977, after which he continued to teach painting on a part-time basis until his death in 1990.
The paintings of Hamed Nada are unique in their approach to Surrealism, combining a profound knowledge of folkloric tales and magicalness together with symbolic elements depicting the life of Egypt's working class.
Amy Nimr (1907–1974)
Amy Nimr, also known as Amy Smart, was a painter and writer, and was the daughter of prominent Egypt-based Syrian media mogul Faris Nimr. Born in Cairo, Nimr travelled to Paris and Rome in her youth and studied fine arts at the Slade School in London. She also studied briefly under Walter Sickert. Nimr began exhibiting her work in Paris and London in the 1920s and became well acquainted with the British surrealists and the artists of the Villa Seurat in Paris. Back in Cairo in the early 1930s she married Walter Smart, a high ranking British official and well-regarded scholar of Arabic and Persian. Nimr would enjoy critical acclaim of her work in Egypt, exhibiting regularly at the annual Salon du Caire among the likes of Mahmoud Saïd.
Nimr and her husband were known for their hospitality, hosting at their cultural salon guests from around the world ranging from royalty and celebrities to cash-strapped artists and intellectuals. She became known for her generosity as she was a patron of the arts and helped many needy artists, including Lawrence Durrell when he landed in Egypt. She played an important role in strengthening the dialogue between European surrealists and the local scene.
Together with her colleague Mahmoud Saïd, Nimr was praised equally by the Société des Amis de l'Art crowd as well as the avant-garde Art and Liberty Group, an acclaim that only these two painters of their generation could enjoy. In 1943 however, Nimr's only son, Micky, was killed by a landmine during the family's picnic in Wadi Degla. Her paintings following this accident are described as her most surrealist and dark phase. She exhibited these works in the mid 1940s at the Expositions de l'Art Indépendant to great praise. Finally, it is worth nothing that Nimr is the only Egypt-based surrealist who would later contribute to surrealist war poetry journal Personal Landscape with a critical essay on Cavay's poetry in 1945.
Nimr left Egypt after the 1956 Suez War. She died in Paris in January 1974.
Samir Rafi' (1926–2004)
Samir Rafi' was born in the Sakakini district of Cairo in 1926 to a well-off, multi-faith household. His father was a Muslim lawyer of a severe nature, and his mother was a warm Christian woman who taught Rafi' to speak French. During his secondary school years, Rafi' was tutored by Hussein Youssef Amin, a pioneering art educator at the Faruk I School who had spent time in South America and Europe and returned to Egypt espousing novel teaching methods. Rafi' went on to study decorative arts at the Fine Arts School in Cairo and graduated in 1948. He had begun exhibiting his work much earlier however, having been encouraged by his teacher Amin to partake in an exhibition at the Qattan Library in Cairo in 1943 when he was only seventeen.
Rafi' was influenced by the surrealists and eventually went on to exhibit with the Art and Liberty Group. Georges Henein was aware of his talent and had even suggested him to André Breton in their correspondence regarding the Surréalisme en 1947 exhibition, even though he was only a junior member of Art and Liberty. In any case, it was not long until Art and Liberty dispersed, and in 1946, Amin founded the Contemporary Art Group of which Rafi' would become a prominent member, alongside Abdel Hadi El-Gazzar and Hamed Nada. However, Amin's founding of the group has been recently contested by newly published segments of Rafi's memoirs in which he contends to have founded that group from as early as 1940. The group was concerned with depicting Egyptian life and popular culture through a surrealist lens, often using folkloric narra- tives and magic as a central theme.
Rafi' relocated to France in 1954 to study for a PhD in art history at the Sorbonne. He continued to produce inexhaustibly and died in Paris in 2004, leaving behind a significant amount of drawings and paintings.
Mahmoud Saïd (1897–1964)
Mahmoud Saïd was born in Alexandria in 1897 to a wealthy and powerful landowning family. His father, Mohammed Saïd Pasha, would later become Egypt's prime minister, and his niece would become Queen Farida of Egypt. Saïd graduated from the Cairo School of Law in 1918 but had been studying painting under Italian artists Amelia Cassonato and Arturo Zanieri beforehand. Upon receiving his law degree, he traveled to Paris to continue his studies and simultaneously enrolled at the Académie de la Grande Chaumière in 1919.
He worked in the Mixed Courts upon his return to Egypt and continued his legal career until he retired in 1949, devoting his time to art exclusively. Throughout his parallel artistic career, Saïd created works highly praised by both statebacked groups such as the Société des Amis de l'Art as well as the rebellious and Surrealist Art and Liberty Group. He was the only artist from the so-called Pioneers to exhibit with Art and Liberty, who considered his strange and mystifying portraits, such as Thaat Al-Jada'il Al-Thahabiyya (The Woman with the Golden Locks, 1933), to be of a surreal and Freudian quality, probing the realm of the subconscious. Saïd also produced many society portraits as well as nudes.
He participated in the Alexandria Atelier and the Salon du Caire organized by the Société every year and also represented Egypt at the Venice and Mediterranean Biennales many times throughout his career. He also received the gold medal for his representation of Egypt in the 1937 International Exhibition in Paris. Saïd died in 1964.
Ramses Younane (1913–1966)
Ramses Younane was an Egyptian painter, writer, and translator central to the surrealist movement in Egypt. He was born to a modest family in Minyah and graduated from the Faculty of Fine Arts in Cairo in 1933 and taught art at a number of public schools around the country after having obtained his teaching certificate in 1934.
The following year, Younane joined Jamaa'at al-di'aya al-fanniyya (The Society for the Promotion of Art), a collective established by artist Habib Gorgui calling for the importance of art in education. The collective published Younane's book Ghayat al-rassaam al-'asri ("The Aim of the Contemporary Artist") in 1938. In January 1939, Younane joined Georges Henein in the newly established anti-Fascist Art and Liberty Group, who had voiced, only a few weeks earlier, in their Manifesto for Degenerate Art their condemnation of the persecution of artists in Europe by the Nazis. The manifesto was published in Al-Majallah Al-Jadidah and signed by 37 Egyptian and foreign artists, writers, and intellectuals. Thus began the period of the avant-garde and surrealist series of Expositions de l'Art Indépendant organized by the group in the early 1940s, showcasing a range of Surrealist and experimental painting, drawing, sculpture, and photography—highly unusual for the time—by artists mostly shunned by mainstream and statebacked art collectives of the time such as the Société des Amis de l'Art.
Throughout this time, Younane exhibited his work regularly and published many articles outlining the ideas behind surrealism and calling for social justice. He also translated Arthur Rimbaud's Une saison en enfer, Franz Kafka's Un médecin de campagne, and Albert Camus'Caligula. In 1942, Younane became the editor-in-chief of Al-Majallah Al-Jadida, a review of Trotskyist leanings and a platform for many Art and Liberty members, and remained at its helm until it was banned by the Egyptian government in 1944. He relocated to Paris in 1947 after a short time spent in prison, upon which Art and Liberty disbanded, and worked for the French National Radio and then briefly at the press office of the Egyptian Embassy. He returned to Cairo in 1956 after having been exiled by France for political reasons. In 1960, Younane received a grant from the Egyptian Ministry of Culture that allowed him to devote his full time to painting. His work assumed a predominantly abstract style until his death in 1966.
Étienne Sved (1914–1996)
Étienne Sved was a Hungarian-born Jew and later a Frenchnaturalized photographer and graphic designer. He studied design in Budapest under Bauhaus professors fleeing Nazi Germany and worked as a commercial poster designer. Sved fled an increasingly Fascist Eastern Europe in 1938 and settled in Egypt. There, he held jobs as an illustrator at Al-Ahram newspaper, and then at the Société Orientale de Publications, where he published political caricatures, including a series of anti-Nazi caricatures that were republished many years later in a volume entitled Adolf ou à quand le crépuscule des odieux.
Sved also worked for the daily Le Progès Égyptien, a position he likely obtained through his friendship with Georges Henein. There, he discovered photography and went on to produce an immense portfolio of works. In concert with local Surrealist and anti-Fascist tendencies, Sved created a series of Surrealist photomontages in the early 1940s depicting ancient Egyptian monuments while stripping them of the national symbolism accorded to such motifs, in direct opposition to lauded national artists such as Mahmoud Moukhtar, who used these symbols to reinforce narratives of national identity.
In 1954, he published a collection of photographs from his trip on donkey-back throughout Egypt with a text written by Tristan Tzara entitled L'Égypte face à face. He also later illustrated Jean Cocteau's Maalesh, a journal inspired by the latter's stay in Egypt in 1949.
Sved later settled in France, where he founded his own marketing agency as well as his own artistic press. Until his death in 1996, he continued oscillating between editing and graphic design—for which he won numerous international prizes— and his eclectic passions for semiology, therapeutic arts, and illustration.
Kamal Youssef (born 1923. lives in Pittsburgh, Pennsylvania)
Kamal Youssef is an Egyptian painter and civil engineer. Born in 1923 to a well-to-do family, Youssef studied engineering at Cairo University, while cultivating a solid artistic practice at the same time. At sixteen, he joined the Art and Liberty Group and partook in their Expositions d'Art Indépendant on several occasions. Like his colleague Inji Efflatoun, Youssef was particularly influenced by the writings of Art and Liberty member Albert Cossery and his portrayal of a neglected and underprivileged part of Egyptian society. His paintings often dealt with the struggles of Egyptian peasants, which he was able to witness having spent time in his father's native village of Masjid Al-Khadr.
Later on, Kamal Youssef would also join the Contemporary Art Group, whose main interests lay in a type of surrealism dealing with specifically Egyptian life and native themes of folklore. He also studied under Rateb Seddik, represented Egypt in a number of international biennales, and was given a solo exhibition with the Egyptian Museum of Modern Art. In the aftermath of the 1952 revolution, Youssef moved to Paris, where he stayed for two years before relocating to the United States, where he has retired and continues to paint. His oeuvre spans six decades, and has been heavily influenced by his love of land, his acute awareness of socioeconomic disparities, and his work with computers as a civil engineer.
Laurent Marcel Salinas (1913–2010)
Born to a French mother and an Italian father in Alexandria in 1913, Laurent Marcel Salinas spent his early career years between the Mediterranean port and Aix-en-Provence, France, where he studied law.
However, his interest lay in painting, and he was involved with the Art and Liberty Group extensively, being one of the original signatories of its Manifesto for Degenerate Art and also exhibiting his Surrealist paintings known for their hybridization of man and machine in the group's exhibitions of independent art. He also exhibited together with Mahmoud Saïd and Ahmed Nagi at the Alexandria Atelier. Salinas was not only a painter but also an art critic and he contributed regularly to the literary reviews such as the Frenchlanguage Valeurs and Don Quichotte, both platforms for many of the Art and Liberty Group members.
In the aftermath of the 1952 Egyptian revolution, Salinas and his family were forced into a financially disastrous exile, during which many of his paintings were lost. In the following years, Salinas continued painting and expanded his practice into lithography and photography in Paris, quickly becoming a leading expert of both mediums to the point of earning Picasso's formal recognition for a lithographic rendition of his 29 Portraits Imaginaires as well as Henri Cartier Bresson's acknowledgment and admiration. He died in 2010.
Van Leo (1921–2002)
Van Leo was an Armenian-Egyptian photographer who gained fame for his glamorous and striking portraits of celebrities. Born Levon Alexander Boyadjian in 1921 to an Armenian family that had moved to Cairo in the 1880s, Van Leo showed an interest in photography from an early age. He enrolled at the American University in Cairo in 1940 but halted his studies in order to focus on photography since he was a failing student, and apprenticed himself at Venus studio, which was owned by a fellow Armenian named Artinian. At the time, studio portraiture was a field largely dominated by Armenians. From 1941 onwards, Van Leo produced photographs with his brother, which together they signed Studio Metro, and then Studio Angelo.
Van Leo made surrealist self-portraits in the early 1940s, earning him a place in the Art and Liberty's Expositions d'Art Indépendant of 1944 and 1945. He collaborated with Art and Liberty member and painter Angelo de Riz to create surrealist photomontages and frequented the latter's home in Dar Al-Labbanah near the Citadel on Sunday mornings to discuss aesthetic concepts.
His Surrealist period was brief, however, and in 1947, he opened his own studio in Fouad Street in Downtown Cairo, now called 26th July Street, rebranded himself as Van Leo, and went on to produce works from there for more than 50 years. He is thus better remembered for his glamorous society portraits, capturing the likenesses of Egypt's famous cinema stars and other figures such as Taha Hussein. Van Leo bequeathed his archive to the American University in Cairo prior to his death in 2002.