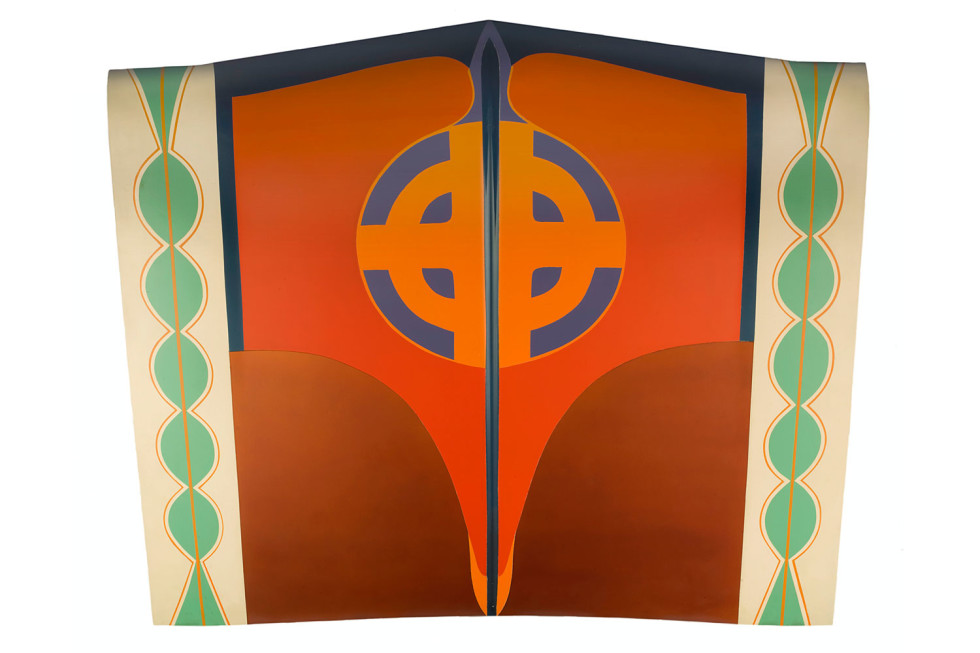 8.11 2010
The Second Museum of Our Wishes: Judy Chicago
During a time when the art world in America was, to put it in extreme terms, still restricted to a male network in New York and their contacts in Europe, Judy Chicago emerged to become one of the most infl uential artists of a new and more radical art scene with links to the increasingly vocal civil rights movement.
Chicago came to Los Angeles at the end of the 1950s to study painting and sculpture. She had her fi rst solo exhibition in 1965 and the following year took part in a group exhibit at the Jewish Museum in New York called Primary Structures. She was then working in a minimalist style while at the same time questioning the possibilities of making an impact and expressing oneself within the limitations of formalistic intellectual minimalism.
One consequence of this questioning was her purchase in 1970 of a full-page ad in the art magazine ArtForum, announcing that she was changing her name from Gerowitz to Chicago. The reason she stated was that no one should be forced to bear a name which had been decided in a social system dominated by males. Members of the Black Panther movement had, in a similar act, rid themselves of their family names, which for them reinforced the heritage of their "slave" identity.
Chicago created her most iconic works during the 1970s and 80s. Her installation piece entitled The Dinner Party (1974–79) is a ceremonial, triangular banquet table which recalls the memory of 1,038 named historic and mythological women whose importance has been denied in male historiology. The Dinner Party became a watermark in the debate at the time. Hailed by many as setting an artistic precedent, it was at the same time criticized by the prevailing modernist art criticism as well as the new generation of post-structural feminists. Later in The Birth Project (1980–85), working together with 150 women textile artisans, using "low" traditional feminine techniques such as appliqué and embroidery, she created a monumental work on childbirth.
Judy Chicago's Car Hood from 1963–64 is a central work from this period when she had her fi rst breach with minimalism. During this time, she was studying painting with Billy Al Bengston at UCLA (University of California, Los Angeles). A fascination for cars, which Chicago shared with many artists of the time, led her to take a course in car painting together with 250 male students.
Her interest resulted in a car hood for a Corvair, painted in colours and patterns inspired by the Southern California culture of customized cars. At the same time it signalled the archetypal world of symbols which Chicago would later develop – in this work the symbolic was presented in the form of a vagina being penetrated by a phallic arrow over the hood of the car. A classic male attribute with connotations of a consumer society and subculture which was thus charged with a completely new meaning as a feminist cult image and trophy in Chicago's interpretation.
In 1970 Judy Chicago, together with the artist Miriam Schapiro, started the CalArts Feminist Art programme at the University of Fresno – thus creating the fi rst arts education with a feminist orientation. Two years later, in 1972, Chicago and Schapiro also organized the early feminist exhibition, Womanhouse. A year later Chicago founded the legendary collective Feminist Studio Workshop in Los Angeles.
Judy Chicago born 1939, Chicago, USA.
Published 8 November 2010 · Updated 15 February 2016