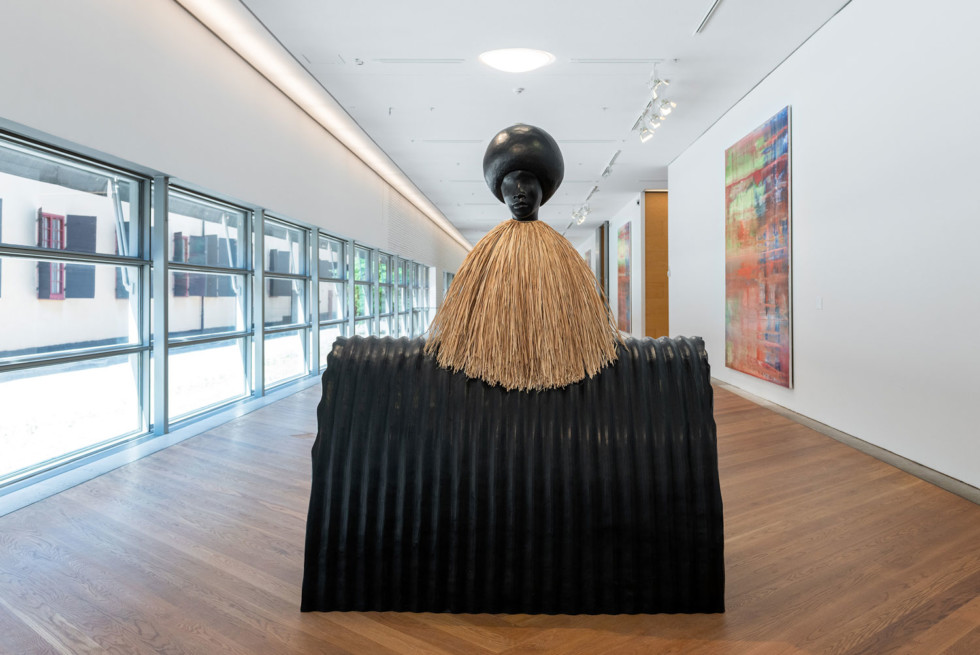 30.6 2020
Donation to the collection: "Corrugated" by Simone Leigh
See the sculpture "Corrugated" (2019) by Simone Leigh in the collection. The work is a donation from The American Friends of Moderna Museet and was acquired in November 2019.
The subject of Simone Leigh's art is self-empowerment. Ceramics and visual arts became her medium of expression after studying philosophy. Her works often combine black female bodies with jugs or objects from building sites, as in this corrugated, sealed pipe, coated with black alloyed bronze, like the torso and the stylised afro hair.
The young woman's pose is ceremonial and refers to older African sculpture, while her expression with-drawn. A raffia skirt, common in stereotypical pictures of Africans in previous centuries, is tightly fastened around the neck of the female character, suggesting colonial oppression and contemporary racism and violent assaults. Materials are rarely neutral, and definitions of art are not beyond politics. Simone Leigh's faces lack distinct eyes. Maybe they've already seen enough.
Published 30 June 2020 · Updated 30 June 2020