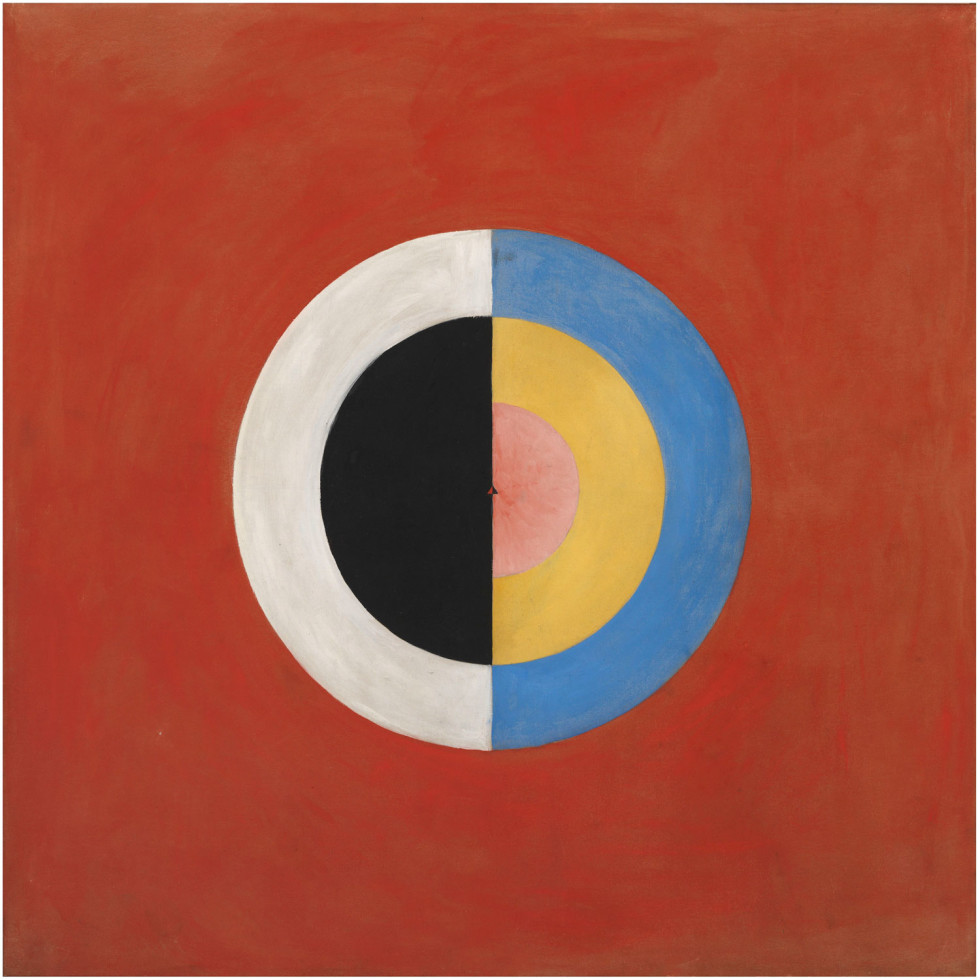 9.11 2010
The Second Museum of Our Wishes: Hilma af Klint
Inspired by the new spirituality of the late 1800s, and with an interest in the esoteric and the occult, Hilma af Klint created a complex body of work and was a forerunner of non-objective art. She studied at the Royal Academy of Fine Arts in Stockholm between 1882 and 1889, focusing at first on landscapes and later on portrait painting.
In 1906, her style changed, and she subsequently devoted herself to an abstract imagery, preceding artists such as Wassily Kandinsky, Piet Mondrian and Kazimir Malevich. In 1904, however, she had aldready expressed the ambition to execute paintings that could convey the entire evolution and describe the eternal principles and laws, and the immortal side of man. These paintings were to be called The Temple, and they constitute her most seminal body of work.
The Temple consists of 193 paintings subdivided into series. The fi rst 111 paintings were made between 1906 and 1908. Hilma af Klint, who belonged to the theosophical, later to the anthroposophical, society, professed that she was guided by a spiritual dimension in executing these works. She acted as a medium: "The pictures were painted through me directly, without preparatory sketches, and with great force. I had no idea what the paintings were supposed to depict, and yet I worked fast and unhesitatingly, without altering one brush stroke." After a pause of four years, another 82 paintings were added between 1912 and 1915. She was still a medium, but now painted her own inner experiences of words and images, with greater freedom of interpretation.
Between October 1914 and March 1915, she completed 24 paintings that depict, in varying degrees of abstraction, a struggle between a white and a black swan. The series was given the title The Swan. Hilma af Klint wanted to visualize a higher union between the opposites of the polarized world, such as male and female, light and darkness. She strove for a reconciliation of contradictions, for unity and wholeness. In No. 14 in the series, the light in the centre of the painting is surrounded by darkness. None of the parts dominate but appear to have attained balance.
After 1915, af Klint pursued her artistic work with greater thematic variation, but maintained her contact with the spiritual dimension. Between 1920 and 1941, she mainly painted watercolours, infl uenced by the philosophy of Rudolf Steiner. She left behind some 1,000 paintings and works on paper, along with a large number of notebooks.
Hilma af Klint stipulated that her works should not be shown publicly until 20 years after her death. At the exhibition The Spiritual in Art at the Los Angeles County Museum of Art in 1986, her works were exhibited for the fi rst time alongside other pioneers of abstract art with spiritual visions in their works. In 1999, the entire Temple series was shown at Liljevalchs Konsthall in Stockholm.
Hilma af Klint born 1862, Stockholm, Sweden – dead 1944.
Published 9 November 2010 · Updated 15 February 2016