Billy Al Bengston
(B. 1934, Dodge City, KS.)
Billy Al Bengston took much of the inspiration for the look and feeling of his early work from the car and bike cultures of Southern California, using repeatedly the forms of the chevron and the iris as centralized, iconic images which fall somewhere between the organic and the geometric; the "cool" of Pop art, and the "hot" of expressionism. The militaristic implications of the "sergeant stripes" are signifi cantly mediated by his focused use of the format to investigate a wide range of color, optical, and decorative effects. At the heart of Bengston's work is a refusal to be categorized.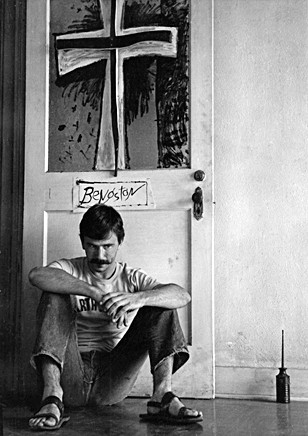 Billy Al Bengston
Billy Al Bengston
Buster, 1962
Collection Museum of Contemporary Art San Diego
© Billy Al Bengston 1962
---
Education:
1955–56 California College of Arts and Crafts, Oakland; 1956–57 Los Angeles County Art Institute.
First solo show:
1958 Ferus Gallery, L.A.
First group show:
1956 Six Gallery, San Francisco, CA.
Recent exhibitions:
1992 Museum Ludwig, Cologne; 1997 Laguna Art Museum, Laguna Beach, CA.; 2007 The Patricia Faure Gallery, Santa Monica, CA.