Judy Chicago
(B. 1939, Chicago, IL.)
Judy Chicago was one of very few women in leading artistic circles in post-war Los Angeles. Chicago made her debut as a Minimalist but would soon focus on making visible the experience of women in a patriarchal structure. The hallmark of her work is a symbolic language recurring in a variety of media, as in her later iconic artwork The Dinner Party, 1974–79. In her piece Car Hood, 1964, inspired by the hotrod culture that had developed in southern California, she has a vaginal shape pierced through by a phallic arrow adorn a car radiator. It was at this time she changed her surname, expressing the view – in common with the Black Panthers – that received names helped to reinforce an inherited identity of enslavement.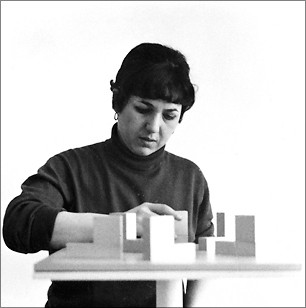 Judy Chicago
Judy Chicago
Car Hood, 1964
© Judy Chicago/BUS 2008 
---
Education:
1957–64 UCLA Art School, L.A. First solo show: 1965 Rolf Nelson Gallery, New York.
First group show:
1966 Jewish Museum, New York.
Recent exhibitions:
2004 LewAllen Contemporary, Santa Fe, NM; 2007 The Museum of Contemporary Art, L.A.; 2007 Museo de Bellas Artes, Bilbao.