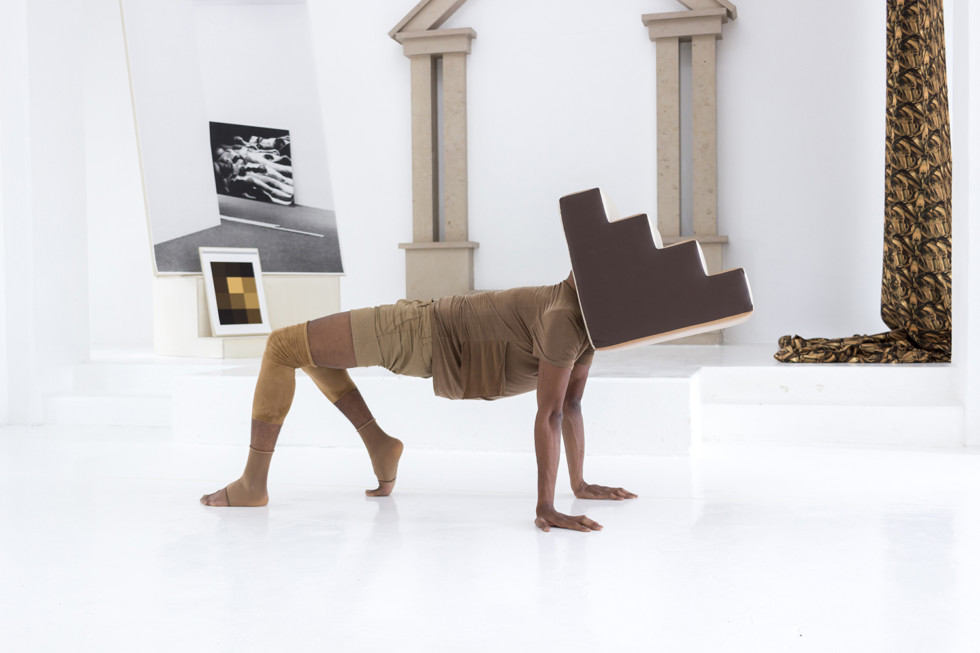 10.1 2023
Open call – take part in performance!
Moderna Museet Malmö is looking for a performer to participate in artist Jimmy Robert's performance Descendances du nu. The performance is a part of Jimmy Robert's solo exhibition that opens 1 April.
Descendances du nu references and deconstructs Marcel Duchamp's famous 1912 painting Nude Descending a Staircase. Originally presented and performed at the Centre D'Art Contemporain La Synagogue de Delme in France, the installation includes objects, photography, performance, sound and text.
The performer will move through the installation in the exhibition with a large headpiece for the duration of the performance. Jimmy Robert's exhibition will be on view 1 April – 3 September, 2023.
The performance (about 15 minutes each time at Moderna Museet Malmö) is planned to take place:
 March 31, 1 – 2 April, 2 – 3 June and 26 – 27 August
Application Deadline: 13 March for audition sign ups
Audition: 27 March at Moderna Museet Malmö
Rehearsals: 1 – 2 days, 29 – 30March
THE SELECTED PARTICIPANT MUST BE AVAILABLE FOR ALL DATES
Eligibility
Performers with background in dance/movement
Open to non professional performers
Must be able to perform 20 minutes continuously with covered headpiece, on hard floor
All ages and genders are welcome
Preferably based in the Öresund region
How to apply
Please note! The application must be in English. Please send the following information to: assistent.malmo@modernamuseet.se
Name
CV
Why do you want to do this performance?
How do you feel you could contribute to this performance but still staying true to its essence?
Full availability for all dates
Questions?
Contact  Curator Andreas Nilsson at a.nilsson@modernamuseet.se
About Jimmy Robert
Jimmy Robert's practice encompasses performance, photography, film, video, and drawing, frequently collapsing distinctions between these mediums. Using photography as a starting point for his works on paper, Robert blurs the divisions between two and three dimensions, as well as between image and object. In his artistry, Robert raises questions about representation, gender and ethnicity – often with a starting point in an art or museum context. With subtle humor, melancholy and queerness, the artist tackles these complex subjects through a fragmented and open idiom. The works, where not least the body becomes a conceptual tool, are allowed to function both as independent entities and as components of a larger historical network.
Recent solo exhibitions include Kunsthalle Baden-Baden (2022); Museion, Bolzano (2021); Nottingham Contemporary (2020); and Leopold Hoesch Museum, Düren (2020). Large scale performances include Joie noire, KW Institute for Contemporary Art, Berlin (2019); Imitation of Lives, commissioned by Performa 17, The Glass House, Connecticut (2017); and Descendances du nu, CAC – La Synagogue De Delme, France (2016).
Published 10 January 2023 · Updated 23 February 2023