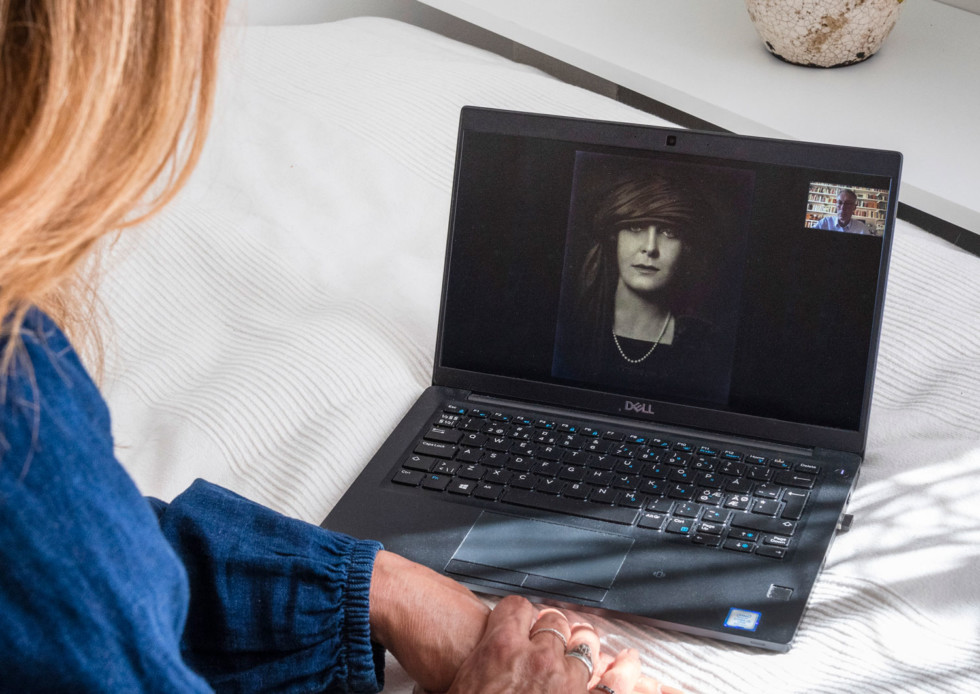 28.6 2021
Book the online lecture When Photography Wanted to be Art
Now you can book an online lecture on the exhibition "In Lady Barclay's Salon" with one of our expert art educators! Learn more about the exhibition in a livestreamed presentation with pictures from our exhibition. The lecture is followed by a Q&A session. Gather your friends online and immerse yourself in art and photography around 1900.
What is an online lecture?
Due to the covid-19 pandemic, we are unable to offer guided tours. Instead, you can book a presentation in the form of an online lecture with one of our art educators who will talk about the exhibition "In Lady Barclay's Salon", with photos in a Powerpoint presentation. After the lecture, there is time for questions and answers. The lecture is livestreamed exclusively for your group on Zoom.
What is the lecture "When Photography Wanted to be Art" about?
Our art educator will give you insights into visual culture in the years around 1900, focusing on the exhibition "In Lady Barclay's Salon". This is an opportunity for you to study works by photographers such as Henry B. Goodwin, Nicola Perscheid, Ebba-Lisa Roberg and Julia Cameron, all of whom worked in the pictorialist style. We will also analyse and look at pictures by August Strindberg, Eugen Jansson, William Turner, Anna Boberg and other artists, borrowed from the Nationalmuseum collection for this exhibition.
Who was Lady Barclay? What is a bromoil print? What are the typical traits of pictorialist photography? Are there similarities between pictorialist photographs and paintings from that period? Who are the most famous pictorialists? These are some of the many questions that will be answered in the lecture "When Photography Wanted to be Art".
Our guide Staffan was an inspiring cicerone: calm, focused, with depth of knowledge and a twinkle in his eye, he described Giacometti's life and accomplishment in a captivating and interesting way. I was even touched by some sculptures – online in the two-dimensional world! " – Ann-Christin, previous participant in an online lecture
When can I book?
We offer the online lecture "When photography wanted to be art" until further notice. The lecture can be booked weekdays, evenings and weekends.
How long are the lectures?
A lecture is around 60 minutes long, including the Q&A session and chat at the end.
How many can take part?
We recommend that groups are no larger than 30, so the art educator can answer all your questions after the lecture.
What does it cost?
You pay a fixed price for the group, regardless of how many you are.
Daytime Mon–Fri: SEK 1,750
Evenings and weekends: SEK 2,250
Can I choose any language?
Lectures are in Swedish. You can also book a lecture in English, for an additional fee of SEK 500.
Do I need any special equipment?
To livestream the lecture, you need a mobile phone or a computer with an internet connection.

How do I book?
E-mail or phone the booking office, stating the day and time you wish to book, along with your invoice address and contact details.
+46 (0)8 5202 3501 (Tuesday–Friday, 10.00–12 noon)
bokavisning@modernamuseet.se
About the exhibition
The years from 1890 to the first World War were a golden era for the arts in Sweden. This exhibition presents beautiful pictorialist photographs and selected paintings from this period. The more than 300 works from the rich collections of Moderna Museet and Nationalmuseum give us an insight into art at the time.
Read more about the exhibition: In Lady Barclay's Salon
Published 28 June 2021 · Updated 10 January 2022