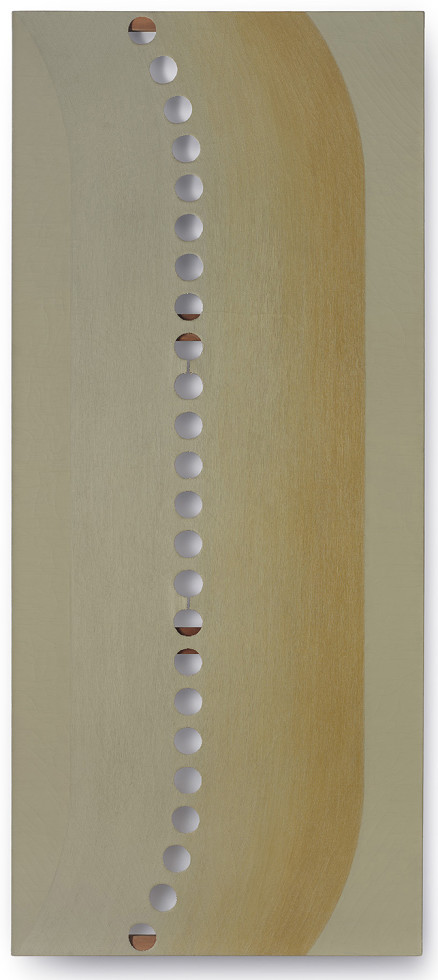 9.11 2010
The Second Museum of Our Wishes: Lee Lozano
Lee Lozano settled in New York in 1960, after graduating from the Art Institute of Chicago. She quickly joined the city's avant-garde circles and established a foothold on the male-dominated art scene with great self confi dence. Over the next twelve years, she created a radical, provocative, and often obscene body of work, with infl uences from minimalism, pop and conceptual art.
Lozano passed through several artistic phases in rapid succession in the 1960s. The common denominator was that she examined and challenged the prevailing norms. Her early expressionist paintings soon transformed into surrealist drawings and paintings of which the body, sexuality and violence were the main theme.
In the mid-1960s, she made monumental anthropomorphous tool paintings, which eventually were abstracted into monochrome and minimalist hardness. Between 1967 and 1970, she painted her Wave Series, and synchronously embarked on conceptual, performative explorations under the common title of Language Pieces. These consist of instructions for actions aimed at averting attention from the object itself to the ideas. At the height of her career, in 1972, she bid farewell to the art scene with one such instruction to herself: Dropout Piece.
Lozano's early drawings portray a disconnected, fragmentary world full of body parts such as breasts, mouths, teeth and penises, combined with tubes and tools. In Untitled (1961) she sarcastically exaggerates the sexualization of advertising posters in the New York subway stations with her own slogan: Eat cunt for mental health. In another, drawing Untitled (ca 1963), she incorporates a letter from her father in which she has circled all the words describing feelings or temperatures. Together with a few other details, she thus portrays a complex relationship to her father.
Just before Lozano gave up painting entirely, she processed a few of her minimalist paintings by perforating the canvases, as in Punch, Peek and Feel (1967–70). Even if the perforations were made according to exact sketches based on mathematical computations, they were a physical action that literally poked a hole in the illusion of volume and space that she had previously conjured up through meticulous painting. The holes clear the view to the stretcher and the space behind the canvas, causing shadows on the wall.
There is a radically uncompromising quality to Lee Lozano's work. She breaks against the stereotypical images of femininity and masculinity and balances the undercurrent of aggression, rawness and directness with sarcastic humour.
Lee Lozano, born 1939, Newark, New Jersey, USA – dead 1999.
Published 9 November 2010 · Updated 15 February 2016