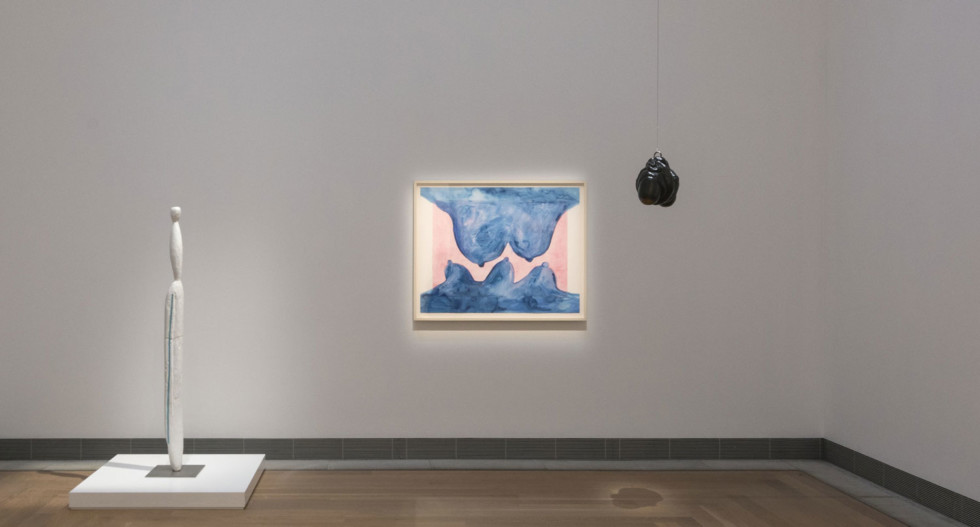 2.12 2016
New works by Louise Bourgeois in the collection
We are showing five works by Louise Bourgeois, two of which were recently added to the collection: the bronze sculpture Janus Fleuri, and Blue is the Color of Your Eyes, a hand-tinted drypoint.
The bronze Janus Fleuri from 1968 was purchased last year with funding from the Anna-Stina Malmborg and Gunnar Höglund Foundation. Blue is the Color of Your Eyes is a hand-tinted drypoint etching from 2008 that was donated by the Easton Foundation through the American Friends of the Moderna Museet Inc.
The room with works by Bourgeois reveal her as a pioneer of feminist art. She herself once said, "I have endeavoured during my whole lifetime as a sculptor to turn woman from an object into an active subject."
Janus Fleuri is one of Bourgeois' most iconic works. This bronze sculpture was shown in Sigmund Freud's London home, where it hung above his famous divan. It has been interpreted to be a metaphor for the two-faced Greek god Janus, and expresses a hermaphroditic dual gender.
Bourgeois had her first exhibition in 1945 in New York. After that, her work was rarely shown, until her major breakthrough, at the age of 71, with a retrospective exhibition at the Museum of Modern Art in New York, with repercussions throughout the world.
In 2015, Moderna Museet in Stockholm featured Louise Bourgeois – I Have Been to Hell and Back.
Published 2 December 2016 · Updated 2 December 2016