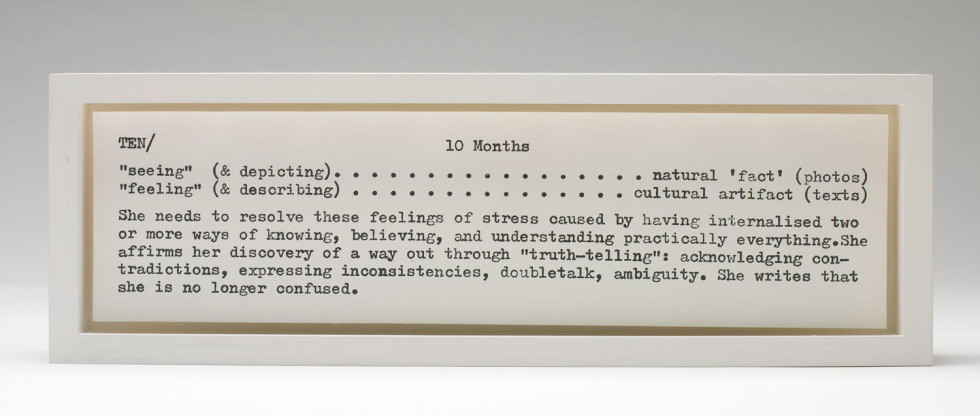 8.11 2010
The Second Museum of Our Wishes: Susan Hiller
Susan Hiller graduated in 1965 from Tulane University in New Orleans with a degree in anthropology. While her fi eldwork took her around the world, she also worked as an artist. At the beginning of the 1970s when Hiller moved to London, she decided to leave anthropology with its, as she put it, false claim of scientifi c objectivity. Early on in her art career she began moving freely between installations, moving pictures, photography, performance art and text.
An important feature of Hiller's art was to never allow herself to fall victim to rules and conventions. As a result, it is diffi cult to place her within any of the existing categories of art history. There are elements of minimalism and an affi nity to conceptualism in the way she structures and presents her works. However, in contrast to the strict regulations of these "isms", in her own works she consciously built in ambiguity and paradoxes which border on surrealism and the paranormal. Among the topics she treated during the 1970s were automatic writing (Sisters of Menon, 1972), dreams (Dream Mapping, 1974) and the ability of objects to tell a marginalized or neglected story (Dedicated to the Unknown Artists, 1972; Fragments, 1976–78).
Hiller's resistance to categorization has meant that for a long time she has attracted surprisingly little attention as an artist. It is a sign of the power that unambiguous categorization had (and still has) over individual artists when it comes to inclusion or exclusion in the history of art. But that is precisely what Hiller is opposing. Never with a specifi c political issue in mind, but always well equipped with the conviction that "art without obvious political content can make us more politically alert."
Ten Months from 1977–79 is a key work in Hiller's body of work. It consists of ten blocks, each with image and text presented in the form of a step from left to right, top to bottom. Each framed image contains a grid of 28 small photographs, which represent a one-month document of the artist's growing belly during pregnancy. A box for each day, a "block" for each month. The texts that accompany the pictures are extracts from the artist's journal. The sharp, aphoristic refl ections about a woman's position in society contradict the romanticized image of the body as a landscape and Hiller takes on a double role as both subject and object. In the seventh month, she describes her confl ict between the need to speak and the diffi culty of using words on her own terms:
"She speaks (as a woman) about everything but they wish her to speak only of women's things. They want her to speak about things only if she does not speak 'as a woman', only if she agrees in advance to play the artist's role as a neutral (genderless) viewer.
She does not speak (as a woman) about anything, even if they want her to do so. There is nothing she can speak about 'as a woman'. As a woman she cannot speak."
Susan Hiller born 1940, Tallahassee, Florida, USA.
Published 8 November 2010 · Updated 15 February 2016