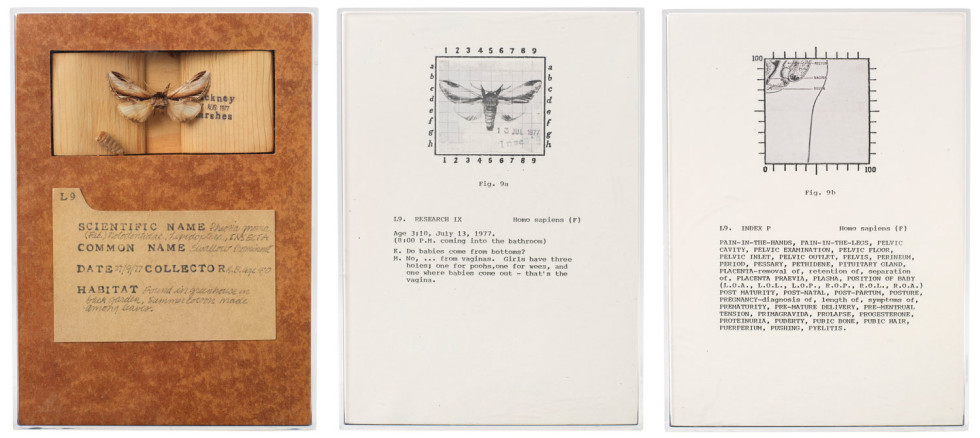 9.11 2010
The Second Museum of Our Wishes: Mary Kelly
Informed by contemporary theory and psychoanalysis, Mary Kelly helped make feminism a core issue of post-modern criticism. In her installations, she examines the relationship between the individual, language and cultural codes, between mother and child, and between the present and memories of the past.
Kelly studied art in Florence during the 1960s, then spent several years in Beirut before moving to London in 1968. During the 1970s she worked simultaneously on several works: Post-Partum Document, Nightcleaners (together with the Berwick Street Film Collective) and Women and Work (together with Margaret Harrison and Kay Hunt). All three projects highlight the gender-based division of labour within the private sphere and industry, and all have been of great signifi cance for a generation of younger artists.
The project Post-Partum Document started in 1973 and developed into a six-year-long process. It includes Post-Partum Document: Documentation V (Classifi ed Specimens, Proportional Diagrams, Statistical Tables, Research and Index) from 1977, a piece that was acquired for the Moderna Museet collection in the course of the project The Second Museum of Our Wishes.
Mary Kelly's groundbreaking Post-Partum Document consists of 139 small works, which are divided into six sections. Documenting her son's gradual mastery of language in the fi rst few years of life, Kelly shows that it is a mutual process of socialisation, affecting both mother and child. The artist explores everything from the child's excrement to the psychosocial dynamics of nursery school. She approaches her subject with the methodical precision of a scientist, using diagrams, notes, linguistic analysis and a variety of different systems of classifi cation to document her studies. The narrative voice alternates between that of the child, the mother and the analytical observer, in an intricate record of personal refl ection and analysis.
At fi rst sight, Post-Partum Document might resemble many of the 1970s' conceptually oriented works, but the series includes a narrative element which is being developed as the work emerges. Mary Kelly consciously avoids the fi gurative representation of the body, instead vizualising its psychological effect by invoking the voice.The artist herself has described it as investigating the differences between "actual experience as a mother and my analysis of the experience".
With subtle humour, as well as critical analytical sharpness, Kelly parodies the lofty tradition of conceptual art as she describes how her son slowly acquires language and becomes a separate self. When her son has learned to write his own name the artist decides to end the project.
Mary Kelly born 1941, Fort Dodge, Iowa, USA.
Published 9 November 2010 · Updated 15 February 2016