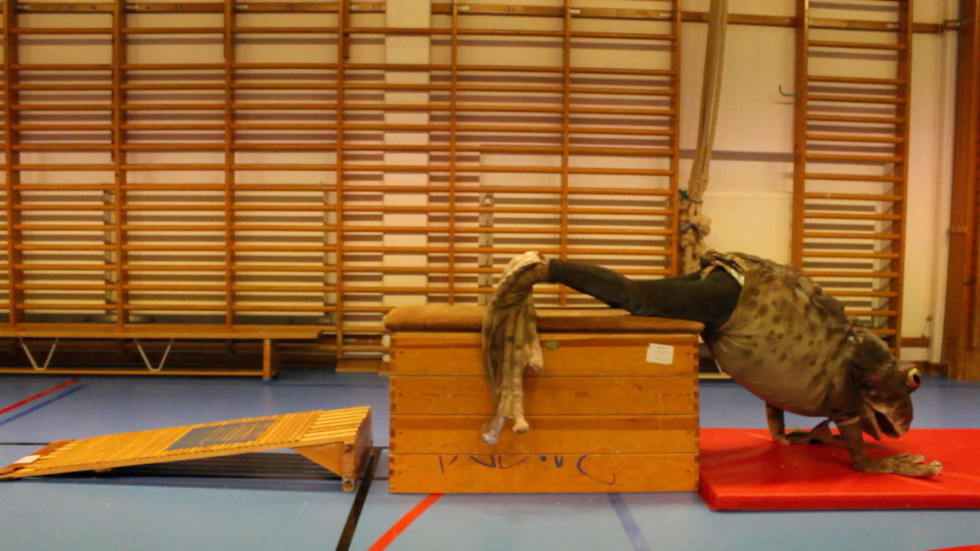 6.3 2019
New works in the collection thanks to donation
The collection is growing, thanks to a donation of SEK 2.6 million earmarked for acquiring mainly Swedish contemporary art. The funds were bequeathed to the Museum by Sten and Majken Eckedal, art collectors and patrons of the arts.
The purpose of the donation is to enhance the Swedish national collection with more than ten key works by the most prominent artists practising in Sweden. The works will be selected by the Museum alone. Acting director Ann-Sofi Noring is delighted with the donation and stresses the importance of enhancing the collection.
"Moderna Museet is deeply grateful for this generous support. Nothing could be more welcome than a gift that enables us to acquire works by some of Sweden's most interesting artists. We have begun the process and have selected our first pieces: Sigrid Sandström's painting "Untitled (Big Pink)"; and two video works and a painting from the recent Moderna Exhibition, by Ingela Ihrman, Anna-Karin Rasmusson and Anders Sunna respectively. We are excited about the next step!"
Sten Eckedal was born in 1923 and died in August 2015. Majken Eckedal, born 1925, died in March 1997. They had no children. Sten Eckedal was a lawyer who worked as a legal assessor for the Swedish National Insurance Board, and Majken Eckedal was a nurse administrator for Stockholm County Council. The Eckedals had a lifelong interest in art and antiques. When Sten Eckedal died, their home went under the hammer, and the proceeds have now been donated to Moderna Museet.
Read about the artists whose works have been acquired so far through the donation
Ingela Ihrman
Born in 1985 in Kalmar
The Toad, video, 2012
Ingela Ihrman's fascination for biological and marine life often develops into a symbiotic relationship. She offers herself as an instrument to process the charged levels in the subject but also becomes the soft component active within, dressed in a protective cloak of plastic and silk fabric.  In the video work "The Toad", the artist, wearing a home-made toad costume with long webbed feet, tries to complete an obstacle course in a school gymnasium.  She fails over and over again, but never gives up, and laughter gives way to tenderness and identification in the viewer.
Ingela Ihrman is representing Sweden in the Nordic Pavilion at the Venice Biennale this year.
Hannes Michanek
Born in 1979 in Kristianstad
Discovery Returns Alone, oil on canvas, 2015
"There are very few rules in art, I think, hardly any at all. As a rule, I almost always try not to paint any landscapes. I usually end up painting landscapes. This time too. I believe I was listening and looking for a beautiful day." says Hannes Michanek, who studied at Städelschule in Frankfurt and now lives in Germany. His compositions often feature characters that refer to childhood or historic persons, placed in a billowing mountain landscape below tinted, evenly-painted skies. It is dreamy, bewildering, and yet very exact, as though we have all been there and seen that red house with the empty windows under a fluffy cloud ascending heavenward.
Anna-Karin Rasmusson
Born in 1983 in Karlstad
Mater Nostra, video installation, 2017
The video work Mater Nostra reflects the balance of power in human relations. Dressed in a flesh-coloured body stocking, the artist surrenders her body as a projection surface for the viewer's feelings and fears. The artist laboriously drags a doll as big as herself up a flight of stairs in a narrow passage. From the top, the doll tumbles down the staircase, and it all starts over, like Sisyphus eternally pushing that heavy boulder up the slope. The enclosing walls are gradually covered in red paint, as though the bodies had been bled.  The macabre but nevertheless trusting scenario is characteristic of Anna-Karin Rasmussen's sharp eye for the human condition.
Sigrid Sandström
Born in 1970 in Stockholm
Untitled (Big Pink), acrylic on polyester, 2018
Sigrid Sandström examines the relationship between hand movements, seeing and how we perceive what we see. Oscillating between control and freedom, she often allows chance to play in. Her paintings can be collage-like, using a method of overlapping layers and distorted scales, and a rich variation of techniques for applying paint to the surface. Painting is an exploration in paint, and she generously shares her findings in lectures and essays, as a professor at the Royal Institute of Art. There is an irrepressible dynamic in the abstract movements on the canvas, in the play between sharp pink against cornflower blue, in fragments and deconstructed shapes – the painting here is a concrete reality.
Anders Sunna
Born in 1985 in Jukkasjärvi
30 Km of Coercion, oil and collage on panel, 2018
Anders Sunna's monumental paintings relate his family's long-drawn conflict with the Swedish government for the right to farm reindeer. He refers consistently to the history of institutional racism and the oppression that he and his family have experienced as Sámi. in "30 Km of Coercion", two dark figures loom, faceless and dressed in brown uniforms and armbands embroidered with the County Council's emblem. They are leaning on a table covered with snow and Sámi cots surrounded by a high fence, as though in the process of implementing a plan. The flat surface is twisted in an ethnic and political direction.
Published 6 March 2019 · Updated 15 March 2019