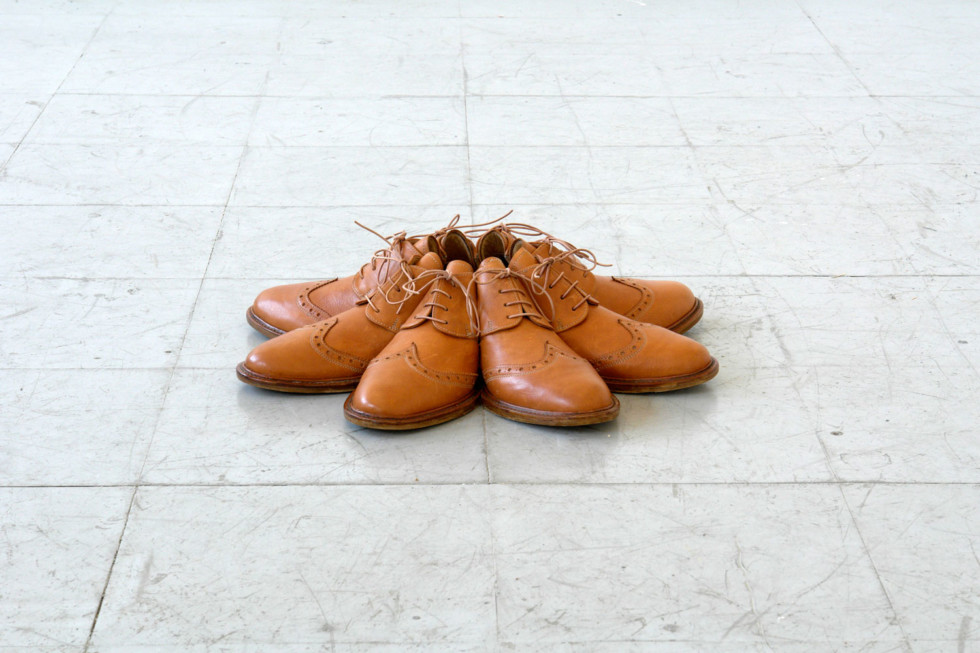 All Axel Lieber's works originate in ordinary objects such as cardboard boxes, clothes or furniture. He transforms these objects into geometric compositions by simple modifications using a saw or a knife, and presents the viewer with mind-maps with which to see reality from the sculptor's perspective.
His most recent work is the most commonplace – and yet most private – thing imaginable. Lieber has made a sculpture based on his own apartment. His home, a standard Swedish apartment block in Malmö, has two rooms, a kitchen, bathroom, hallway and balcony. By drawing two cross-sections of his apartment plan, cutting them into four triangles and turning the sections insideout, he created the rhomboid on which the sculpture is based. Here, outside has become inside and the private domestic sphere faces the public – as when we take off a jumper and it is turned inside out, revealing the inside to all and sundry. The inside and outside of the sculpture together measure 42 square metres, the same as his apartment. In order to achieve the same dimensions, he has downscaled the proportions to 80 per cent of the original apartment size.
The visitor encounters a denuded structure with openings in several directions, offering many different entries. Inside the sculpture are a variety of objects that activate the cool, pavilionlike structure. With its distinct references to modernist architecture and design, Axel Lieber's art raises questions relating to how our private lives are interwoven with society at large, and how its ideologies have stepped into our living rooms.
Axel Lieber
Born 1960 in Düssedorf [DE]
Lives and works in Malmö
Education
1978–84 Staatliche Kunstakademie Düsseldorf [DE]
Selected solo exhibitions
2008 Spelplan 2, Landskrona Konsthall
2005 Nebenwirkungen, Kunsthalle Wintherthur [CH]
2004 Release, Henry Art Gallery, Seattle [US]
Selected group exhibitions
2010 Berlin Transfer, Berlinische Galerie, Berlin [DE]
2009 Ferne Nähe. "Natur" in der Kunst der Gegenwart, Kunstmuseum Bonn [DE]
2005 Faites vos jeux, Akademie der Künste, Berlin [DE]; Kunstmuseum Liechtenstein, Vaduz [LI]
Selected bibliography
Axel Lieber & Jørgen Carlo Larsen, Inside Modernism, Spelplan Landskrona Konsthall, 2008.
Axel Lieber, Uppfyllelse/Axel Lieber, Malmö Konsthall, 2002.
Axel Lieber, Kunstverein Freiburg, Verlag für Moderne Kunst, 1995.