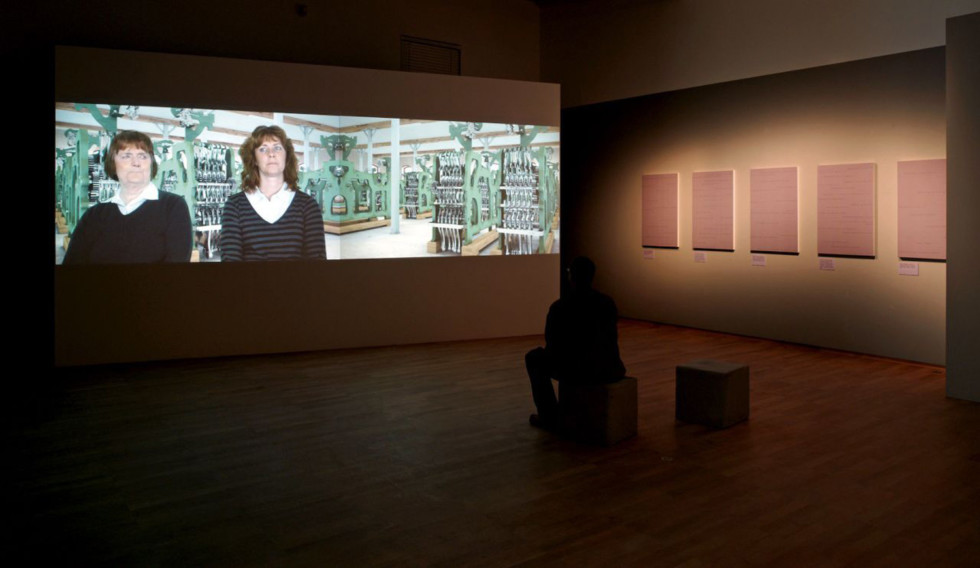 Can a monument be anything other than a place for preservational memorial rites? Can memories of the past be used to generate new ways of relating to the present and the future? In numerous works since the 1980s, Esther Shalev-Gerz has explored the relationship between memory and creative action.
One distinct example is her famous Monument Against Fascism in Hamburg (with Jochen Gerz, 1986–1993): a pillar with sides covered in lead, where the city inhabitants were invited to write what they wanted. As the pillar filled up with words, it was lowered into the ground, making new surfaces accessible. After seven years, the pillar was completely submerged: the monument had disappeared through the actions it prompted.
Again, in Sound Machine, the past and the future intersect. This work combines an examination of the history of a Swedish industrial town with reflections on the compound temporality of memory. The starting point is the city of Norrköping and its past as one of Sweden's largest textile towns. Shalev-Gerz focuses on the special environment that arose from the presence of the textile factories, the monotonous noise of the weaving and spinning mills. As a means of contrasting its past with presentday Norrköping, Shalev-Gerz created digital, audio and visual representations of the machinery and factory.
She played the soundtrack for two generations of women: those who worked in the factories when they were up and running, and the daughters they were expecting at the time when they were surrounded by the repetitive sounds of the machines. The final installation is silent with the sound displaced. Shalev-Gerz asked the women if they remembered the sounds. Thus, she demonstrates the dual power of memory: for the first generation of women, this memory involves a return to the past; for the second generation, on the contrary, the memory is a movement towards what will come, towards the experience of the still-to-be born.
Ester Shalev Gerz
Born 1948 in Vilnius [LT]
Lives and works in Gothenburg and Paris [FR]
Education
1975–1979 Bezalel School of Art and Design, Jerusalem [IL]
Selected solo exhibitions
2010 Ton image me regard?Jeu de Paume, Paris [FR]
2002 White-Out /The Imaginary House of Walter Benjamin, Historiska Museet, Stockholm
1990 COPAN, Galerie Giovanna Minelli, Paris [FR]
Selected group exhibitions
2008 Loss (realization of "les Inséparables"), Wanås
2002 Public Safety, Skoghall
1982 Here and now, The Israel Museum [IL]
Selected bibliography
Esther Shalev-Gerz, Édition du Jeu de Paume & Fage Édition, Paris, 2010.
First Generation, Multiculturel Center, Fittja, 2006.
Erase the Past, DAAD Berlin, Germany, 1991.
www.shalev-gerz.net