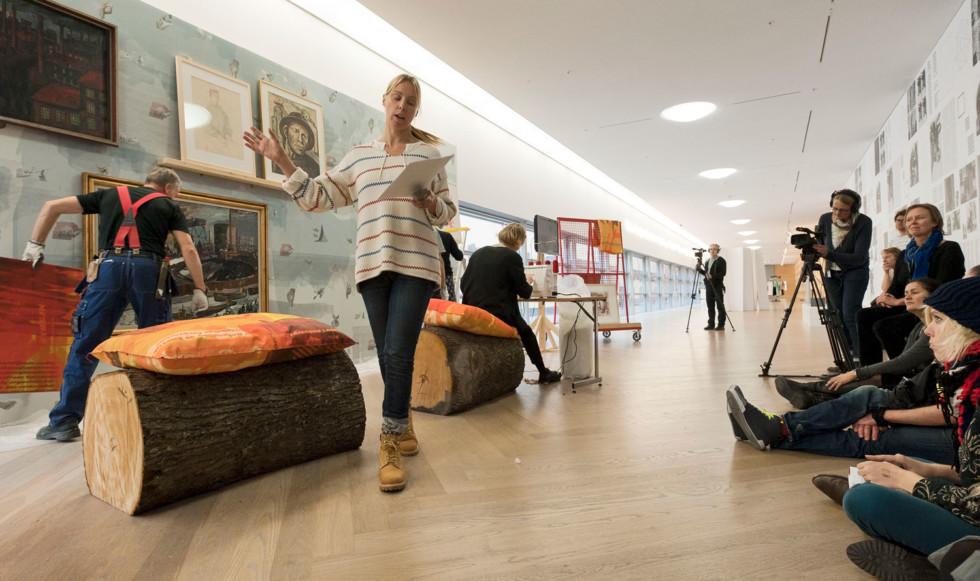 Fia Backström's art oscillates between different discourses relating politics, authorship and the capacity of images to generate meaning. Her choice of methods and media varies depending on the context and subject field. Occasionally, original works by other artists are incorporated in her own works.
The Worker Through the Ages is a constructed environment where an event takes place. The piece comprises several layers of meanings of the concept "work". The artist has chosen, among other things, to show paintings of proletarian culture, in the form of paintings by Albin Amelin and Carl Alexanderson. She has also integrated a print of the internationally famous labor agreement Saltsjöbadsavtalet from 1938. The agreement regulates Swedish labour law between the Swedish Employers' Association (SAF) and the Swedish Trade Union Confederation (LO).
These elements form the visual basis of the work, together with contemporary images of a similar kind. The elements play with the fetish-status attained by images of work. To this, the artist adds further aspects of both physical and immaterial labor, scrutinizing both her own role as that of the museum worker. This is enacted in a public event. The event takes place in an environment constructed by the artist. The activities are documented and edited before being shown in a monitor that is part of the installation.
Throughout the event, a hostess (the artist) addresses the audience. Behind her, two museum technicians are seen opening packing cases containing works from the collection of Moderna Museet. An exhibition curator instructs the technicians on how the paintings should be hung. The hostess comments on the works in relation to the global economy and historic and contemporary working conditions.
Fia Backström
Born 1970 in Stockholm
Lives and works in Stockholm and Chicago [US]
Education
1995 M.F.A. Fotolinjen, Konstfack/Academy of Photography, University College of Arts, Crafts and Design Stockholm, (Gäststudent, skulptur och måleri-inst./Visiting student painting and sculpture dept. 1995–97)
1988–92 Columbia University, New York [US] & University of Stockholm, Stockholm
Selected solo exhibitions
2009–2010 Studies in Leadership – en separatutställning i fyra delar/a solo exhibition in four parts: Studies in Leadership (Personas Abound), Columbia University, New York [US]; Studies in Leadership (A Family Affair), St Louis Contemporary Art Museum, St Louis [US]; Studies in Leadership (The Golden Voice), ICA, London [UK]; Studies in Leadership (The Review), Freize Art Fair, London [UK]
2008 That social space between meaning and speaking, White Columns, New York [US]
2007 Mmmore, Marabouparken Annex, Stockholm
Selected group exhibitions
2010 Misty Harbor – at your leisure for 9 screens (organiserad av/organized by Nicolas Guagnini med/with Kathy Halbreich), MoMA, New York [US]
2009–2010 Lecture Performance (cur. Kathrine Jentens & Jelena Vesic), Kölnischer Kunstverein, Köln/Cologne [DE]; Muzej Savremene Umetnosti, Belgrad/Belgrade [RS]
2008 Whitney biennial (cur. Henriette Huldisch & Shamim Momin), Whitney Museum, New York [US]
Selected bibliography
Anthony Huberman, "Lines in the Sand", Flash Art, januari–februari/January–Febuary 2009: s./p. 82.
Holland Cotter, "Who Needs Objects?", New York Times, 2007-01-12: E39
Suzanne Hudson, Whitney biennial catalogue, 2008.