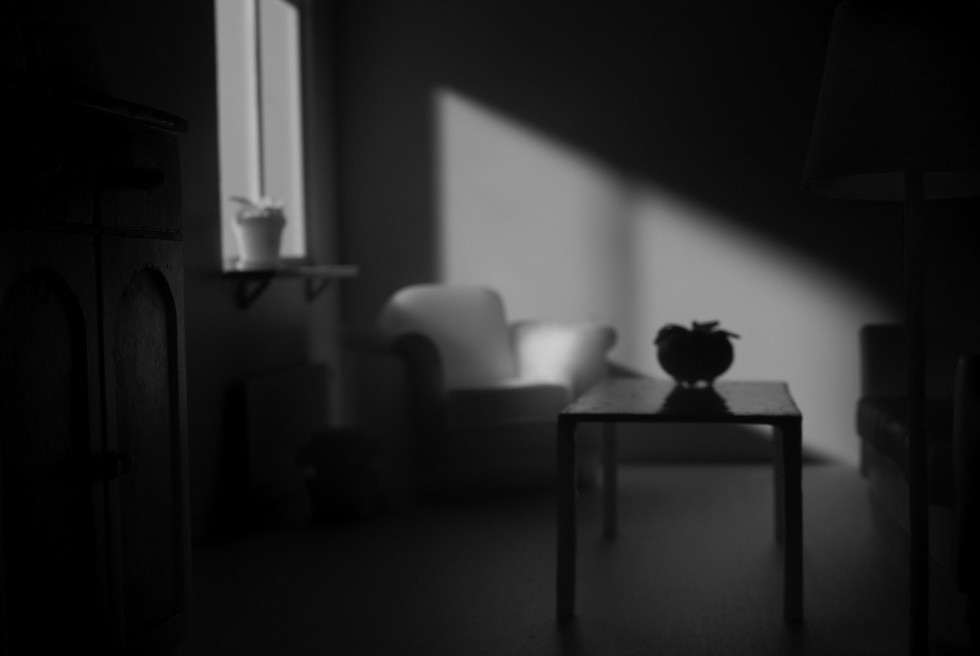 Memories are made up of small details or fragments, emotionally charged glimmers of light that etch themselves in our minds and overshadow the things we forget. Later, looking back on our lives, consciously or in dreams, we construct stories based on these fragments. Particulars are added, layer after layer, to form a new totality.
Jonas Dahlberg's new work, which can be defined as a sculptural film, relates to this memory or dream process. Building on early animation toys and cinematic experiences, he has constructed a series of small, three-dimensional "film frames" in the form of rooms placed wall to wall to form a horizontal wheel. When the wheel rotates, the rooms are fed forward like a film in a projector, and the "frames" are mixed to give the illusion of animation. The dark interval between each illuminated room is necessary to achieve this effect, since an after-image is imprinted on the retina and linked by the eye's memory to the ensuing room.
The technique and motif of the work use memory in different ways, combining it with architectonic archetypes from film. The result is rooms that contain enough data to convey a story while being so generalised that they allow scope for us to project our own memories on them. Another example of this is the cinematic work Three Rooms (2008), in which a Bergmanesque bedroom, dining room and living room erode before our astonished eyes. Everything disperses until all that remains is the revealing light from a vaguely discernible window. As the rooms slowly dissolve, the viewer's potential to project ceases. Thus, the experience resembles that of witnessing one's own death.
Jonas Dahlberg
Born 1970 in Uddevalla
Lives and works in Uddevalla
Education
1995–2000 Konsthögskolan i Malmö/Malmö Art Academy
1993–1995 Arkitektskolan vid Lunds tekniska högskola/School of Architecture at Lund University, Lund
Selected solo exhibitions
2010 Galerie Nordenhake, Berlin [DE]
2009 Juana de Aizpuru, Madrid [ES]
2005 Invisible Cities, Moderna Museet, Stockholm
Selected group exhibitions
2008 Western Motel – Edward Hopper and Contemporary Art, Kunsthalle Wien, Wien/Vienna [AT]
2004 The 26th Bienal de São Paulo, São Paulo [BR]
2003 Delays and Revolutions, Italienska paviljongen/Italian Pavilion Biennale di Venezia, Venedig/Venice [IT]
Selected bibliography
David A. Ross & Christine Van Assche, 100 Video Artists, Exit publications, 2010.
Jonas Dahlberg, Invisible Cities (utst.kat./exh. cat.), (texter av/texts by Göran Dahlberg), FRAC Bourgogne. 2004. Lisa Panting, Enclosed Space: Two films by Jonas Dahlberg, Northumbria University Fine Art Press, 2003
www.jonasdahlberg.com