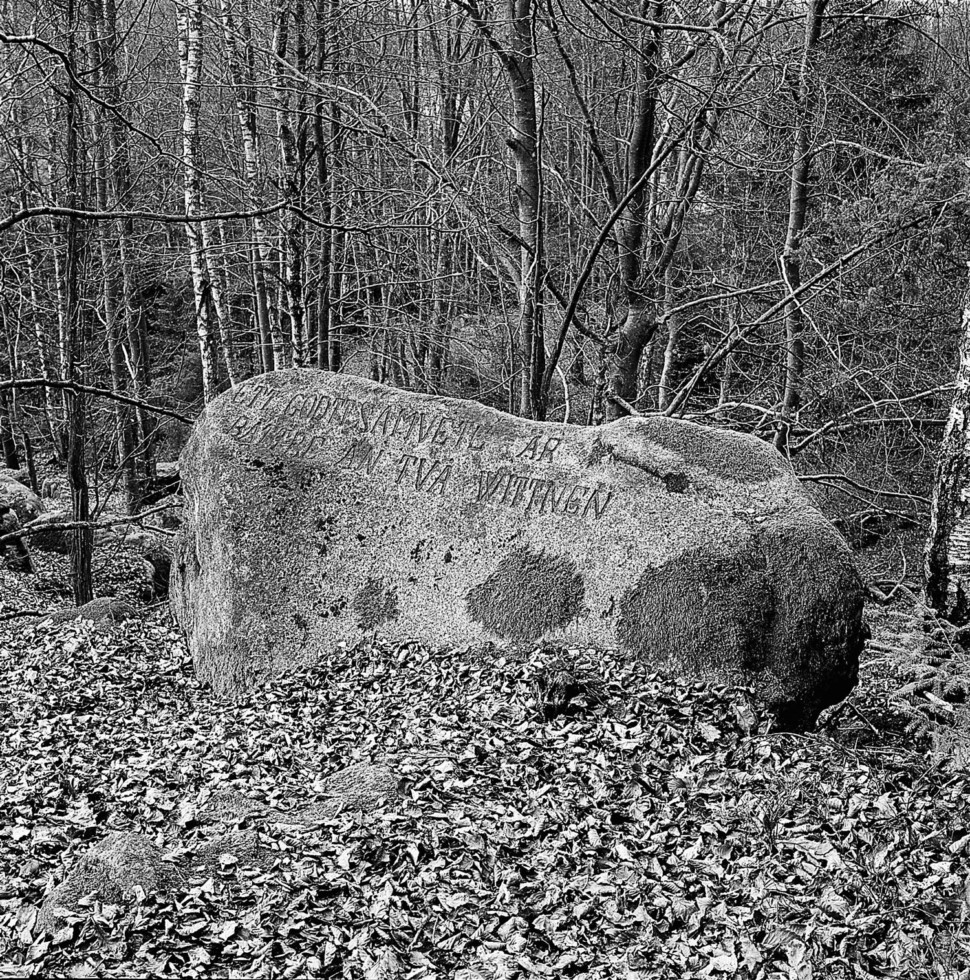 In the late 1800s, the landowner, vicar's son and MP Alfred Bexell (1831–1900) commissioned stonemasons to carve sayings and names into rocks and cliffs in the forests belonging to the Bexell manor in Torstorp, Halland County.
The rocks that have been discovered so far are inscribed with more than 550 names from Sweden and distant parts of the world and history. They include rebel leaders, women writers, Indians, journalists, scientists, innovative farmers and French revolutionaries, side by side, like equals in Bexell's fragmentary record of history in the middle of the woods.
In 1989, Book & Hedén embarked on a project to mark out and record Bexell's opus vitae, documented in Bexell's Stones – A Monument Out of Sight. For The Moderna Exhibition 2010, the artists have resumed their extensive and consistent labours, mainly by studying the vast collection of negatives and audio recordings already in their archives. The result of this revisit is a photographic series that transfers an even greater volume of Bexell's work to the art institution, showing both the mystery of Bexell's actions and Book & Hedén's photographic explorations in an entirely new light. By presenting this mass of documentary images to an audience, they are reassigning a large share of the "authorship" to the spectator, the finder. In the same way that contemporary poets often employ "found poems", Book & Hedén could be said to approach this practice, combining it with a documentary aesthetics that is familiar from the tradition of conceptual art. In their case, the artist is not the one who constructs the world, but the one who discovers it.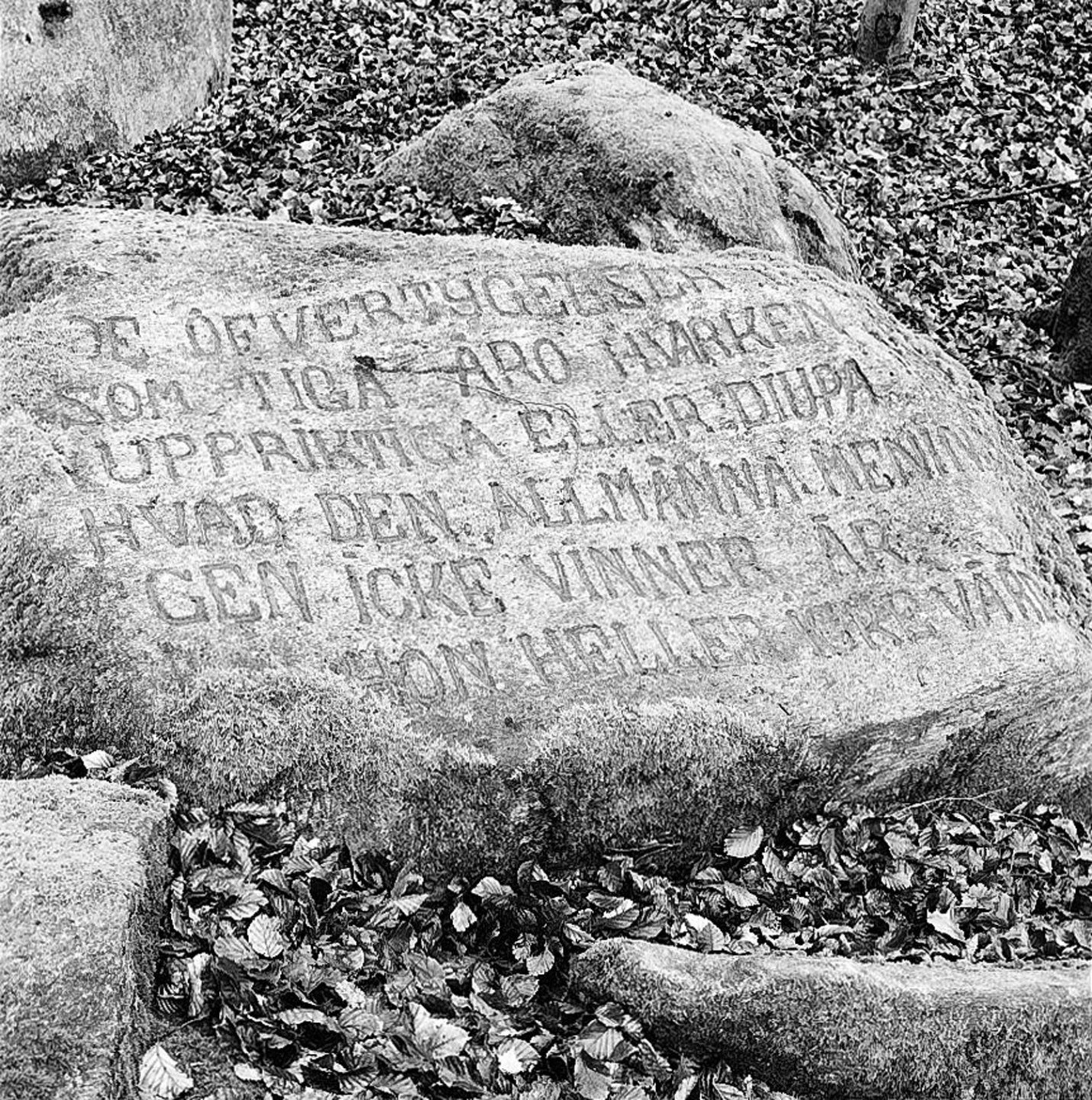 Texts by the artists
A Monument Out of Sight. Bexell´s Stones.
Ingrid Book
Born 1951 in Malmö
Lives and works in Oslo [NO]
Education
1972–75 Statens Håndverks og Kunstindustriskole, Olso [NO]
1975–79/81–82 Statens Kunstakademi, Oslo [NO]
Carina Hedén
Born 1948 in Mora
Lives and works in Oslo [NO]
Education
1986 Jan van Eyck Akademie, Maastricht [NL]
1969–74 Art History, Lund University; Université de Vincennes, Paris [FR]
Selected solo exhibitions
2008 Militære landskap/Military Landscapes, Festspillutstillingen, Bergen Kunsthall, Bergen [NO]
2007 Geschichten für leere Schaufenster/Stories for empty shop windows, Salzburger Kunstverein, Salzburg [AT]; Kunstnernes Hus, Oslo [NO]
2003 Midlertidige utopier/Temporary Utopias, Museet for Samtidskunst, Oslo [NO]
Selected group exhibitions
2006 Post Nora, Today Art Museum, Beijing [CN]
2004 26a Bienal de São Paulo, São Paulo [BR]
2004 3rd Berlin Biennale for Contemporary Art, Berlin [DE]
Selected bibliography
Susanne Ø. Sæther, "Vet vi hva sted betyr?"/"Do we know what place means?", Posisjoner i Nordisk fotografi-II /Positions in Nordic Photography-II (utst.kat./exh. cat.), Preus Museum, Horten 2009.
Ekaterina Degot, "På leting etter restene av det moderne"/"Looking for the debris of modernity", Militære Landskap/Military Landscapes, (utst.kat./exh. cat.), Festspillutstillingen, Bergen Kunsthall, 2008.
Anne Karin Jortveit, "Steder og tilstedeværelser"/"Places and Presence", Midlertidige utopier/Temporary Utopias, (utst.kat./exh. cat.), Museet for Samtidskunst, Oslo 2003.
With generous support from OCA, Office for Contemporay Art Norway and Norske Billedkunstneres Vederlagsfond.