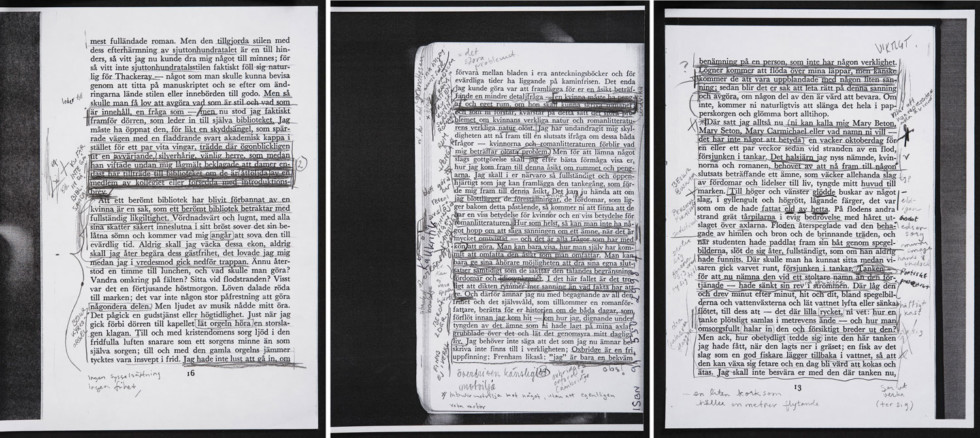 A Room of One's Own/One Thousand Libraries is the title of Kajsa Dahlberg's work, a variation on Virginia Woolf's feminist classic from 1929, translated into Swedish by Jane Lundblad in 1958. While working on this piece, Dahlberg borrowed and leafed through every copy of the book that was available in Swedish libraries, studying and copying the comments and under-linings that readers had made in these public copies.
The result is a new version, with manually transcribed reader comments from nearly fifty years of Swedish history. In this exhibition, Dahlberg presents the 121 loose original sheets, which she has had printed and bound as an artist's book in 1,000 copies. Many of these are now in Swedish libraries. Thus, the work is both an intervention in the library structure and classification system, and a processing of reader interventions in a particular book.
The relationship between private and public property is central to this work. It also constitutes an analogy to Woolf's call for female representation in the history of literature. Further complexity is added by the fact that Dahlberg puts her signature on Woolf's text and complements it with the traces of the readings of those who have borrowed the book. Thus, she draws attention to the importance of reading, that reception and interpretation are integral to an authorship. A Room of One's Own/One Thousand Libraries inscribes itself in the tradition that explores the theme of the potential of the self to attain some form of freedom, both in relation to the narratives of others and to economic systems.
Kajsa Dahlberg
Born 1973 in Gothenburg
Lives and works in Malmö and Berlin [DE]
Education
1998–2003 Konsthögskolan i Malmö/Malmö Art Academy, Malmö
2001–2002 School of Art and Design, University of Illinois, Chicago [US]
1996–1998 Nordiska Konstskolan/Nordic School of Art, Karleby [FI]
1993–1996 Folkuniversitetet, Göteberg/Gothenburg
Selected group exhibitions
2010 Manifesta 8, Murcia [ES]
2010 Productions # 3, Lunds Konsthall, Lund 2009 Time, Out Of Joint, The Kitchen, New York [US]
2007 If We Can't Get It Together, The Power Plant, Toronto [CA]
2006 Destroy Athens, 1st Athens Biennial, Aten/Athens [GR]
Selected bibliography
Nina Möntmann (red./ed.), New Communities, The Power Plant & Public Books, 2010.
Co-editor for Shifter Magazine #12, www.shifter-magazine.com, 2008.
OEI # 37–38, (R)Ed.Est. (Redaktionell estetik) 2008.
More about this exhibition