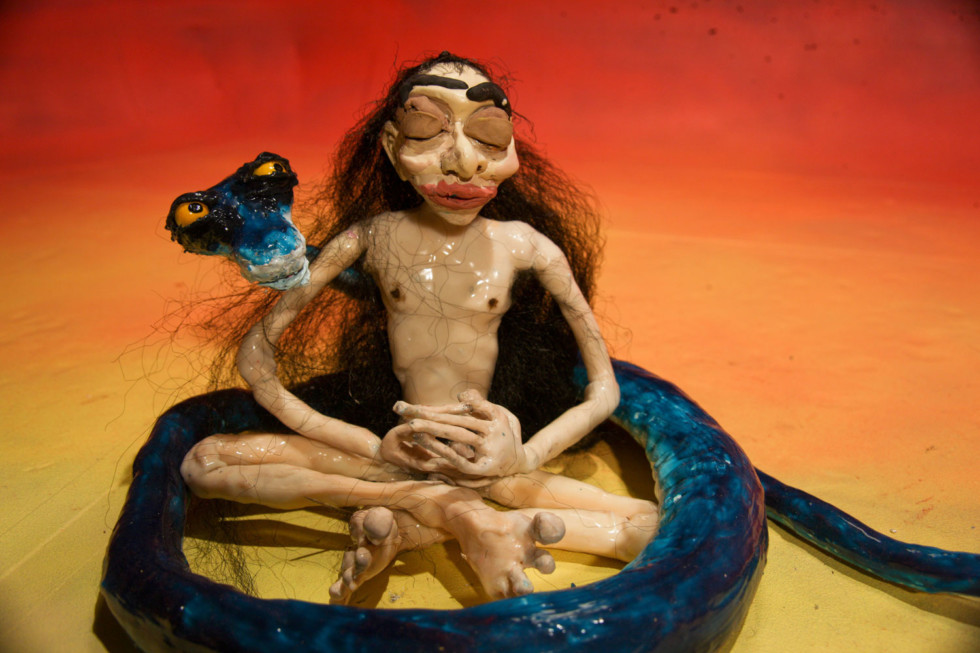 Nathalie Djurberg with music by Hans Berg
Nathalie Djurberg's works cannot be mistaken for the work of any other artist, and a common reference when analysing her art is the aesthetics of the fairytale. It would be an error, however, to regard the world of her creation as individualistic, personal, introverted or surrealistic. Even if her method leaves scope for improvisation and the narratives in her films set our imagination going, Djurberg's works are replete with social critique and a processing of collective social traumas. Power, violence, sexuality, desire, envy, devious thinking and fear of the unfamiliar are recurring elements in works that are often disturbing and repulsive, yet tantalising and fascinating.
Her recent works, Snakes Know It's Yoga and Untitled combine a world of exoticism and mysticism with almost painterly experiments in shapes and colours. The protagonists in one of the films are a nude young woman and a frog. The frog is central to a shaman tradition. By licking the creature to ingest its poison, the shaman achieves a psychedelic state of mind by which he can make contact with the spirit world. In the second film, a man and a snake interact, a relationship that ends in violent and sudden death. Issues relating to life and existence are hardly a novelty; they are inherited from one generation to the next throughout the history of art. Each era has its own reasons for, and ways of, dealing with them. Nathalie Djurberg's work is one contribution to a discourse on our, in many ways, absurd and grotesque world. Her oeuvre gives a bizarre perspective on western civilisation today.
Nathalie Djurberg
Born 1978 in Lysekil. Lives and works in Berlin
Education
1997–2002 Konsthögskolan i Malmö/Malmö Art Academy, Malmö
1995–1997 Hovedskous målarskola/Hovedskous Art School, Göteborg/Gothenburg
Selected solo exhibitions
2010 Snakes know it's yoga, Kestnergesellschaft, Hannover [DE]
2008 Turn Into Me, Fondazione Prada, Milano/Milan [IT]
2007 Denn es ist Schön zu Leben [Because It Is Wonderful To Live], Project Space – Kunsthalle Wien, Wien/Vienna [AT]
Selected group exhibitions
2009 Fare Mondi / Making Worlds, Palazzo delle Esposizioni, 53rd International Art Exhibition, La Biennale di Venezia Venedig/Venice [IT]
2007–2008 Carnegie Art Award, Museum of Contemporary Art Kiasma, Helsingfors/Helsinki [FI]; Henie Onstad Kunstsenter, Oslo [NO]; Den Frie Udstilling, Köpenhamn/Copenhagen, [DK]; Listasafn Kópavogs, Kópavogur / Reykjavík [IS]; Konstakademien, Stockholm [SE]; Royal College of Art, London [GB]; Göteborgs konstmuseum [SE]
2006 4th Berlin Biennial of Contemporary Art: Of Mice and Men, Twelve Venues Along Auguststrasse, Berlin [DE]
Selected bibliography
Germano Celant, Nathalie Djurberg: Turn Into Me Prada Foundation, Milan, 2008.
Rachel Kushner, "Openings" Artforum March 2007: 306–307.
Angela Stief & Gerald Matt, Nathalie Djurberg: Denn es ist schön zu leben, Kunsthalle Wien, Verlag für moderne Kunst Nürnberg, 2007