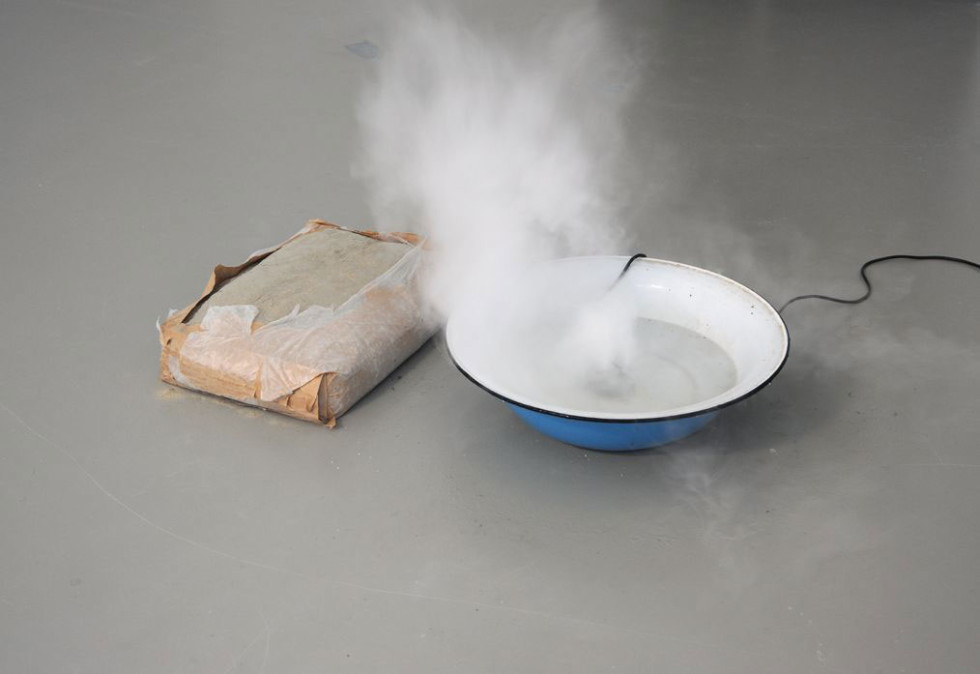 Nina Canell's spatial material conglomerations are characterised by discreet shifts, transformations and observations in the spaces between people, objects and happenings. Forms, shaped and reshaped, are generated with small, choreographed movements, often with an openness for unpredictable forces that may step in and prevent the completion of the idea of a closed structure.
This very potential to influence with small gestures recurs in various ways in Nina Canell's sculptures, where the precise intersections in time and space evoke a feeling of wandering effortlessly between different moods. Nebulous raw materials, such as electricity, gas and water, materialise into relational binding agents, with conductive properties resembling the fumbling human attempts to make contact.
In The Moderna Exhibition Canell exhibits a number of loosely connected works on the relationship between dispersing and unifying forces. Into the Eyes as Ends of Hair is a small sculpture consisting of the artist's own radio, but the antenna has been extended with short pieces of wire and metal objects to improve reception. Thus, the sculpture reaches beyond walls, along the museum's invisible electromagnetic network, in the attempt to convey shifts and changes in other works, along with small occurrences here and there in the exhibition.
On site in the exhibition space is another sculpture that is involved in two simultaneous processes. Using an inaudible soundwave, the artist makes water evaporate into foggy smoke. Like a hovering telegram, the water is dispersed, drop by drop, into the room, only to solidify in the surrounding cement. Nina Canell's poetic interventions are both object and event; a form of sculptural thought experiments that introduce unexpected links between people and physical phenomena.
Nina Canell
Born in 1979 in Växjö
Lives and works in Berlin [DE]
Education
2005 B.A. (Hons) in Fine Art (1st Class Honours) Institute of Art, Design & Technology, Dún Laoghaire [IE]
Selected solo exhibitions
2010 Museum Moderner Kunst Stiftung Ludwig Wien, Wien/Vienna [AT]
2009 Five Kinds of Water, Hamburg Kunstverein, Hamburg [DE]
2008 Nought to Sixty, ICA, London [UK]
Selected group exhibitions
2010 MoMA, New York [US]
2010 Liverpool Biennial, Tate Liverpool [UK]
2008 Manifesta 7 – European Biennial of Contemporary Art, Trentino-Alto Adige/Südtirol [IT]
Selected bibliography
Evaporation Essays, (texter av/texts by: Caoimhin Mac Goilla Leith, Padraic E. Moore, Chris Sharp, Xander Karskens), NAK, Kunstverein Hamburg & Distanz Verlag, 2010.
Creamier; 100 Contemporary Artists (text av/by: Adam Szymczyk), Phaidon Press, 2010.
Ars Viva 10/11 – Laboratory, (text av/by: Dieter Roelstraete), Hatje Cantz, 2010.