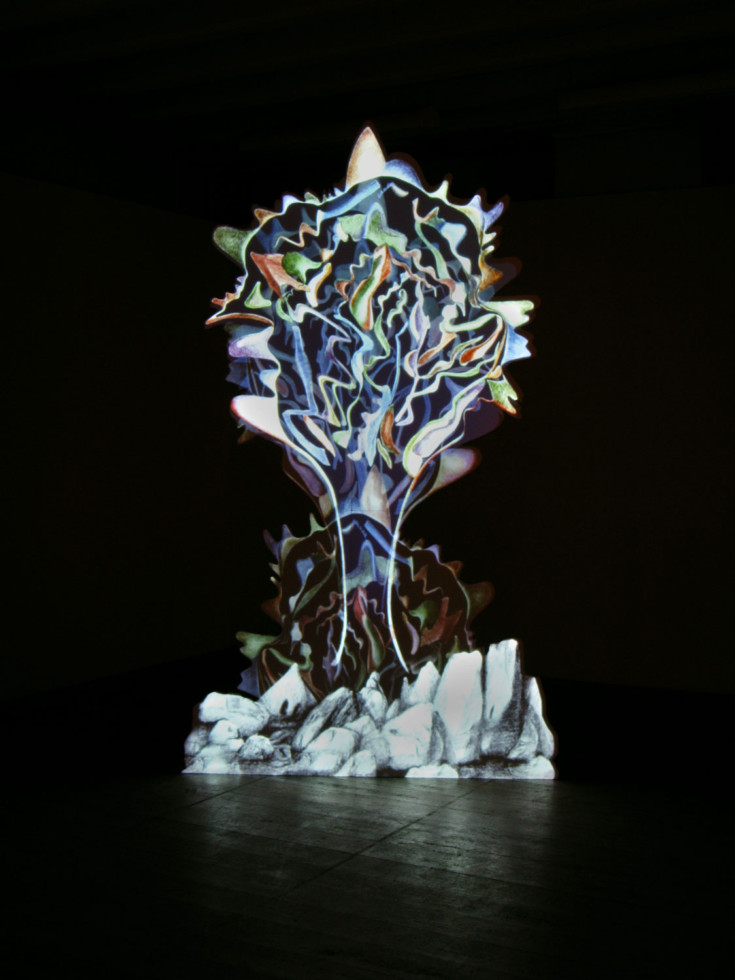 Thought-Forms are sculptural formations that have been animated with small undulations. They exude magic realism and suggest the supernatural. As we walk around these sculptures, however, we are soon roused from our fantasies, since the back side clearly reveals the construction and materials of which the sculptures are made. These two contradictory sides of the same sculptural object may be a reference to the two sides of research: moments of euphoria when new knowledge emerges from periods of hard, persistent work.
The title of the work is taken from an eponymous book, written by the clairvoyant theosophist Annie Besant and her companion C.W. Leadbeater in 1901. Annie Besant believed herself to have the rare ability to perceive the colours and shapes of sound waves, and her book included illustrations of mushroom-like formations representing music transformed into colour and form streaming out of churches.
Christine Ödlund has studied ecological chemistry and how plants communicate with each other. Her art often oscillates between the macro and micro levels and reveals how vastly different phenomena overlap visually, in abstract animations, drawings, sculptures and music. She makes cross-references and links according to a logic that is not accepted within conventional natural science. In 2008, she released her first piece of music, Phenomena, on CD .
Ödlund has previously worked mainly with the video camera, but her oeuvre has now developed in new directions. In her animated images and audio compositions she formulates that which researchers and clairvoyants know, but we others may find hard to perceive.
Christine Ödlund
Born 1963 in Stockholm
Lives and works in Stockholm
Education
2002–2004 Electroacoustic Music, EMS, Stockholm
1995–1996 Video, Kungl. Konsthögskolan/Video Department, Royal Academy of Fine Arts, Stockholm
1992–1995 Fotolinjen, Konstfack/Academy of Photography, University College of Arts, Crafts and Design Stockholm
Solo exhibitions
2009 Thought-Forms, Christian Larsen, Stockholm
Selected group exhibitions
2010 Parkliv, Marabouparken, Sundbyberg
2010 Thrice upon a time, Magasin 3, Stockholm
Discography
Phenomena, iDEAL recordings, 2008.
Bibliography
Sanna Samuelsson Artlover #4, årgång /vol.1, 2010 .
Ronald Jones, Artforum, mars/March 2010.
Bruce Russell, The Wire, #306 August 2009.
www.christineodlund.se
More about this exhibition