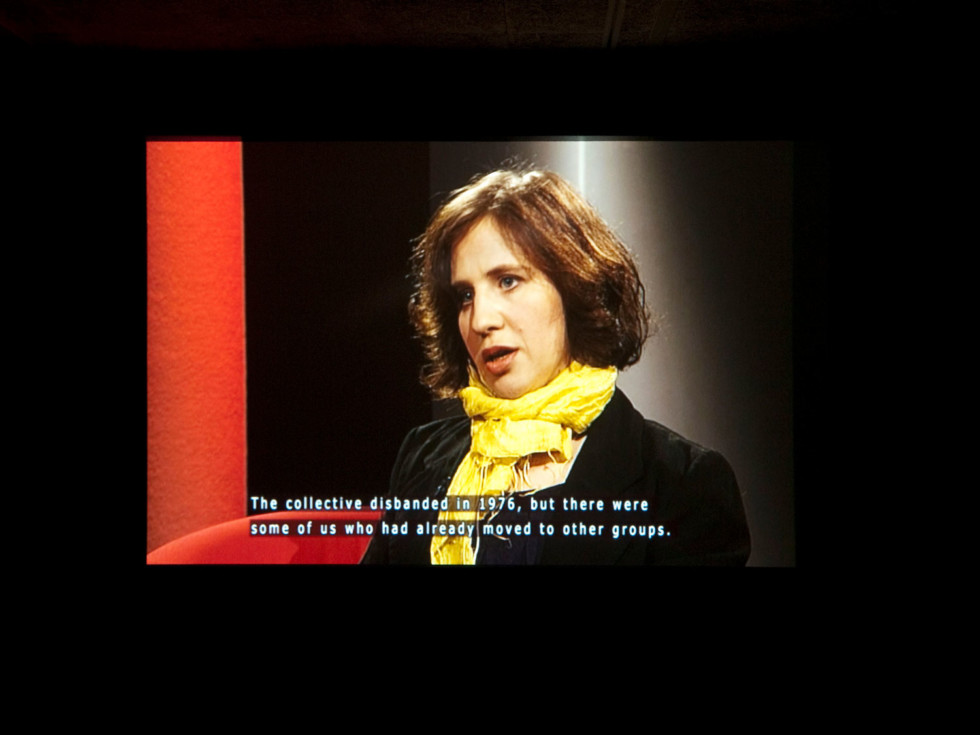 Stina Lundberg Dabrowski is possibly the journalist who has interviewed the largest number of internationally famous politicians and cultural celebrities for Swedish Television. In the video work A Discussion: Stina Lundberg Dabrowski meets Petra Bauer, the artist Petra Bauer has made use of Dabrowski's experience and professional skill to illustrate issues of authorship, historiography and political film production in a performance.
In a TV studio setting, Lundberg Dabrowski interviews Bauer about her occupation as an artist and film-maker in three consecutive live takes. In reverse chronological order, they talk about Bauer's oeuvre. But the conversation does not stop at that. Based on her studies of British film collectives in the 1970s – such as the Berwick Street Film Collective – Bauer contrives to incorporate the films and concepts of these collectives in her own filmography. She responds to Lundberg Dabrowski's direct address by almost consistently referring to her work with the plural pronoun "we", as though she were constantly part, of and a representative of, a collective context.
In this work, Petra Bauer explores the potential political influence of moving images. Unlike her earlier films, including Der Fall Josef and Rana, which, in different ways, critically reformulate the mass media stories of tragic political fates, Bauer turns a selfcritical eye on her own work and the traditions of political filmmaking in which she inscribes herself as an artist.
Petra Bauer
Born 1970 in Stockholm
Lives and works in Stockholm
Education
2003 Konsthögskolan i Malmö/Malmö Art Academy, Malmö
1994–1995 Workshop i fotografi med/Workshop in Fine Art Photography with Susanne Björkman, Stockholm
1991–1995 Stockholms universitet/Stockholm University, Stockholm
Selected solo exhibitions, screenings, seminars and research projects
2010 Me, You, Us, Them, Focal Point Gallery, Southend-on-Sea [UK]
2010 Visions, Divisions, Revisions, Raven Row, London [UK]
2010 Read the Masks. Tradition Is Not Given, Konsthall C & IASPIS, Stockholm
Selected group exhibitions
2010 Production 3, Lunds Konsthall
2009 Momentum, Nordic Biennial, Moss [NO]
2008 Be(com)ing Dutch, Van Abbe Museum, Eindhoven [NL]
More about this exhibition