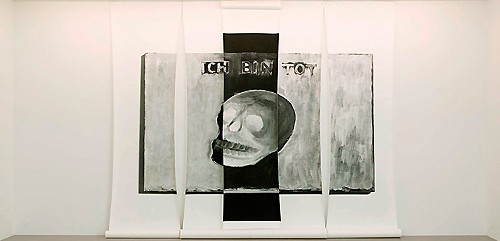 The object of Cecilia Edefalk's works of art is representation in painting. Hers is an investigative study in which she frequently employs a photographic image as the model for her paintings; stills, for example, from films and adverts.
Minor but significant alterations of content, context and accentuation occur in the paintings, which serve not only to pose questions about painting and representation as such but also the screen through which we experience reality.
Her work can therefore also be said to explore seeing itself and the perception of the real world. By consistently making use of "an image of an image of an image…", she both empties the image of its original meaning and simultaneously creates a new one. When, on occasion, she partitions the image into various surfaces in an intricate fashion, our ability to comprehend is shattered like a broken mirror and we are invited to reflect on our own natures.
What is it we actually see? Surfaces. But under these surfaces lie layer upon layer of meaning – as when Edefalk makes a painting of a photograph of one of her own sketches. We can become lost in the history of the painting's creation and realise that there is not only one distinct experience or interpretation of the work but several – depending on which image one chooses to start from.
Cecilia Edefalk
Born 1954 in Norrköping.
Lives and works in Stockholm.
Education
1982–1987
Linjen för måleri. Kungl. Konsthögskolan/ Fine Arts Programme. Royal University College of Fine Arts, Stockholm
1980–1982
Linjen för konst. Birkagårdens Folkhögskola, Stockholm
1973–1977
Linjen för grafisk formgivning. Konstfack/ Graphic design. University College of Arts, Crafts and Design, Stockholm.
Selected solo exhibitions
2006
Focus, The Art Institute of Chicago, Chicago [US]
2004–2005
Skiss för en målning, Ich bin tot, Galleri Brändström & Stene, Stockholm
1998–1999
Bern Kunsthalle, Bern [CH]/ Moderna Museet, Stockholm
Selected group exhibitions
2002
Documenta 11, Kassel [DE]
2000
Mirrors Edge, Bildmuseet Umeå, Vancover Art Gallery, Vancover [CA], Castello di Rivoli, Torino [IT], Tramway, Glasgow [GB], Charlottenborg, Köpenhamn/ Copenhagen [DK]
1994
22nd Bienal de São Paulo, São Paulo [BR]
Selected bibliography
Irene von Hardenberg, Künstlerinnen, New York, Berlin, Paris, foto/photo Reto Guntli, Gerstenberg Verlag, 2005.
Cecilia Edefalk – Nya Verk, Konstnärsmöte, 19 april kl.18.30, Samtal med Marianne Hultman, Norrköpings Konstmuseum 2005.
Magnus Bons, Att återge en bild. Användning av måleri och fotografi hos Cecilia Edefalk, Uppsats i filosofisk estetik, Stockholms universitet, 2005.
Mario Kramer, Vitamin P – New Perspectives in Painting, Phaidon Press, 2002.