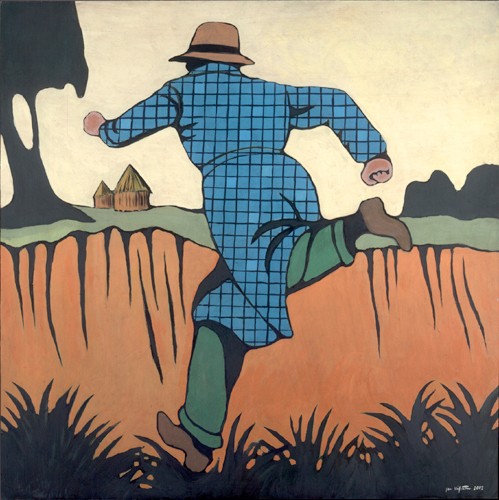 Jan Håfström launched his artistic career during the 1960s with borrowings from comics and other media in the spirit of Pop Art. He has alternated between figurative and abstract painting, made films, sculptures and worked as an art critic.
In Clinch, the book in dialogue form Håfström published in 1994 together with Ulf Linde, the latter makes this drastic assertion while attempting – in his double role as prosecutor and defence counsel – to summarise the nature of Håfström's elusive artistry: Håfström has always trimmed his sails to every wind. Although the important thing has not been the direction in which the winds were blowing – but the cloth his sails were made of! And Linde is quick to acknowledge that this cloth has always borne an unmistakably Håfströmesque cut.
A combination of an autobiographical undertone and a powerful sense of the Zeitgeist make up the cloth Linde is referring to. In recent years he has been celebrated for a new form of figurative painting in which Walker, the alter ego of Fantomen (the Phantom) the comic hero, plays a prominent role. Walker is a critical depiction of the masculine role today – isolated and silent. At the same time he is a disrespectful observer who can see the shortcomings of society – by virtue of the distance he keeps from it. Both these qualities link him to Håfström himself. A development that began very early on in Håfström's case and that his childhood drawings bear witness to.
Jan Håfström
Born 1937 in Stockholm.
Lives and works in Stockholm and on Gotland.
Education
1963–1968
The Royal University Collage of Fine Arts, Stockholm
Selected solo exhibitions
2003
Den eviga återkomsten, BAC, Visby
2002
Nattens industri, Dunkers Kulturhus, Helsingborg
2000
Walker, Färgfabriken, Stockholm
Selected group exhibitions
2003
From Murakami to Rauschenberg, Museo Correr, Venice [IT]
2003
Against all evens, Göteborg International Art Biennial, Gothenburg
1990
Nordic Pavilion, at the 44th Venice Biennale, Venice [IT]
Selected bibliography
Martin Sundberg, Tillvaratagna effekter, (exh. cat.), Makadam, 2005.
Katarina Frostenson/Lars Nittve, Jan Håfström (exh. cat.), Rooseum, Malmö, 1994.
Doglas Feuk, Måla sitt liv, (exh. cat.), Kalejdoskop, 1989.
More about this exhibition