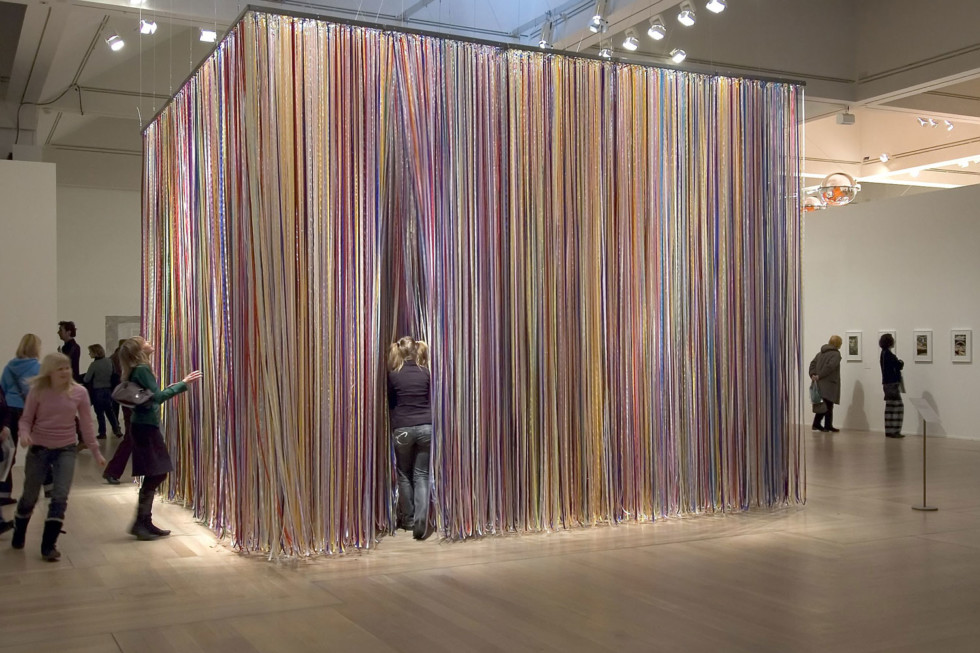 After experiencing a couple of Jacob Dahlgren's installations, it becomes almost impossible not to see remnants of them in everyday life. Dahlgren makes use of pre-existing mass produced objects in his works, such as the pots we get our yoghurt in, plastic coffee cups, striped t-shirts or even dart-boards.
When he arranges the objects in large numbers and in his own Dahlgrenesque manner, the whole thing comes together as modernist and abstract painting within an expanded field. Many of his works have actually been produced in a kind of dialogue with the late Olle Baertling, a Swedish modernist artist, who dedicated his life to the diagonal and the triangular colour-field shapes that he produced in paintings, public commissions and sculptures.
We can find strictly formalist patterns and constructions all around us: in architecture; in a great deal of design; and in the public sphere that surrounds us, often powerfully linked to utopian, modernist and positivist plans for the future with democracy and equality as higher aspirations. By removing the functionality of the everyday objects in the installations and reinforcing the aesthetic aspects instead, turning them into art, Dahlgren reworks these "old" ideas and concepts into something completely contemporary.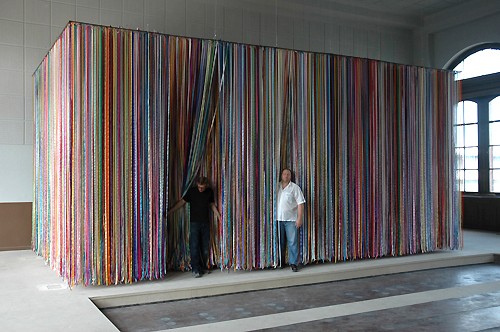 Jacob Dahlgren
Born 1970 in Stockholm.
Lives and works in Stockholm.
Education
1994–1999
Kungl. Konsthögskolan/ The Royal University College of Fine Arts, Stockholm
Selected solo exhibitions
2005
Kunstverein Hamburger Bahnhof, Hamburg [DE]
2005
Jacob Dahlgren/Katarina Löfström, Malmö Konsthall, Malmö
2004
Galleri Charlotte Lund, Stockholm
Selected group exhibitions
2005
Praguebiennale 2, Prag [CZ]
2004
I, the world, things, life, Norrköpings Konstmuseum, Norrköping
2002
Talking about time space and stories, 27th Biennal of Pontevedra, Pontevedra [ES]
Selected bibliography
Thomas Millroth, Jacob Dahlgren, Blå Himmel förlag, 2005.
Stina Högkvist, Begreppsförvirringens potentiella evighet, Galerie Anhava (utst.kat./exh. cat.), Helsingfors/Helsinki, 2003.
Rebecca Gordon Nesbitt, The wonderful world of Jacob Dahlgren, Ars Fennica (utst.kat./exh. cat.), Helsingfors/Helsinki, 2002.