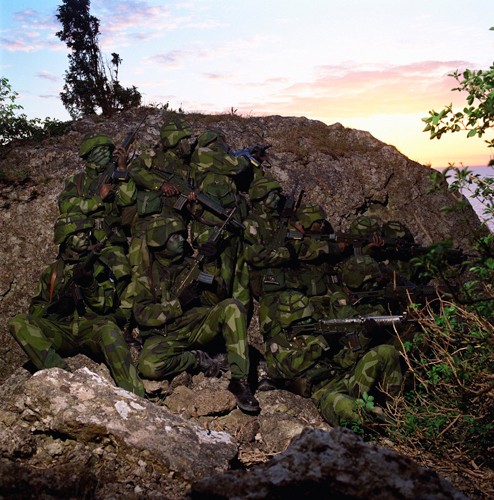 Juan Pedro Fabra uses nature as the setting for the events he stages in his photographs and works on video. His thematic depictions of Swedish landscapes make reference to an aesthetic of romantic naturalism and the idea of nature as a wild force, possessed by spirits, in which you can never be certain as to what dangers lurk in the darkness.
The film True Colours depicts a barren natural world, as on the island of Gotland. However, soldiers in camouflage are hiding in this beautiful, dramatic landscape. They melt so convincingly into their surroundings that at first they are difficult to pick out. The soldiers barely move. They are waiting, but for what? The absence of any clear threat makes their mission seem unclear. The uncertainty is very alarming. Who, or what, is their enemy?
Fabra pays close attention in his works to the close relation between the state, the exercise of power, violence and territorial surveillance. The development of the nation state took place under the influence of the French revolution and the Romantic movement of the nineteenth century. The nation state and the aspiration for a shared national identity may appear outmoded in the globalised world of today. It currently enjoys a particular topicality, however, after the terrorist bombings of September 11th and the efforts of the new European community to tighten border controls. By combining a romantic aesthetics with contemporary Swedish military life, Fabra locates the nation state in a historical context at the same time as he uncovers its modern guise.
Juan Pedro Fabra
Born 1971 in Montevideo. [UY]
Lives and works in Stockholm.
Education
1997–2002
The Royal University College of Fine Arts, Stockholm
Selected solo exhibitions
2005
Skånes Konstfrämjande, Malmö
2004
Untitled, Brändström & Stene, Stockholm
2001
Moheda Trilogin, Galleri Mejan, Stockholm
Selected group exhibitions
2005
Think Pink, Gallery Exit, Pristina [MK]
2005
(my private) Heroes, Marta Herford Museum, Herford [DE]
2003
Delays and Revolutions, Italian Pavilion, 50th Venice Biennale, Venedig/Venice [IT]
Selected bibliography
Liutauras Psibilskis, "Juan-Pedro Fabra", Artforum International, # 7 March, 2005.
"Was Will Europa? – For a Europe of Differences", FlashArt, # 237, 2004.
David Barret, "Flown in, Zoned out", Art Monthly, # 268, 2003.
More about this exhibition