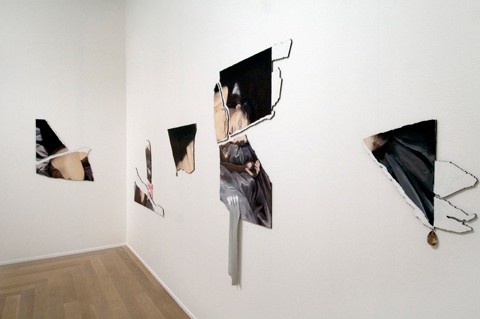 What is portrayed in Ylva Ogland's painting are parallel existing worlds that the artist belongs to in various ways. Her subjective expressions of personal experience form an aesthetic hybrid inasmuch as she manages in her intuitive manner of execution to create a fusion of a child's perspective on the adult world with thematic references to art historical painting.
Her paintings have a broad compass, spanning representations of states of mind and experiences of what occurs to shifts of meaning in contemporary and historic events.
Anders och Ängeln (Anders and the Angel) provides a clear example. The work consists of two paintings based on passport photographs in which the men being portrayed are in an ecstatic state of mind. Their expressions recall the historical depictions of religious ecstasy in Western art. The model for the third painting in the triptych, Xenia, is made after a still-life by Caravaggio, but the fruits and basket of the original have been replaced by the objects used for injecting heroin.
The series Ylva -85 consists of painted and enlarged pieces of torn-up photographs depicting the body of a naked girl. The images have an intimate character and the fact that the photographs have been torn apart suggest a story behind what has been staged. When the viewer tries to put the various fragments together to form a whole – as indicated in the paintings – what emerges are new meanings and perspectives on contemporary life.
Ylva Ogland
Born 1974 in Umeå. Lives and works in Stockholm.
Education
1993–1998
The Royal University Collage of Fine Arts, Stockholm
Selected solo exhibitions
2006
Brändström & Stene, Stockholm
2004
Xenia, Ängeln, Anders, ROR galleria (Revolutions On Request), Helsinki [FI]
2002
Rapture and Silence, Brändström & Stene, Stockholm
Selected group exhibitions
2005
NO PAINTING!/ Maalimine keelatud!, Tallinna Kunstihoone, Tallinn [EE]
2004
This sweet sickness. Rhodes+Mann, London [GB]
2004
Art Football World Cup. Mori Art Museum, Tokyo [JP] + Konst2, Stockholm
Selected bibliography
Cilla Robach, Konceptdesign (exh. cat.), Nationalmuseum, Stockholm 2005.
Sinziana Ravini, "Måleriets tillflyktsort – det psykosexuella dramat. Om Eric Fischl och Ylva Oglands konst", Paletten,#25/2004.
Sophie Allgårdh/Estelle af Malmborg, Svensk konst nu. 85 konstnärer födda efter 1960, SAK/Wahlström & Widstrand, 2004.
More about this exhibition