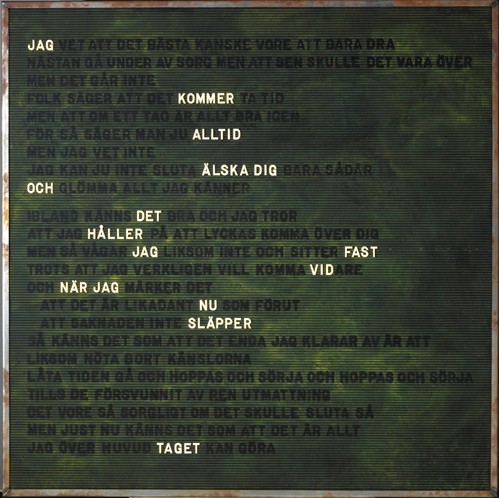 Very few artists manage, as Johan Thurfjell does, to pull off works that are simultaneously personal, poetic and romantic without becoming kitschy or pathetic. Instead, that personal essence is transformed (without losing the sense of the personal) into something that is not only general and universal, but also touches something deep inside the spectator, while never being cloying.
Consider for instance the work Reach Out and Touch Faith (2003), in which a desk is stuffed with images and drawings, depicting stars, seas, heavens, clouds, bridges, caves etc. This is a kind of structured mishmash, representing something that the artist cannot fully grasp or understand but still has faith in somehow. A similar sort of jumbled structure made of wooden sticks seems to have grown from the desk itself. Thin, fragile towers emerge from the desk and climb towards the ceiling. Bridges link these towers to two further towers that stand on the floor in front of the desk. On closer inspection, tiny staircases can be seen forming links inside the towers.
Whether Thurfjell is working with sculpture, drawings or even texts, the common ground for many of his works is a multi-layered narrative structure, in which different stories frequently intersect in intricate fashion and in innovative combinations, while nevertheless coming together in perfect union.
Johan Thurfjell
Born 1970 in Solna.
Lives and works in Solna [Stockholm].
Education
1997–2002
Institutionen för Konst. Konstfack/ Fine Arts Programme. University College for Arts, Crafts and Design, Stockholm
2001
The Master of Fine Arts Programme, Otis College of Art and Design, Los Angeles [US]
Selected solo exhibitions
2005
Box Kungshöjd, Göteborg/Gothenburg
2003
Natalia Goldin Gallery, Stockholm
2003
16:1 Gallery, Santa Monica [US]
Selected group exhibitions
2004
Matthias van Arkel, Matti Kallioinen, Petra Lindholm, Jonas Nobel, Fredrik Söderberg, Johan Thurfjell, Christine Ödlund, Skulpturens hus, Stockholm
2004
Momentum, Moss [NO]
2003
OM-berättande i svensk samtidskonst, Norrköpings Konstmuseum (Riksutställningar 2004-2005)
Selected bibliography
Power Ekroth, Contemporary, Dec 2005.
Paulina Bylén, Arbetaren#23, 2005.
Sophie Allgårdh/Estelle af Malmborg, Svensk konst nu. 85 konstnärer födda efter 1960, SAK/Wahlström & Widstrand, 2004.
More about this exhibition