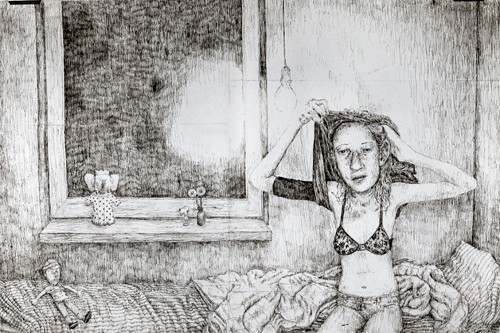 There is a significant narrative dimension to Oskar Korsár's drawings. The sketchy style is occasionally interrupted by astonishingly detailed definition. The figures collide with one another thus creating a sense of distortion in the images. With an awkward delicacy he somehow succeeds in keeping the composition together.
Given his background as a graffiti-painter and his training in graphic design, the primary aesthetic reference of the drawings is to comics and expressive painting. Several of his works are infused with an anguished melancholy.
The illustrations are frequently dominated by one or two primary figures, placed in a realistic everyday setting. Anorexic female figures with overly long, oversized heads carry out simple activities like getting dressed, washing up or chatting on the bed. There is no intimacy between the figures, they feel lonely and introverted. The way the lines are drawn make the people and the objects melt into the surroundings. On closer study a multiplicity of seemingly misplaced objects appear in quietly dramatic fashion against the familiar surroundings. The objects create countless references, expanding in various directions and levelling out any visual hierarchy.
In his unique pictorial world, Korsár employs an idiom that is close to drawing, illustration and the pictorial culture of the mass media. On various levels he mixes and distorts the codes of our age for visual communication.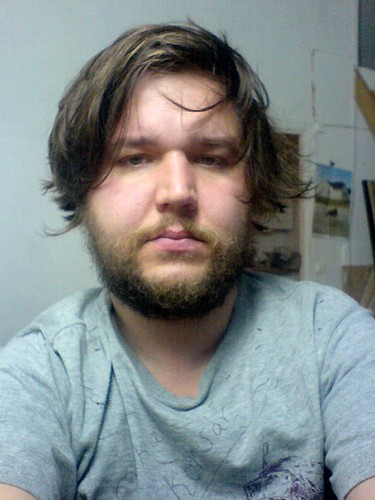 Oskar Korsár
Born 1977 in Umeå.
Lives and works in Stockholm.
Education
1998–2001
Konstfack/ University College Of Arts, Crafts and Design Stockholm
1997–1998
Birkagårdens konstskola, Stockholm
Selected solo exhibitions
2004
ALP galleri Peter Bergman, Stockholm
2002
ALP galleri Peter Bergman, Stockholm
Selected group exhibitions
2005
Works On Paper, Nils Staerk ContemporaryArt, Köpenhamn/ Copenhagen [DK]
2005
Liste 05, ALP galleri Peter Bergman, Basel [CH]
2005
Strangely Familiar, AR/GE Kunstmuseum, Bolzano [IT]
Selected bibliography
Ika Kaminka, "Oskar Korsár", Momentum(utst.kat./exh. cat.), Moss, 2004.