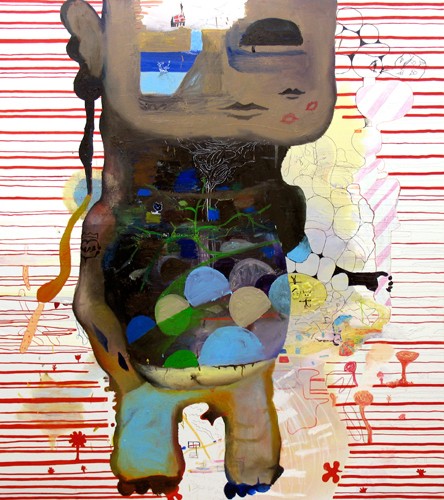 How are you supposed to relate to a tradition if you cannot fully embrace it or understand it completely? Is it acceptable to lose yourself in it, drift away in dreams within it, and then wake up and realise that where you are is somewhere different?
This is what Per Enoksson seems to be thinking. By casting a contemporary eye over the themes of Sami culture and placing them in new contexts, Enoksson succeeds in creating new worlds. The works become a mixture of popular culture, youthful Freudian fantasies and romantic naturalism. Various techniques are combined in his paintings, drawings and etchings – embroidery is brought together with oil painting while sketches turn into graphic work. He works both on canvas, panel and paper, or on whatever other material seems essential at the time. The completed works are characterised by an expressive playfulness in unmistakable proximity to the techniques of sketching. An accumulation of signs forms patterns and narratives in colours and light that calls the North to mind.
Different stories are brought together in a way that makes Enoksson's works significant carriers of the mosaic of forms of cultural expression particular to our time. There is a desire here for co-existence and the understanding of different traditions. Enoksson's works of art form small capsules of life that point towards a hopeful future.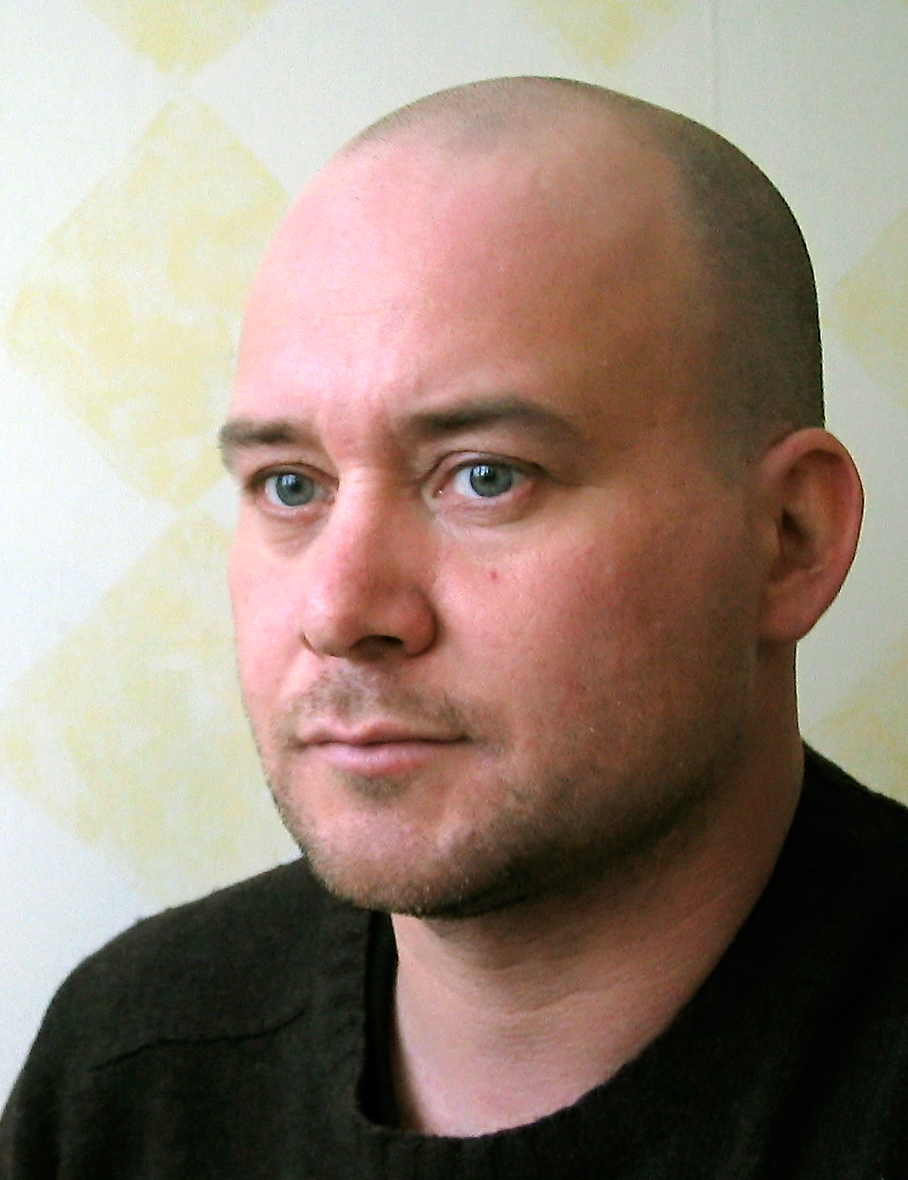 Per Enoksson
Born 1965 in Tärnaby.
Lives and works in Umeå.
Education
1993–1994
Konsthögskolan/ Academy of Fine Arts, Umeå
1993
Kungl. Konsthögskolan/ Royal University College of Fine Arts, Stockholm
1989–1993
Statens Kunstakademi, Oslo [NO]
Selected solo exhibitions
2004
Trondheims Kunstmuseum, Trondheim [NO]
2003
Dunkers Kulturhus, Helsingborg
2003
Galleri Stefan Andersson, Umeå
Selected group exhibitions
2005
Svensk samtidskonst, Dunkers Kulturhus, Helsingborg, Art Copenhagen, Köpenhamn/ Copenhagen [DK]
2005
Å visualisere Sápmi/ Sámi visualiseret, Galleri F15. Jelöy [NO]
2005
Volta Show, Milliken Gallery, Basel [CH]
Selected bibliography
Magnus Jensner, "Att snärja en röding", Paintings and Drawings (utst.kat./exh. cat.), Galleri Stefan Andersson, Umeå, 2003.
Nina Wenedikter, "Syno…nånting", Innehåll: Konst (utst.kat./exh. cat.), Dunkers Kulturhus, Helsingborg, 2003.
Britte Montigny, "Grafitti med eko från fjällen", Västerbottens-Kuriren, 2003-12-12.