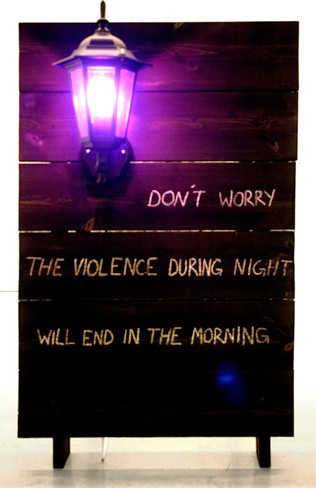 Jonas Nobel's collages and drawings seem to have been inspired by mass production and industrial representation. Sometimes their contents appear slightly absurd and can bring "impossible shapes" to mind, or "degenerate images" as they are also called. The internal contradictions in the objects of the drawings and collages form the foundations of a complexity, to which the titles of the works also belong.
Some of his works – drawings, collages or sculptures – have slightly cynical titles, such as The Struggle for an Idea Worth Fighting for Continues, or Only Escapism Can Save Our Sorry Asses, which create yet another point of entry into the work.
Nobel employs fairly "simple" materials in his sculptures, putting together elements with different historical connotations and in so doing creating new ones. The sculptures in themselves can be seen as being attributes of a set design, in which it is we who determine the narrative. The objects are "innocent" per se, it is human consciousness that assigns value and fields of application to them. And it is at this very point, at the junction between the idea and the work, that art history, and art as such, finds its own field of application – one in which meaning is created. Nobel's sculptures employ topical or historical incidents, albeit without specific references and allowing for a free flow of associations, to form a meta-structure and provide the possibility for reflection on the political or social events that affect our daily lives.
Jonas Nobel
Born 1970 in Uppsala. Lives and works in Stockholm.
Education
1993–1998
Academy of Fine Arts, Umeå
1991
Studier i estetik, Uppsala universitet, Uppsala
Selected solo exhibitions
2004
Galleri F 15, Moss [NO]
2004
Galleri Charlotte Lund, Stockholm
2002
Galleri Charlotte Lund, Stockholm
Selected group exhibitions
2004
Escapism – a viable political alternative, Champion Fine Art, New York [US]
2003
Adagio, Gävle Konstcentrum, Gävle
2001
Outlanders, Waygood Gallery, Newcastle [GB]
Selected bibliography
Milou Allerholm, "Mångtydigt jävlar anamma. Två spretande och egensinniga utställningar", Dagens Nyheter, Kultur, 2004-09-04.
Anna Orrghen, "Befriande brist på förvåning", Svenska Dagbladet, 2004-09-04.
"Contemporary Art From Sweden", European Central Bank, 2003, pp 44–45.
Jonas Nobel is a member of Uglycute.