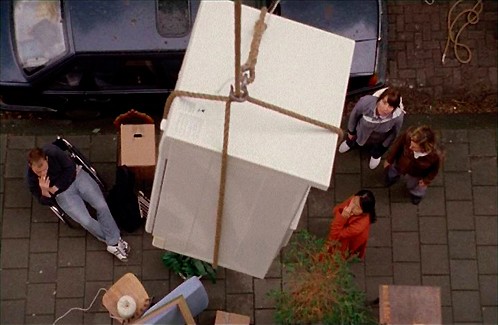 Johanna Billing creates film scenes from a geographical place or a reference that can be dated to a particular time such as a song or a film.
These scenes are not always active, instead some of them show people who – in their encounter with a society in change – seem to have become locked into ambivalence and uncertainty. They wander around while the showing of a flat is taking place (Look Out!, 2003), practise breathing exercises (Missing Out, 2001), or wait for a revolution (Project for a Revolution, 2003).
The title of the film Magic & Loss (2005) is taken from an album Lou Reed recorded when a large number of his friends all passed away at the same time. A group of unconnected individuals is being helped to pack their things together and move out of a flat. They work in silence, and it is obvious that the person who lives in the flat is absent. Below its surface, the film mediates a troubling feeling which derives both from the uncertainty about what has happened to the flat's inhabitant and the sense of strain that exists between the people working together.
The film was produced in Amsterdam, a city in which – like Stockholm – a high value is placed on independence and the financial freedom to live alone. Having grown up during a period characterised by a powerful sense of individualism, the artist is reflecting on how highly we value our autonomy. In her films there is a recurrent atmosphere of melancholy and loss, which is existential while simultaneously being founded on the alienation individualism is creating in our time.
Johanna Billing
Born 1973 in Jönköping.
Lives and works in Stockholm.
Education
1994–1999
Institutionen för Konst. Konstfack/ Department of Fine Arts. University College of Arts, Crafts and Design, Stockholm
Selected solo exhibitions
2005
Magical World, Hollybush Gardens, London [GB]
2003
You don't love me yet, Vedanta Gallery, Chicago [US]
2003
Studio Works, Milch at Gainsborough Studios, London [GB]
Selected group exhibitions
2005
9th Istanbul Biennial, Istanbul [TR]
2005
Dialectics of Hope, 1st Moscow Biennial, Lenin Museum, Moskva/Moscow [RU]
2004
Normalization, Nova Gallery. WHW, Zagreb [HR]
Selected bibliography
Olivia Plender, "After the rehearsal", Frieze#81, March, 2004.
Charles Esche, Johanna Billing, Cream 3, Phaidon Press, 2003.
Lisa Panting, "The innocence has evaporated", Untitled Magazine, 2002.
More about this exhibition