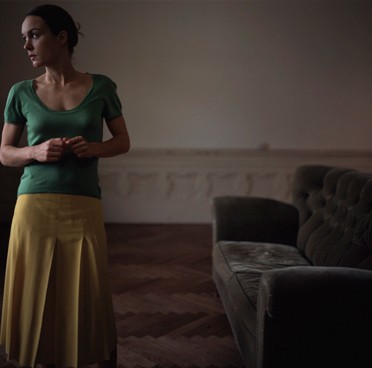 A close-up lasting several minutes of the actor Tomas Pontén being made up, somewhat against his will. He cannot free himself entirely from his professional identity, theatrical expressions can be distinctly seen through the make-up that is gradually being applied to his face. While the camera is rolling, he simply has to act.
This is how Miriam Bäckström's video The Viewer begins. Bäckström forces Pontén to sit through something she has realised he most dislikes. There is an almost sadistic component to both the videos she has made about the shifts and turns in the grey zone between what we call reality and what is staged. The other video is called Rebecka. In it we encounter the actress Rebecka Hemse, who also appears in The Viewer. She is obliged to improvise to some extent since the moment the camera starts rolling is the first time she has held Bäckström's script in her hands. Off screen Bäckström asks questions and gives directions. Hemse moves in and out of the various roles; as herself, as an actress, and as Miriam Bäckström. The boundaries between when we are ourselves and when we are playing a role are erased.
Using the form of the interview, both videos discuss the relationships between a private and a public situation, and where the underlying foundations for the creation of identity come into play. The form infuses the content and makes visible the power-play between the director and the actor. The films leave you thinking about the way that everything is a staged performance and that the drama always wins.
Miriam Bäckström
Born 1967 in Stockholm.
Lives and works in Stockholm.
Education
1994–1998
Fotolinjen. Konstfack/ The Academy of Photography. University College of Arts, Crafts and Design, Stockholm
1988–1989
Kurs i konstvetenskap, Stockholms universitet/ Art History, Stockholm University, Stockholm
Selected solo exhibitions
2005
Unlimited ID: the portrait as concept, Dazibao, centre de photographies actuelle, Montreal [CA]
2005
Kasseler Documentarfilm und Videofest, Kassel [DE]
2005
Amplified Pavilion, Nordic Pavilion at the 51st Venice Biennale, Venedig/Venice, [IT]
Selected group exhibitions
2005
Romance, Cristina Guerra Galería, Lissabon [PT]
2005
More than this! Göteborgs Internationella Konstbiennal. Göteborg International Biennial for Contemporary Art, Göteborg/Gothenburg
2005
Rebecka, the 34th International Film Festival Rotterdam [NL]
Selected bibliography
Nancy Spector, "Miriam Bäckström & Carsten Höller, Nordic Pavilion", Domus # 883, July/August, 2005.
Alison M. Gingeras, "Stealing the Show", Artforum International, September, 2005.
Ronald Jones, "Miriam Bäckström at IASPIS", Artforum International, January, 2005.