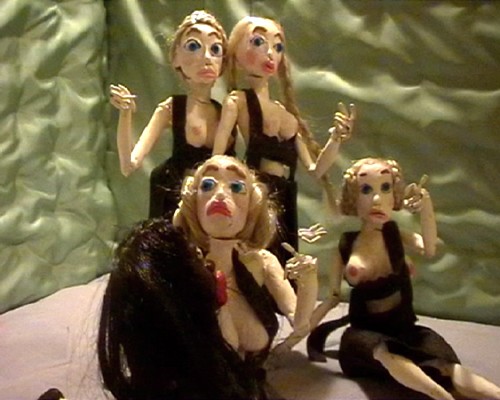 Nathalie Djurberg's animations are colourful and rough-hewn. The combined effect of creating human figures from plasticine together with the rough cutting is to make the animations seem at first sight to be harmless films for children. The stories, however, shift quite unexpectedly and become uncomfortably threatening.
The films maintain a fierce pace in which the clay figures exchange roles in a very surprising manner, to the continuous accompaniment of film music that is insistently merry. The whirlwind speed in combination with the music create a feeling that something is about to go out of control.
Djurberg demolishes the idyllic appearance of the world of fairy-tales by using them as a space in which the dark side of human nature is permitted expression. The naïve aesthetic of her work forms a contrast with its considerably more serious content. The films deal with subjects such as the exercise of power, different forms of violence, sexuality, anxiety and humiliation. She highlights aspects of ourselves we would prefer not to be aware of and provides scope for the desires of the repressed – or for their behaviour, which may touch on what is taboo.
The absurdity of the narratives keeps the serious intent of the films at a certain remove. The artist criticises the exercise of power in all its forms with ironic humour and by always allowing the underdog to triumph in the end.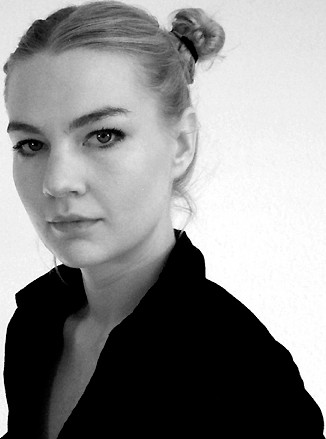 Nathalie Djurberg
Born 1978 in Lysekil.
Lives and works in Berlin.
Education
1997–2002
Konsthögskolan i Malmö/ Malmö Art Academy, Malmö
1995–1997
Hovedskous målarskola/ Hovedskous Art School, Göteborg/Gothenburg
Selected solo exhibitions
2005
Screening, Prince Charles Cinema, London [GB]
2005
Den 1:a på Moderna, Moderna Museet, Stockholm
2005
Why do I have this Urge to Do these Things Over and Over Again?, Galleria Gio' Marconi, Milano/Milan [IT]
Selected group exhibitions
2005
Tirana Biennale, Tirana [AL]
2005
Enclosed – Contemporary Media Art Screening, British Museum, London [GB]
2004
Momentum, Moss [NO]
Selected bibliography
Chus Martinez, The World Through the Paint. Orphans of the Void (utst.kat./exh. cat.), Sala Rekalde, Bilbao, 2005.
John Peter Nilsson, "Nathalie Djurberg", Den 1:a på Moderna (informationsblad/folder), Moderna Museet, Stockholm, 2005.
Jiyoon Lee, Enclosed – Contemporary Art Screening (utst.kat./exh. cat.), British Museum, London, 2005.