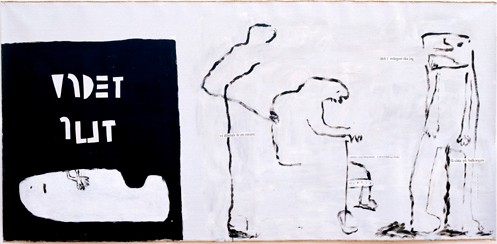 Elis Eriksson was born in 1906. His breakthrough actually took place in the 1960s when he started creating his characteristic blends of text and painting. His works from that period include, in 1965, covering Galerie Burén in Stockholm, white cardboard on which he had drawn stories in Indian ink; stories, in which one could follow the perilous adventures of Pava the cowboy on the American prairie.
His classic phrase "HÅLL TJEFTEN" (SHUT YOUR GAB!) incites revolt and represents a refusal to submit to repressive norms, both linguistic and social. A peculiar writing style is one of the most characteristic features of Eriksson's art. By making his own dyslexia a distinctive and individual form of expression, he turns accepted values on their head. What is normally seen as a restriction becomes instead his strength.
He is never silent in person. Eriksson is a versatile and socially-committed artist, raising the voice of the "little person" against the powerful and the mighty. He takes a stand on behalf of the poor and the vulnerable, the handicapped and the different. Despite his advanced age he never stops criticising and challenging. In the 2004 exhibition Låt lovsången ljuda, psaltaren 66:5-12 (Let the Song of Praise Sound, the Book of Psalms, 66:5-12), for example, he portrayed care for the elderly in Sweden from the point of view of the recipients. The restricted world of the old people's home where the lack of a sandwich filling is just as important as an untreated bedsore took on nightmare proportions in Eriksson's work.
Elis Eriksson died on January 4, 2006.
Elis Eriksson
1906–2006
Born, lived and worked in Stockholm.
Education
1934–1939
Royal University College of Fine Arts, Stockholm
1930–1933
University College Of Arts, Crafts and Design, Stockholm
Selected solo exhibitions
2006
Norrköpings Konstmuseum, Norrköping
2004
Låt lovsången ljuda, Galleri Lars Bohman, Stockholm
2003
Åkk, Galleri Lars Bohman, Stockholm
Selected group exhibitions
2003
Moderna Museet c/o Malmö Konsthall, Malmö Konsthall, Malmö
2002
Konsten sedd genom Sven Lundhs öga, Smålands konstarkiv, Värnamo
1998
Opus 439, Liljevalchs Konsthall, Stockholm
Selected bibliography
Fred Andersson, "Den första installationen söker sin fader", Svenska Dagbladet, 2005-11-06.
Birgitta Rubin, "Alltid aktiv, alltid arg", Dagens Nyheter, 2003-04-10.
Thomas Olsson, "Elis Eriksson har formeln för konst", Nya Wermlands-Tidningen, 2001-01-12.
More about this exhibition