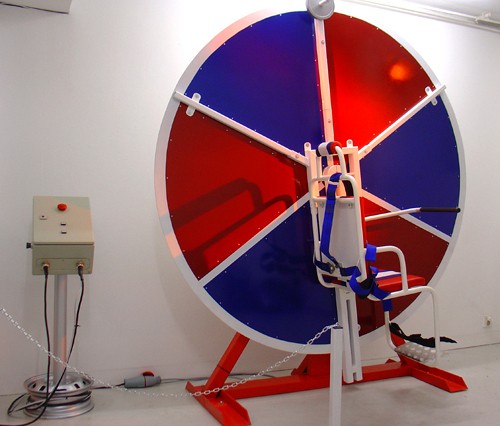 Ride 1 is an ongoing collaboration between the artists Ronny Hansson, Jonas Kjellgren and Stig Sjölund. The project was presented for the first time at the Ping Pong gallery in Malmö in 2004 with an exhibition consisting of a large format photograph, in which the three artists posed with chains and baseball bats, along with a small stylised red and blue Ferris wheel with only one seat.
Since the seat was attached to the wheel, it followed its rotation, which meant that the passenger hung upside down for a while, strapped in by a safety-belt with no means of getting out. A ride on the wheel created a feeling that was both pleasurable and unpleasant which says much about Ride 1.
Much of the art from the 1990s onwards aims to create inter-relationships and turn the viewer into a co-creator It is frequently driven by a democratic pathos and expresses a form of social critique. Ride 1 breaks with that tradition. The democratic component disappears to some extent when the artists appear to invite participation and interaction but actually place the viewer in situations they might not have entered voluntarily. The project can be seen as a critique of politically correct art, and the photograph in which the three artists are presented as violent assailants then becomes an unmistakable warning as to their real intentions.

Ride 1
Ronny Hansson
Born 1962 in Uddevalla.
Lives and works in Nyköping.
Education
1991–1996
Konsthögskolan/ Academy of Fine Arts, Umeå
Jonas Kjellgren
Born 1962 in Gävle.
Lives and works in Torsåker.
Education
1991–1996
Konsthögskolan/ Academy of Fine Arts, Umeå
Stig Sjölund
Born 1955 in Timrå.
Lives and works in Stockholm.
Education
1977–1981
Konstfack/ University College of Arts, Crafts and Design, Stockholm
Solo exhibitions
2006
Galleri Brändström & Stene, Stockholm
2004
Galleri Ping Pong, Malmö
Group exhibitions
2005
POPULISM, Contemporary Art Center, Vilnius [LT]
2005
Vid regnbågens slut, Tumba bruksmuseum, Stockholm
Bibliography
Lars Bang Larsen, POPULISM, (utst.kat./exh. cat.), Berlin, 2005.
Rikard Ekholm, www.ride1.org, 2005.