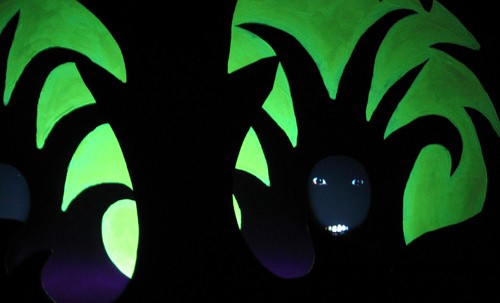 Matti Kallioinen's art has a slightly absurd air. A figure that has accompanied Kallioinen on several of his performances is "Junior," a bizarre creature with its creator's features, and with all its extremities concealed beneath the floor on occasion, leaving only the head to perform in collaboration with the audience.
"Junior" appears in various settings depending on his different assignments and is often very childish and naïve. The performances never take place without the appropriate "set"; sometimes this is made up of an intricate mixture of video, light, sound, cardboard and music in a Wunderkammer setting.
In 2002 Kallioinen produced a music CD, Koncentrerad saft (Concentrated Juice) made up of electronic pop songs. Using the songs from the CD, he has performed on stage with members of his family in various art and music venues. Kallioinen himself is a particularly playful artist, juggling with notions of fiction and reality, in a way that repudiates the boundaries between art and slapstick, between high-brow and low and between art and unfettered play.
Matti Kallioinen
Born 1974 in Uppsala. Lives and works in Stockholm.
Education
1995–2000
University College of Arts, Crafts and Design, Stockholm
Selected solo exhibitions
2004
The Story about Grandpa, The Bed, Beijing [CN]
2004
Riddarna af Kallioinia, Moderna Museet, Stockholm
2002
Koncentrerad saft, Sparwasser HQ, Berlin [DE]
Selected group exhibitions
2005
With us Against Reality, or Against us, Willy Wonka Inc, Oslo [NO]
2003
ROHTO, Manege, Saint Petersburg [RU]
2002
Small Brother, National Gallery of Albania, Tirana [AL]
Selected bibliography
Geist, # 7/2005. Mars, # 2. Black Box, # 1.