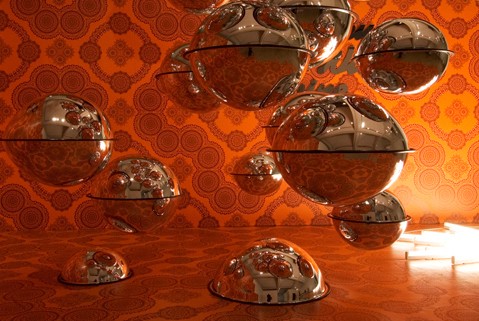 Gunilla Klingberg's art training took place both at the University College of Arts, Craft and Design and Bergh's School for Design and Advertising in Stockholm. This very familiarity with both art and the world of advertising is an important factor in her artistry as she frequently returns to existing brand names, reusing them in new combinations.
As, for example, in her work Sparspace from the year 2000, in which the trademark for Sparlivs, the cut-price grocery chain, is duplicated and reduplicated into a kaleidoscopic image.
More recently, similar combinations of tradenames have been designed as Oriental or psychedelic patterns. Together with quotes and objects they form spatial installations. In Mantric Mutation at the Stockholm gallery Nordenhake in 2004, the walls were covered in psychedelic trademark-patterns in orange and quotes from the New Age guru Deepak Chopra on silvered Plexiglas. There was also a candelabrum there, decked out with coloured candles.
The connection with the New Age movement – as, for example, when she makes reference to mandala patterns – is no accident. A mandala is after all a symbol used in meditation in order to reach a heightened state of awareness. However, when Klingberg creates a mandala pattern out of trademarks she is pointing out that many of us both consume "philosophies" like everyday items, while the consumption of goods can simultaneously be seen as the world's leading "philosophy" of how to live your life. Klingberg continually returns to this link between commercialism, spirituality and aesthetics, and it is this which makes her art both beautiful and significant.
Gunilla Klingberg
Born 1966 in Stockholm.
Lives and works in Stockholm
Education
1993–1997
Department of Sculpture, University College Of Arts, Crafts and Design,Stockholm
Selected solo exhibitions
2005
A Whiter Shade of Pale, Stade [DE]
2004
Mantric Mutation, Galerie Nordenhake, Stockholm
2004
Repeat Pattern, KIASMA Museum of Contemporary Art, Studio K, Helsinki [FI]
Selected group exhibitions
2005
What Business Are You In, Atlanta Contemporary Art Center [US]
2003
Plunder, Dundee Contemporary Arts, Scotland [GB]
2002
Palais de Tokyo, Site de Création Contemporaine, Paris [FR]
Selected bibliography
Sara Arrhenius, "Mantric Mutation", A Whiter Shade of Pale (exh. cat.), Stade, 2005.
Pernille Albrethsen, "The Klingberg Manual", Repeat Pattern (exh. cat.), Studio K/Kiasma, Helsingfors, 2004.
Harald Fricke, Reviews – Berlin: Künstlerhaus Bethanien, Artforum International, November 2002.