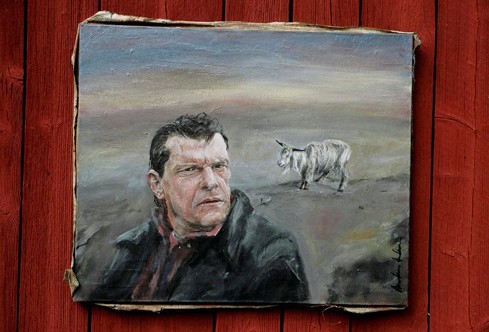 Dorinel Marc's most distinctive trait is, perhaps, a remarkable ability to see things from a different perspective and to find unusual and surprising ways to mediate this through minor interventions, video films or actions.
The starting point for Marc's observations is frequently a situation that is quite common, "normal,". However, from a certain angle that Marc always seems to find, the situation then becomes completely distorted or radically different at the very least.
This different perspective employed by Marc results in an art based on conceptual grounds, whose ambition is to make a difference on a structural, social or even political level. For Marc, and many amongst us, art has a function and a mission which is to change society, as a whole or at least on an individual basis. Naturally this makes the role of the artist crucial and lends it vital significance within society, coming close to the Beuysian shaman, a priest or the role of a "wake-up call". Constantly at work, Marc is simultaneously – as an artist – defining the identity of the artist and what he/she can do, or defying that identity depending on the point of view.
Dorinel Marc
Born 1964 in Bontaieni. [RO]
Lives and works in Hässelby Strand [Stockholm].
Education
2000–2001
Royal University College of Fine Arts, Stockholm
1995–2000
University College Of Arts, Crafts and Design, Stockholm
1994–1995
Konst & Media, Södertälje
1981–1984
Konstgymnasium, Cluj –Napoca [RO]
Selected solo and exhibition projects
2002
Dorinel Marc (Re) presenterar Axel Mörner, ALP galleri Peter Bergman, Stockholm
1997
Inställt, Atlasmuren 18 Stockholm (situation)
1995
Fallet Nixon, Sergels torg, Stockholm (situation)
Selected group and exhibition projects
2005
Vid regnbågens slut, Tumba Bruksmuseum, Tumba
2004
Korsnäs Gummi Biennalen 2004, Hosjö, Falun
2001
Pengar, Kulturhuset, Stockholm
Selected bibliography
Peter Cornell, "Dorinel Marc Retrospective", Paletten, #4/1999.
Angelica Blomhage, "Fången i konstvärlden", Konstperspektiv, #1/2005.
Sophie Allgårdh/Estelle af Malmborg, Svensk konst nu. 85 konstnärer födda efter 1960, SAK/Wahlström & Widstrand, 2004.