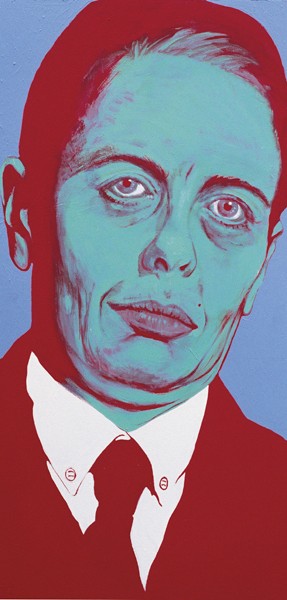 Marianne Lindberg De Geer
Marianne Lindberg De Geer has an inspired gift for doing the unexpected – not least when interested in the power structures of the art world, which she has called into question with both humour and gravity in her art and as a social commentator.
Her background as a mental health nurse, and subsequently as a set designer, has left its mark on her art. During the early 1990s, her work included dramatic installations in which shapeless beings huddled under blankets move in an unsettling way. These beings suggested the homeless or other people no longer considered "full citizens" under the welfare state and who tend to become invisible in the Swedish model.
When she inserts her own face into the work of other artists, this might be interpreted as a declaration of love on the one hand or as a selfish desire to "take over" other people's work on the other. Although it may also be about illustrating the problematic nature, for example, of how we experience art. Does a good work of art make me think about myself?
In one of her more recent projects, African dolls representing various trades have been painted on top of landscape paintings. The contrast is striking. However, it rapidly becomes clear that the paintings have something third-rate, kitsch even, about them (they were bought at flea markets) and that the trade-signifiers of the dolls bear a colonial stamp. Two anonymous stereotypes come together here to portray the sense of having lost our way in our globalised world.
Marianne Lindberg De Geer
Born 1946 in Stockholm. Lives and works in Stockholm.
Selected solo exhibitions
2005
Jag tänker på mig själv, Riddarhuset, Stockholm
2003
Jag tänker på mig själv, Wanås skulpturpark, Wanås
1999–2003
Galleri Andréhn-Schiptjenko, Stockholm
Selected group exhibitions
2005
Tensta konsthall, The Leopard Cube, Konst2, Tensta
2005–1980
Samtida skulptur i Norden, Wanås skulpturpark, Wanås
2004
Së bashku – Juntos – Tillsammans, Uppsala konstmuseum, Uppsala
Bibliography
Dan Jönsson, Marianne Lindberg De Geer m fl.: Jag fortsätter att tänka på mig själv, Galago Förlag, 2001.
Lo Caidahl, Konstens anspråk, Glänta, 1999.
Inga-Maj Beck, Vingspeglar, Natur & Kultur, 1993.