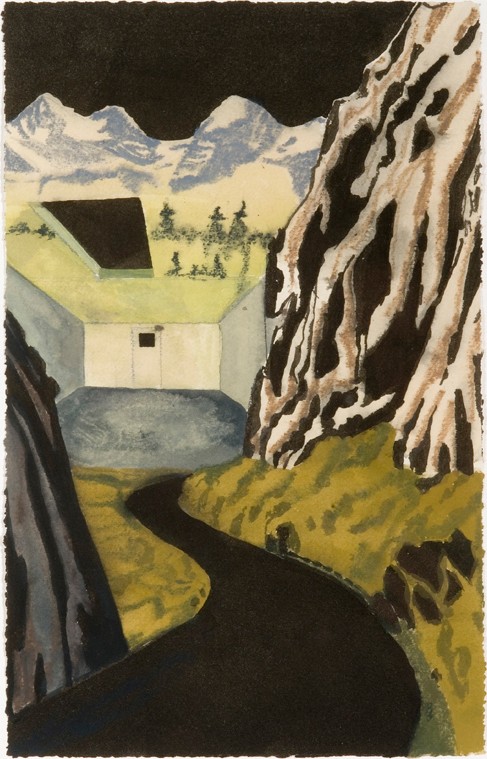 Karin Mamma Andersson's art can be seen as at once meditative and narrative. Her painting is constructed around events or situations that are woven together into stories. The pictures show human beings, often children. When she begins a painting, it is not predestined to be a story but once she has finished it will have fallen into place. Andersson's painting can also be seen as contemplative; it shimmers with something both dreamy and thoughtful.
Andersson's art frequently stands in relation to an artistic tradition, particularly to that of Dick Bengtsson since her early works contain clear references to his painting. One of the reasons she was fascinated by Dick Bengtsson was that she was curious about his technique. In recent years Andersson has stopped making the work of a few select artists her starting-point. Instead she infuses her painting with something more personal, something that should not be seen solely in terms of a painterly tradition. Her paintings are often executed in series in which motives and themes recur and are cast off. She likens her evolution to the pearls in a necklace. It may be difficult to work out where the works that lie close together diverge, but the difference is important to Andersson.
Karin Mamma Andersson
Born 1962 in Luleå.
Lives and works in Stockholm.
Education
1986–1993 Kungl. Konsthögskolan/ Royal University College of Fine Arts, Stockholm
Selected solo exhibitions
2006
David Zwirner, New York
2005
Stephen Friedman Gallery, London
2004
Galleri Magnus Karlsson, Stockholm
Selected group exhibitions
2005–2006
Carnegie Art Award– Nordic Painting, Stockholm, Köpenhamn/Copenhagen, Oslo, Helsingfors/Helsinki, Reykjavik, London
2004
3rd Berlin Biennial for Contemporary Art, Berlin
2003
Devil-May-Care, Nordic Pavilion at the 50th Venice Biennale, Venedig/Venice [IT]
Selected bibliography
Martin Herbert, "Reviews; Mamma Andersson", Time Out, May 11–18, 2005.
Kristian Bengtsson, LOYAL, #9/2005.
Sara Stribe, AnnaMaria Jansson och/and Alberte Bremberg, "Konsten att överleva". Tidskriften 00TAL, #19/2005.